NAMM 2011 — Eternal Descent is a comic book and music series unlike any other – and so is the new Eternal Descent Lyra, a limited edition multi-effects pedal that brings the sound of the globally popular series to guitarists everywhere.
Eternal Descent is a cross-genre story that blends elements of fantasy, action, music, superhero, gothic, science fiction, supernatural and other elements into an ongoing saga featuring Lyra, the series' heroine. Lyra is a rock singer who is quick-witted, beautiful, talented, has attitude to spare – and is immersed in a battle with demons both internal and external awaiting her at every turn.
Music is integral to Eternal Descent. Created by writer Llexi Leon, the comics revolve around the exploits of Lyra and her band, Constellation Nine, and rock and metal bands like Static X, Atreyu, Firewind, Shadows Fall and others have made guest appearances. A series of albums have been released that bring the comic to life with music created specifically for the series. Read more
NAMM 2011 — Expanding into an entirely new product category, DigiTech today announced the introduction of its first-ever guitar amplifiers. On the back of renowned amp and effects modelling experience DigiTech are proud to introduce the Fusion Series of modelling guitar amplifiers. Read more
Lot of us spend years and years of our youth near a wishing well dreaming to astound the world with the sound of an electric guitar that will certainly make the impact and who knows, years down the line it might just happen that we stumble up on our names somewhere alongside the likes of Jimi Hendrix, Eric Clapton or Michael Schenker maybe!
For all of them, this summer is a real chance to make it all true! There is a free Digitech Bad Monkey Tube Overdrive Effects Pedal giveaway competition on the website of Gear-Monkey which will continue from 14th of May to the 1st of July, which is really a considerable amount of time to get you all ready and geared up for the game.
The terms and conditions for this contest are also in fact quite simple that initially involves visiting this particular forum at the Gear-Monkey website and post a scrap affirming your taking part in this contest. From there on, one has to just go on posting and writing in referrals which will earn you points on the basis of these posts being active or not. While a normal post is slated for ten points, an active referral can garner up to a hundred points. The one with maximum points to his credit as on July the 1st will become the proud owner of the Digitech Bad Monkey Tube Overdrive Effects Pedal! Read more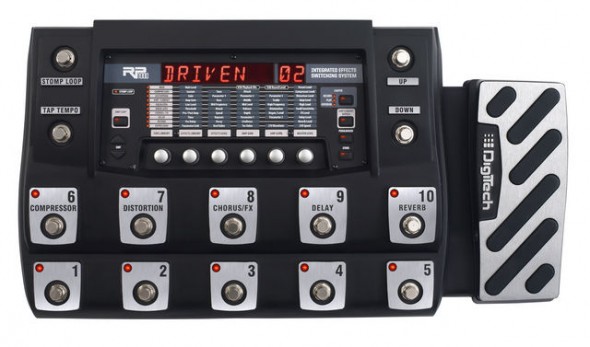 Guitar effects have really come a long way in recent years. Both multi-effects/modeling units and individual stompboxes are normal and every-day parts of many guitarists' arsenal of tones these days and players are getting used to this high degree of flexibility and are always looking for more. Enter the new Digitech RP1000. Read more
For years, effective echo and delay effects could only be created in a professional recording studio. Now you can duplicate your complete list of favorite record echo effects with the DigiTech TimeBender. But it does so much more than that. While modern guitarists appreciate those classic delay effects, they also want a delay pedal that lets them create their own new sounds. The Timebender has powerful and innovative technology that elevates it above simple delay pedals by including new types of delays, pitch-shifted repeats, ready-made delay patterns, a variation on tap tempo that lets you set tempo, key, and time patterns by strumming. I'll get to those later, but first, the basics. Read more
NAMM 2009 (January 15th) DigiTech announces its all-new advanced delay pedal TimeBender at the 2009 Winter NAMM Show in Anaheim, CA. The DigiTech TimeBender delay features ten useful delay types including Analog, Digital, variable speed tape, moving head tape, dynamic (ducking) digital, dynamic (ducking) tape, dynamic (ducking) analog, time warp, reverse, envelope (chopping delay), along with a full 20 second looper.
Further surpassing the competition, the TimeBender allows the user to create custom repeat rhythms or patterns by simply strumming the guitar. Up to 6 taps can be set to quickly create delays that would normally take a rack of effects hours of programming. For instance; a 6 tap moving head tape delay can be created where the delay taps are not equally spaced but fall on beats set by the guitarist.
If Strum Pattern were not enough, DigiTech has included intelligent harmonies that can be added to the delays. Topping off the TimeBender is the ability to add intelligent harmonies to the delays. Choose from over 100 different voicing's including octaves, 5ths, and 3rds to create delay effects that can only be created with a rack full of gear.
The TimeBender further adds full-time tone control, modulation, multiplier, tap tempo and repeat ping-pong patterns on all delay types in an easy to use stompbox user interface. Four memory settings also allow the user to save their favorite sounds.
The DigiTech TimeBender offers more than a full rack of delay effects topped with intelligent harmony and the capability to quickly set the repeat rhythms – never has a delay so advanced been this simple to use and all packed up in one pedal. Read more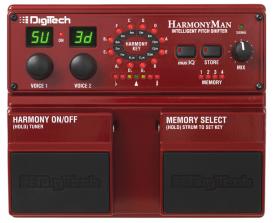 DigiTech's Harmony Man Intelligent Pitch Shifter gives me that tingly feeling that I hadn't felt since my dad brought home that He-Man with a life-like thunder-punch and Kung-Fu grip. From what I'd heard, I would soon have the ability to create harmonies in the style of The Allman Brothers, Brian May, Racer X and Thin Lizzy. It's rock-out time!
The DigiTech HarmonyMan Intelligent Pitch Shifter is the perfect solution for free-sprinted harmony-loving guitarists who don't like to be limited by a set list or who have to change key during a song. Its ingenious "musicIQ" feature analyzes chord progressions and automatically determines the perfect scale and key for harmonization. Yet, while the unit does all the hard work for you, its dual pedal stomp-box is simple to use. Read more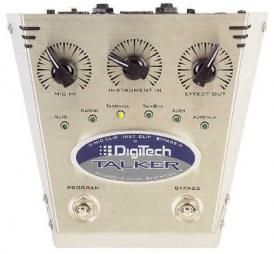 Guitarists have an insatiable desire to make our instruments sound like they're talking, maybe because so many of us are such lousy singers. Over the years, this has led to the development of some rather unusual effects, like Kustom Electronics' The Bag, a strange bagpipe-like device shaped like a wine bota and covered in psychedelic material that would even make Austin Powers blush, and the Heil Talk Box, which requires users to gag themselves with a plastic tube to make their guitar sound like someone vomiting through a Big Muff.
One of the most sophisticated and effective "talking instrument" effects is the vocoder, but most of these devise are either geared exclusively towards keyboardists or are complicated rack-mounted units that are difficult to use in live performance. But DigiTech's Talker pedal is an easy-to-use product geared towards guitarists, providing outstanding vocoder and talk box sounds as well as some unique effects of its own. Read more
DigiTech unveils its latest addition to the popular RP product line. Tone addicts, meet the almighty RP1000 Integrated Effects Switching System. The DP1000 is more than a multi-effects processor, the unit sports a switchable, external stompbox loop as well as an external amp loop that allows the RP-1000 to easily connect and control external gear.
"Unlike most multi-effects products, the RP1000 works with the guitarist's favorite gear so they do not have to compromise their personal tone. ," says Jason Lamb, (Digitech's Marketing Manager.)
"We realize that guitarists want to use different brands and types of gear to personalize their tone so the RP1000 will do just that." Jason adds.
The RP1000 also features an Amp/Cabinet bypass button that removes the RP1000's internal amplifiers and cabinet effects, while leaving the RP1000's internal stompboxes and effects; including 200 presets (100 factory, 100 user) individual pedal boards are all still accessible.
The RP1000 features over 160 effects, internal stompboxes, amps and cabinets including the legendary DigiTech Whammy. The RP1000 is also built for hardcore stage presence with its heavy-duty cast metal chassis, and 14 metal plunger switches.
In addition to all the great features above, the RP1000 sports a 20-second phrase looper , which allows the user to easily record, and overdub tracks for one-man band performances, writing and practicing. Control of the full-time phrase looper can be expanded with DigiTech's optional FS3X foot controller.
The DigiTech RP1000 Integrated Effects Switching System doesn't come cheap. It lists for $699.
Keep an eye out at American Musical Supply (AMS) for great deals. Read Digitech RP-1000 Review.
All specifications subject to change. DigiTech, Production Modeling, X-Edit, Death Metal, Grunge, Jimi Hendrix™ Artist Series Pedal, DOD, Gonkulator, DigiTech Whammy, Auto Ya, YaYa, Multi Chorus, Synth Talk, Lexicon, Johnson Amplification and AudioDNA are trademarks of Harman International Industries Inc. *Other product names modeled in this product are trademarks of their respective companies that do not endorse and are not associated or affiliated with DigiTech or Harman International Industries, Inc. Arbiter Fuzz Face, ADA Flanger, Boss CS-2, Boss CE-2 Chorus, Boss DM-2, Boss DS-1, Boss Metal Zone, Boss OC-2 Octaver, Boss OD-1, Boss SD-1, Celestion, Carvin Legacy, Demeter Fuzzulator, Dunlop Cry Baby, EH Big Muff, EH Electric Mistress, EH Small Clone, EH Small Stone, EMT 240 Plate, Fender Blackface Twin Reverb, Fender Blackface Deluxe Reverb, Fender Blonde Bassman, Fender Tweed Bassman, Fender Brownface Bassman, Fender Opto Tremolo, Fender Twin Reverb, Fender Tweed Champ, Fender Tweed Deluxe, Gibson GA-40, Fulltone OCD Overdrive, Guyatone Overdrive, Ibanez Tube Screamer, Hiwatt, Jensen Blue Backs, Maestro EP-2, Laney Supergroup, Marshall, Marshall Super Lead, Marshall Jump Panel, Marshall JTM-45, Marshall Master Volume, Matchless, Matchless Chieftain, Mark II, Mark IV, Dual Rectifier, Triple Rectifier, Mesa/Boogie, .22 Caliber, MXR, MXR Distortion +, MXR Phase 100, MXR DynaComp, MXR Flanger, Orange OR120, ProCo Rat, Randall HT-100, Peavey 5150, Roger Mayer Octavia, Roland JC-120, Soldano, Sunn 100S, TC Electronic Chorus, Unicord Uni-Vibe, VHT Amplification, Voodoo Labs Sparkle Drive, Voodoo Labs Analog Chorus, Vox Clyde McCoy Wah, Vox, Vox Bias Tremolo and Vox Top Boost are trademarks or trade names of other manufacturers and were used merely to identify products whose sounds were reviewed in the creation of this product.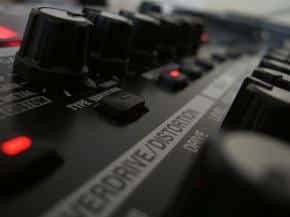 The war for control of your sole is heating up. Boss and DigiTech continue to massage their entries in the multi-effects floorboard skirmish, each fine-tuning their respective designs with new models and a host of new-and-improved features guaranteed to make true believers every mutli-effects loving axe wielder.
BOSS GT-3
Based on Boss' GT-5 floor processor, the GT-3 ups the GT-5's ante with more presets, a greater total number of effects (32 versus 28), compatibility with piezo pickups and some very cool effects, like Slicer and Auto Riff. It also offers massive editing options and advanced rhythm-based effects. All this at a lower price point than the GT-5. Read more