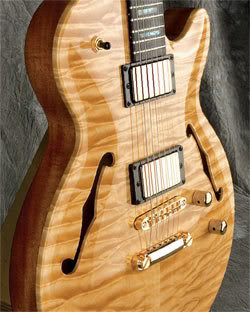 *Update: Carvin Guitars changed their name/re-branded to the name of original founder of Carvin Gutiars (Lowell Kiesel) to Kiesel Guitars in 2015.
Kiesel-Carvin SH550 Electric Guitar Review — Kiesel-Carvin had a long tradition of producing semi-hollow-body guitars dating back in the 1950's. The companies newest edition was introduced in 2008, named the SH550 (SH stands for semi hollow), this model has a carved top and it is a true precision semi-hollow custom shop masterpiece.
Semi-hollow body guitars are suitable for legendary artists such as B. B. King, Ted Nugent, Steve Howe (Yes) and Alex Lifeson (Rush). These legends have relied on hollow guitars as mainstays of their respective guitar arsenals.
The Kiesel-Carvin SH550 AAAA flamed maple is the standard top, yes, we said "AAAA" maple top, and unlike most "archtop" style guitars, the SH550 features an actual carved top. In addition, you can also choose an optional AAAA quilted maple top or a flamed koa top.
The top starts out as a 2″ thick slab of solid curly flamed maple wood. After the top is bookmatched, it is top sculpted, and the underside of the top is also carved to follow the contour of the top, while increasing the overall size of the sound chamber to improve the tonal characteristics of the instrument. Read more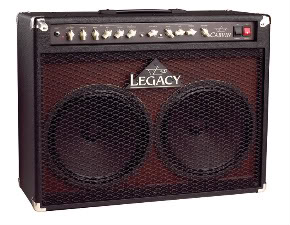 We were more than a bit surprised when this underrated, business-like amp slipped from its cardboard carton. No fluorescent floral Tolex? No trans-dimensional quantum drive? Not even a monkey grip? Steve Vai designed this, didn't he? Read more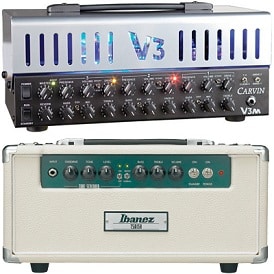 2011 may well be remembered by guitar and amp aficionados as the Year of the Micro. On top of the list of big things that come in small packages is the EVH 5150 III Micro, a tube-driven head that delivers smashing power to your favorite cabinet (or, better yet, Eddie Van Halen's favorite cabinet). Hauling your amp from home to the bar, or from home to the studio, and back again has never been easier. It has also never sounded so good. Read more

The 600w BX600 ($399) and 1200w BX1200 ($549) offer the bassist tone that extends the ability of the player. Three EQ sections extract all the tone your instrument can deliver – whether your bass is active or passive. String definition becomes so articulate that every note is distinct with defined punch and attack. Perfect pitch is now definable because the accuracy of your instrument is fully transparent thanks to the distortion free class A preamps. Read more
Legendary guitarist Steve Vai introduced his second generation of Carvin Legacy amps — a special amps series created especially for Vai and according to his specs — at the 2009 winter NAMM Read more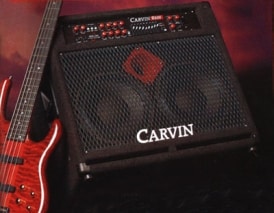 Due to popular demand and request from the GEARHEAD Gear-Vault readers, we are going to focus on bass equipment more often (cheers Marvin H.)
In 1999 Carvin made a bold follow-up and delivered the bass guitarworld the R600 bass amp series. The Carvn R600 featured a "mono bridge" output switch that delivers a thundering 600-watts from the amp's 2 x 300-watt amplifier. The hefty power comes courtesy of Carvin's HT (High-Energy Transfer) power module, which can also be split for bi-amping at any crossover frequency between 200hz and 2khz. Other refinements to the original R600 series include three levels of EQ and a blend-able tube/solid-state input for a wide range of tonal variations, as well as a foot-switchable effects loop, an XLR direct out with ground life, and three preamp outputs.
*The Carvin R600 Redline series is no longer in production.
Estimated used price for the Carvin R600 Redline Series bass amp head: $200 – $250 Gear Search
Carvin RC210
New for 1999 was the RC210 Red Eye Combo (pictured). This was a tiltback combo amp, based on the Series II Red Line amps. This 600W combo had all the features of the R600 head, in an ultra-compact package with a pair of 10″ speakers and the Red Eye horn. The RC210 sold for $749.95, and was also available as the RC210-18, which included the RL118 extension cabinet. Sold for $1049.95.
Winter NAMM 2009 is coming up, January 15th to be exact, Carvin Guitars will be unveiling the all-new Steve Vai Legacy II Series amplifiers.
The Legacy II amps represent years of design, development, and testing between Carvin engineers and, guitar master, Steve Vai. Some new features of the Legacy II is the amp's 3-channel operation (the Legacy is a two-channel amp) with clean, lead, and new clean-boost channels. There's also a new 25 watt output mode in addition to the original's 50 and 100 watt mode options. While each channel has it's own volume, there is now also a master volume, allowing adjustments to overall amp volume without having to worry about messing up the overall volumes of each channel. The 3-channel, all-tube Legacy II features all-new circuit designs that have been reviewed and tweaked by renowned amp designer Benjamin Fargen of Fargen Amps. Read more