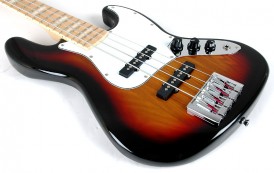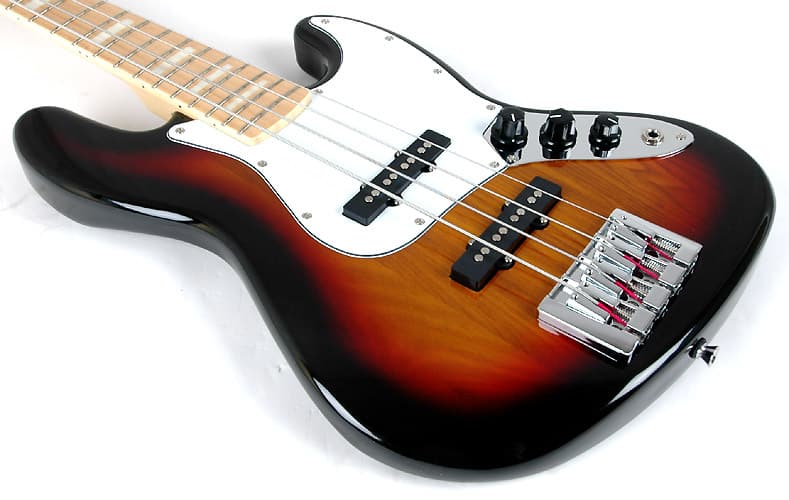 Back in the late 60's (sorry, most of that decade is a bit hazy…), I was in a recording studio on West Division Street in Chicago. It was a little store front setup, lotta shag carpeting, kinda dusty, and the (we figured) launching pad for our star studded career.
When we got there, a local Gospel group was behind the glass, workin' on a tune. All the instruments were being recorded live; drums, guitar, bass… and when the band in the studio found out we had a keyboard player, it was drums, guitar, organ and bass. Read more


When last we met, I was telling you about the cool Squire Jazz bass I played AND that it only cost $299.00 (case/gig bag extra).
Well THIS time boys and girls, I'm gonna tell you about another pleasant surprise; the Ibanez SR series of bass guitars that also start at the $299.00 mark. I went to the other mega music store (on a rather quiet, thank God, Saturday afternoon) and strolled over to the bass department. There I met John who was trying out a Fender Marcus Miller Jazz bass (I run into that thing EVERYWHERE I go!!!!!). We got to talkin' and he mentioned that he was lookin' for a Jazz bass. I told him about Gear-Vault and about my quest to find a good inexpensive bass, suitable for a beginner AND an advanced player. John was certainly in the latter category so he was immediately recruited to offer his comments on whatever I took from the wall (remember, with permission. ALWAYS get permission). Read more

1960 was a great year for the Fender Company. It had been around long enough to see its designs road-tested under all manner of playing and recording conditions and was becoming the legend that we know today. Honestly, every real vintage piece of Fender gear from 1960 I have experienced myself has been tremendous, including a brown 4×10 Concert amp that got away from me that I still yearn for in the dark of the night. It was the year when Fender got it all right. Read more
The Warwick Alien Acoustic Bass, which has already been awarded the M.I.P.A. Award at the 2009 Musikmesse, is now available as a 5-string instrument. The additional B string brings the full and dynamic punch of this bass to an even lower frequency range. This is also possible thanks to the longer 34″ long scale when compared to the 4-string version.
All Warwick Alien bass models come equipped with a Fishman Acoustic Matrix Pickup and the Fishman Prefix Plus T Preamp. The Warwick Alien 5-string bass is available as a fretted or fretless instrument. Left-handed versions are naturally available at no additional cost as is the norm at Warwick. Check for price.

What bass guitar does Robert Trujillo play? Metallica's bassist Rob Trujillo and Warwick Bass Guitar company collaborate to issue the Warwick Rob Trujillo Streamer Signature Bass Guitars — Trujillo is best known as the finger-style bass monster whose dexterity, tones and attitude have seen him grace the bass of Suicidal Tendencies, Infectious Grooves, Ozzy Osbourne and Metallica since the late '80's. Read more

So… you wanna take up bass guitar? Lotsa people have lotsa reasons for wanting to learn how to play the bass.
Now to clarify things and for the purpose of this multi-part discussion, we'll be talkin' bass guitar (though I've always wanted to give the upright a try and I LOVE, I mean REALLY LOVE Nikki Perrot. Check her out, so will you if you have a pulse!). Read more
Beginners and other price-conscious musicians can now afford their acoustic Warwick dream bass: The extraordinary and very popular Alien is now available in two high-quality RockBass versions: Standard and Deluxe. Both come as 4- or 5-string instruments, with frets or fretless. The tone is concise, dynamic and rich; it's punchy with a snarly acoustic accent, making it unmistakably a Warwick Alien bass. Read more
More breaking pre-NAMM news coming from Schecter Guitar Research. Schecter Guitars is pleased to announce the Diamond P Custom Bass. Read the press release below…
Schecter Guitars is pleased to unveil the Diamond-P Custom Bass. The touring/recording professional bassist will find the classic 34° scale double-cutaway silhouette in Alder, perfect for classic tones to aggressive modern sounds.
Completely retooled, the Diamond-P Custom with Schecter's proprietary Super Rock humbucker (bridge) and Monster Tone II (neck) pickups allow for full control over tonal approaches. Tapping the Super Rock extends the range of this bass and paired with a Schecter custom Top Load/String Thru high mass bridge will allow for tensioned dropped tunings many players utilize today. Grover tuners keep it all in precise tune. Read more

Ibanez BTB Bass are not just bad-ass… Read more

Boosey & Hawkes Hofner "Beatle" bass in two models: In 1956, Walter Hofner had an idea for an amplified semi-acoustic bass. When it was brought to life, his idea resulted in a bass with a warm, woody, double-bass-like amplified tone. Players love it for its playing ease and its tone-one of the smoothest, sweetest sounds in all of bassland. Read more