August 31, 2011 by George VanderLaan · Comments Off on Mod Kits DIY Trill Tremolo Review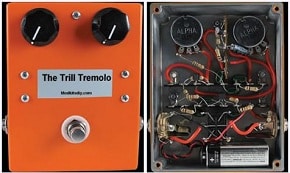 I've played on a lot of pedals. Wahs, tremolos, distortions, phasers, you name it. I've only built a few. So when I got the chance to review a diy pedal, I jumped at the chance. Building an effect pedal is more than a simple task at hand; it's more like an experience. It's a journey through a myriad of parts, numerous references to the build sheet, and a whole lot of patience. Read more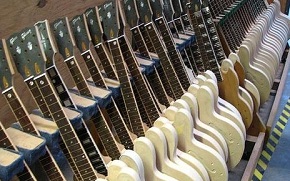 The Gibson Guitar Corporation is under fire once again for suspicion of violating foreign wood and labor laws.
On August 24th 2011, Fish & Wildlife agents raided Gibson's Memphis and Nashville facilities, seizing an unknown quantity of Indian ebony and rosewood.
No charges have been filed, no arrests have been made, and the Department of Justice has not given any explanation as to what was illegal about the wood.
The company is no stranger to the Feds. They were raided in 2009 on suspicion of illegally importing wood from Madagascar. As a result, Gibson no longer imports from there, and has been the center of some controversy since. Read more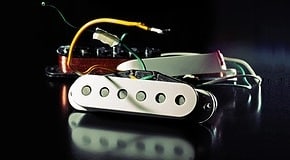 Passive (i.e. battery-free) electric guitar circuits are relatively simple and the possibilities for customization are endless.  A basic understanding of pickups, potentiometers, capacitors and switches is all you need to get creative and take more control of your instrument's voice on an electronic level. Read more
Charvel is proud to introduce its new Desolation series guitars. These are entirely new instrument designs not previously seen in the high-performance guitar maker's 30-year history, offering more tonal and stylistic options for discerning players everywhere and bringing a long-acclaimed tradition of high performance to more guitarists now than ever before.
Marked by devastating tone, killer looks and high-performance playability, the Desolation series comprises an entirely new stable of Charvel guitars designed for a whole new world of players, with the sound and performance known to the world's greatest guitarists more affordable now than ever before.
There are 10 new guitars in the "first wave" of the Charvel Desolation series—four single-cutaway "DS" models, three double-cutaway "DC" models and three highly distinctive Skatecaster "SK" models loosely based on the Charvel Surfcaster of the early 1990s. All feature mahogany bodies and necks, dual humbucking pickup configurations with three-way toggle switching, solid and transparent finishes (with flame maple veneer on trans finishes) and black nickel hardware. Most feature compound-radius (12"-16") rosewood fingerboards with 24 jumbo frets in a variety of neck-through, set-neck and bolt-on configurations; Charvel bridges specially designed for compound-radius fingerboards (except DS-3 ST Floyd Rose-equipped models); and three-on-a-side locking Charvel tuners (except DS-3 ST and Floyd Rose-equipped models, which have non-locking three-on-a-side tuners). See these guitar below! Read more
NAMM's Summer Show is officially in the books, giving wholesalers and musicians a whole new list of the stuff that dreams are made of, including a new lineup of 7- and 8-string guitars from ESP, as well as another Asian Invasion, the new GVT Series amplifier line from an expatriate veteran, Ampeg. Read more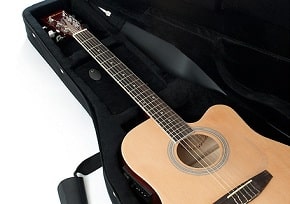 Today's daily steal deal: A New Jose Feliciano Acoustic-Electric Guitar Debut Series Kit with 10 Watt Amplifier & Hardshell Case for just $129.99. It's a full-fledged kit put together by Feliciano (Virtuoso guitarist and writer of 'Feliz Navidad') including extra strings, digital tuner, chord chart, instructional DVD, and more. You need to hurry, because this deal is only available for 24-hours, and expires tonight at 12AM EST. Read more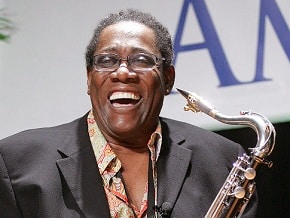 June 18th, 2011. A somber day for the world. For on that day, we lost a true musical hero; a veteran of blue collar, down and dirty rock n' roll… and his name was Clarence Clemons. Read more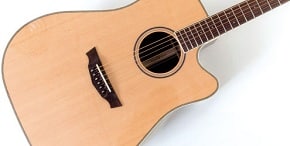 It seems as if market is flooded with hundreds of similar-looking dreadnought acoustic guitars, all with seemingly identical specs. You know the drill: solid spruce top, solid Indian rosewood back and sides, mahogany neck, scalloped X-bracing and, well, Read more
Jani Lane, the former lead singer of the glam metal rock band Warrant, has died in Los Angeles. He was 47. Read more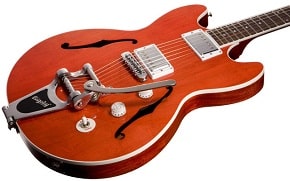 Every year or so, the big 2 guitar manufacturers [Gibson, Fender], release a guitar that is designated as their latest "Wow Guitar". You know, the ones that are pure eye and ear candy, that tempt you with selling your car to have one of your own. Read more