Joe Satriani announces his all-new Chickenfoot JS1000 guitar on Twitter. As being a former owner of one of the most rarest Joe Satriani's guitars Ibanez JS2PRM Chromeboy (only 60 made), I get especially excited about Joe's guitars.
Pictured is Joe's all-new one-of-a-kind Chickenfoot Ibanez JS1000. Look at how nice it is with the Chickenfoot logo stamped on it's white JS1000 body, just looks yummy to play! Joe is an active Twitter lately, which is really cool… you can follow him too by going to twitter.com/chickenfootjoe
Don't forget to follow GEAR-VAULT on TWITTER!

Advertisement—————————————
—————————————————————
Reinhardt Amplification has released the Willard distortion pedal. The pedal is based on a 1981 big box Rat. "I originally started playing in the early to mid 80's, and this was my favorite old pedal. I wanted to try to recreate the old tones from that time, and this is what we came up with," said company owner, Bob Reinhardt. These pedals feature true-bypass and are hand assembled with top of the line components for reduced noise and better sound quality. One thing about the original circuit that Reinhardt says he would never change is the rare NOS LM308N chip. "That op-amp is such a key to the thick, natural tone of this circuit. Modern substitutes just don't measure-up," said Reinhardt.
If you are looking to recreate the tones that were heard so widely in 80's rock and metal the Willard may be just the ticket. It packs all of the 80's they could get into one box!
Visit their web site at reinhardtamps.com for more information.
Advertisement—————————————
—————————————————————
The Tone King Presents : Line 6 Spider vs. Peavey Vypyr Video Shootout. TTK lines these two amps up side-by-side to give you an exclusive look at how these little guys sound. I really appreciate how methodical and attention to detail TTK is, you can tell he has lots of experience doing video gear reveiws.
Performed by:
lmsjr

To my ears I think the Peavey Vypyr wins hands down (for a cheap amp), but after reading some of your comments below, I guess my opinion is just that… and opinion. What amp do you prefer?
Btw, please shoot on over the TheToneKing.com and give a shout out to TTK.
ValveTrain Amplification announces the release of the latest addition to their Revolution Series, the Lexington Reverb Amplifier.
The Lexington Reverb combo boasts all tube spring reverb, point to point hand wiring. The switchable output stage delivers a smoking 6 watts or an apartment friendly 1.5 watts through an Eminence Ramrod 10″ speaker with a retail price of $699.
Unique features include the high/low power switch (6 or 1.5 watts) and a RAW switch that increases gain and high frequency response. Read more
Joe Santriani contributed numerous ideas that were unheard of in existing wah pedals, endowing the Big Bad Wah with an unparalleled range of sounds from vintage to modern, as well as those that are totally original. Read more

B.C. Rich has announced a new series of handcrafted guitars that celebrate their 40th anniversary as an instrument manufacturer. If specialized instruments are your bag – and money is no object – read on, dear collector.
The B.C. Rich Anniversary Guitars hearken back to the original designs offered up by the company: the Eagle, Mockingbird, Seagull and Bich. The differences in these 40th anniversary editions will be a commemorative logo on the back of the headstock, a certificate of authenticity, and a special serial number.
All four of the B.C. Rich Anniversary Guitars will feature the Neck-through-Body Koa wood design the company helped popularize back in 1969. Maple accent stripes, or stringers, are also featured on two models, and the guitars all also include the Grober Super Rotomatic tuners, Cal Rad knobs, and B.C. Rich Diamond fingerboard inlays (with the exception of the Seagull's Snowflake design).
"The 40th Anniversary Series lets us pay tribute to our original designs with these retro-inspired models," said Rock Clouser, product manager for B.C. Rich.
Open up your pocketbooks collectors! More information can be found at the official site here, but each of these beauties will carry a hefty MSRP of $4200. Good luck getting your hands on one of these.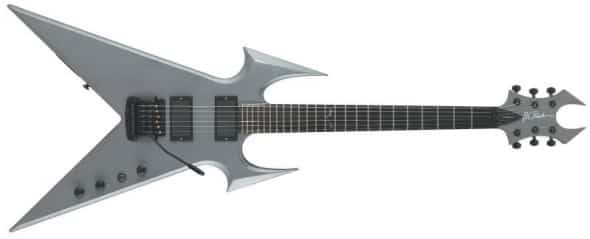 B.C. Rich is back with a firestorm of new signature models created in collaboration with Kerry King, legendary guitarist for Thrash Metal titans Slayer. Four new models are available, each bearing finishes, features and tones approved by King himself.
Two models feature an intense new Kerry King graphic: The Kerry King V Flame Generation 2 depicts a two-tone tribal graphic over a flaming backgound image and the Kerry King V Metal Master Generation 2 shows this same graphic over a gloss Black finish. The Generation 2 images are based on the B.C. Rich Handcrafted guitars that King plays on tour with Slayer.
The V Flame features a Kahler X-Trem tremolo unit, 24-fret Ebony fingerboard, beveled body top, black hardware and B.C. Rich Active pickups for a street price of $569.99. The V Metal Master guitar utilizes a wrap-around bridge, 24-fret Rosewood fingerboard, beveled body top, chrome hardware and B.C. Rich BDSM humbucking pickups for a street price of Read more
This compact, 60-watt acoustic combo amp features a full-length three-spring reverb, an instrument channel and a mic channel with XLR input and phantom power. Both channels have leve control, gain and a separate reverb mix control to adjust the ratio of reverb between the two channels. Tech 21's specially designed 12-inch speaker and high-frequency horn are housed in a cabinet covered in brown crocodile-embossed vinyl and complimented with a custom grill and decorative piping. Other features include SansAmp circuitry that allows the amp to run direct via an XLR output or the ¼-inch headphone output, an effects loop and a courtesy power outlet for effects. Also available is a powered 1×12, 60-watt, open-back extension cabinet in matching vinyl.
Here is a great review written by Tech 21 Bronzewood 60TM ActiveMusician
Tech 21 has added a 60-watt acoustic combo amp with reverb to their amplifier line. The Bronzewood 60TM offers an instrument channel and a mic channel with XLR input and phantom power. Compact and lightweight (less than 40 lbs.), the Bronzewood 60 is loaded with exceptionally extensive features. Read more
Ready to bring real guitar amplification to the everyday guitar player, Wizard Amplification now offers their Modern Classic, hand wired point to point, all tube guitar amplifier directly online for purchase. Read more
The original Deluxe Memory Man is considered to be the finest analog delay ever designed. Organic and musical, it has been used by rock and Roll legends and countless musicians since its introduction in 1978. With the desire to make a flawless and smooth transition, Electro-Harmonix proudly announces the "new" Deluxe Memory Man in our rugged and pedal board friendly die-cast enclosure.
Exactly the same components are used in order to maintain the superior analog sound with exactly the same performance qualities. In this case, downsizing to a more rugged chassis was important and only second to maintaining the legendary sound. The exact same sound! Read more