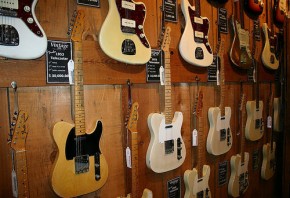 There is a lot of fuss made in the guitar community about so-called 'vintage' guitars, 'vintage' being another word for 'old'. There is a certain part of our world that longs to play a 30-, 40-, or even 50-year-old guitar or bass for a variety of reasons. To be honest, there is something to this argument when it is applied to instruments that truly are products of what many to be the 'golden era' of guitar production in the USA which, if we combine acoustic and electric guitars, would be roughly from the 1920's to about 1970.
Read more
As you probably already know, I'm a poor broke bastard and can't afford a $1400 guitar, let alone a $48,000 acoustic guitar. But hey, they are fun to look at, right?
Martin says the D-45 Authentic is made exactly like the original 91 pre-war D-45 Dreadnoughts. I think what Martin is hoping for is that the D-45 Authentic becomes the next "Holy Grail" of acoustic guitars, which I guess could happen someday in the far future. Hell, it is speculated that Hard Rock Cafe in Boston dropped a 1,000,000,000 big ones on Keith Richards 1959 Gibson Les Paul. Perhaps it is possible that someday our great, great, great grandkids will get to see a rare D-45 at some Hardrock Cafe in a glass case somewhere. It does sound amazing, you can hear it in the video below. Read more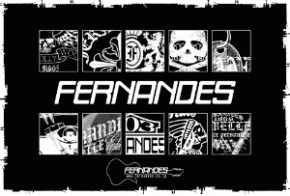 Although its body is reminiscent of a chubby Fender Jaguar; the Fernandes Native Elite is a decidedly modern guitar with a little hi-tech voodoo-namely Fernandes' proprietary Sustainer technology, which offers virtually limitless sustain and rich, controlled freedback. Based on the company's highly popular alder-bodied Native Standard, the Fernandes Native Elite features a basswood body with a faux flame top in a black burst finish and a 25-1/2" scale maple bolt-on neck. The comfortably full, rosewood-capped neck is smoothly fretted and sports the locking nut portion of the Gotoh made, Floyd-licensed trem system. The generous pearloid pickguard houses the electronics, which include two humbuckers governed by a three-way switch, master tone and volume controls and the Sustainer system. Read more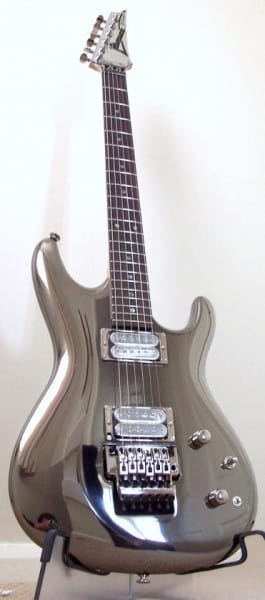 The Ibanez JS2PRM is an extremely unique and extremely rare instrument in the guitarworld. The JS2PRM—PRM stands for (Premium Rock Mirror)—which is a high-tech finish that was designed to look as if it was carved from a solid chunk of polished metal.
In 2005, the JS2PRM was Ibanez's third attempt to recreate the chrome guitar. Ibanez's first two attempts, the JS2 and the JS10th, both were unsuccessful due to finish problems. The process of bonding a chrome finish onto a wood bodied guitar is an extremely difficult process. The JS10th (2nd attempt) a luthite body was used, which is similar to plastic, and the results were better than the original JS2 Chromeboys, however, they were still beset by water marks and peeling and sounded nowhere near as good as the basswood body. Read more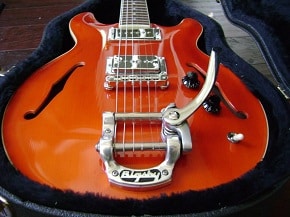 Call them the biggest of custom shops or the smallest of production plants; either way, Hamer knows how to put together some fine guitars. Even their most affordable instruments reveal an attention to detail you might expect to find only in high-priced guitars.
So it only goes to figure that a costlier instrument like Hamer's Newport Hollowbody electric guitar exhibits some truly topnotch craftsmanship. The Newport is part of Hamer's unique line of true hollowbody instruments, which also includes the Newport Pro. It features a hand-carved spruce top on a mahogany body and a mahogany set neck, all bound in ivoroid. The transparent orange finish is subtly flecked with silver sparkles, and the chromed hardware includes Grover Super Rotomatic tuners, chrome pickup surrounds, a Tune-O-Matic bridge and a Bigsby vibrato tailpiece.
The Newport sports a pair of single-coil Phat Cat pickups hand-built in Seymour Duncan's custom shop, master volume and master tone controls and a three-way toggle pickup selector. The Phat Cats are cleverly designed to humbucker dimensions, by the way, so if you must swap them, you can do so without taking a knife to the top. For those less inclined toward this model's rockabilly leanings, the Newport Pro comes with a Tune-O-Matic bridge with stop tailpiece and two Seymour Duncan Seth Lover pickups. Read more
If you have even one beloved vintage guitar, you've probably had to buy original parts for it at one time or another. You know the story: you bought an amazing 1967 ES-335 from some dude on eBay who swapped out the original top-hat knobs for speed knobs and cracked one of the pickup rings. Or you need some original spacers for your 1957 Telecaster.
For years, collectors in this situation had to cross their fingers and pray that the original parts they needed would eventually turn up. But as the vintage guitar market blew up over the past decade, a few enterprising individuals began foraging for New Old Stock parts and harvesting everything but the finish from beat-to-death and modified-beyond-salvage guitars. As a result, it's now possible for an eBayer to find virtually any original part he needs from any model or year of standard production mode guitars. Read more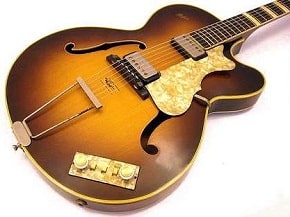 Fender and Gibson electrics from the Fifties and Sixties are among the most collectible of all guitars. But just as cool are Höfner instruments, made in Germany and costing considerably less than their American counterparts.
The most well known Höfner, introduced in 1955, is the 500/1 the electric "violin" bass that Paul McCartney made famous. An original version of this ax sometimes referred to as the "Beatle Bass," should be relatively inexpensive. At press time I spotted several mid-Sixties models for $2,500 and less.
Höfner had an interesting line of hollowbody and archtop guitars, as well. Like certain Glbsons, many Höfners were named by model number—the higher the number, the fancier the instrument. Smaller guitars like the Höfner 456 or 457 (shown here in 1964 vintage 456 thinline), with their laminated 16-inch bodies were comparable to Gibson's e acoustic L-4, or electric ES-175, while larger ones, such as the 17 ½-inch wide 468, were more like Gibson's ES-5 Switchmaster. All these Höfners were made from lightweight woods, often highly flamed, and tend to sound quite loud, with lots of cutting top and middle tones.
Relatively few Höfners made it to the United States; they ended up costing considerably more than domestically made guitars and fared poorly. Thus, Höfners of North American vintage are both rarer and cheaper than old Gibsons. At press time, the only 456 I could find was in the Netherlands and was selling for about $1,137.90. Meanwhile, I saw a handful of L-45 from the same era, going for as much as $4,200.
If you're in the market for an old Höfner, keep in mind that the manufacturer used a neck joint without a dovetail, which tended to move with time. As a result, a Höfner might need, or may have had, a neck reset. While a reset will enhance its playability, it lowers its value. Read more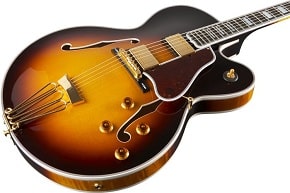 Introduced in 1955 Gibson's Byrdland was one of the first thinline hollowbody electrics. Designed with the help of hot-shot guitarists Billy Byrd and Hank Garland, whose surnames were combined to form the model's name, the Byrdland was a Venetian (i.e. rounded) cutaway archtop with a carved spruce top and solid maple rims and back. Though the body was only 2-1/4 inches deep, rather than the standard 3-3/8 inches. Also unusual was the instrument's short scale length 23-1/2 inches, a full two inches less than that of most archtops, allowing guitarists to play chords that required large stretches. Read more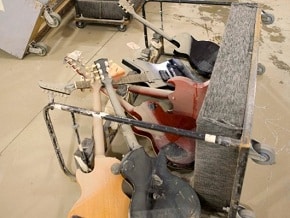 As the Red River in Fargo, North Dakota, makes its annual run beyond its banks, musicians of all stripes may want to take a few quiet moments to ponder the greatest loss of priceless and historic guitars – when Nashville's finest instruments were lost in the flood. For the good people of Music City, the memories of those terrible days in May, 2010 are still fresh in their minds, and without a doubt many people suffered far greater losses than that of a musical instrument. In the wide circle of guitar mavens, though, Nashville represents a watery, silent grave for instruments that once channeled the sounds of some of the greatest players the world has ever known. Read more

Danelectro has announced the reissue of the classic Danelectro '56 Single Cutaway Guitar. The Dano '56 is available in a number of different options. Lovers of the Dano singlecoil sound can pick up a 'coke bottle' headstock model in black or red/black crackle.
A white version comes with gold hardware and the 'bell' headstock, first used in 1954 on the very first Danelectro logoed guitars. Meanwhile, those looking for a chunkier sound can pick up a '56 with a single-coil in the neck and a humbucker at the bridge for [check for price]. Available in red, black and aqua shades, these models feature the slender 'dolphin' headstock, which also adorns the '56 bass. Read: History of Danelectro Guitars Read more