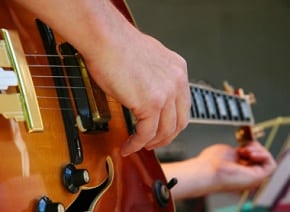 There are few things as beautiful as the sound of a well tuned guitar. Which is why, clearly, it's necessary to play with your guitar strings at least as often as you play with yourself. Much like your thing, these things need constant tinkering and upkeep to remain in top working order, although they require significantly less hand cream and tissues. Or socks. Read more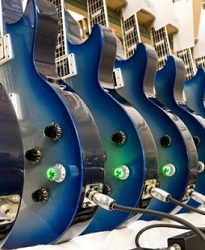 Hail the Gibson Robot Guitar! The Gibson Robot Guitar was awarded with the prestigious "Best Music Hardware Award" at the BT Digital Music Awards 2008. The BT Digital Music Awards now in its 7th year was held at the Roundhouse in London on Wednesday October 1st.
The Gibson Robot guitar is the world's first electric guitar with robotic technology and beat stiff competition from the Motorola ROKR E8 and Ripserver. The Best Music Hardware Award in association with Stuff Magazine was decided upon by a panel of prominent industry judges. The Gibson Robot Guitar was sighted for its innovation, style, usability and price point among additional features.
The Gibson Robot Guitar is known for eliminating tuning problems for guitarists. The Robot Guitar automatically tunes to standard A440 tuning. In addition, it allows players to access six programmed tuning presets at the push of a button. The Gibson Robot intonates seconds after string changes, truss rod adjustments or change in weather conditions. Ultimately, with the locking tuner, single string changes or changing the entire set of strings is an automated luxury.
The annual Digital Music Awards were presented by TV's Fearne Cotton and Rufus Hound and was filmed for ITV2. Bands performing in between the awards included Sugababes, Ida Maria, British Sea Power, Sam Beeton, Fightstar and Iglu & Hartly.
Thirteen of the 20 awards given were voted for online and the remaining seven by a panel of industry experts. Gibson Robots official website: gibson.com
Gibson Robot Les Paul
Tags: the best gibson robot guitar,