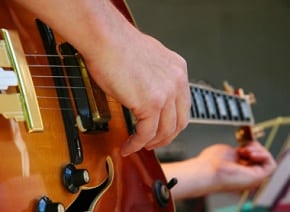 There are few things as beautiful as the sound of a well tuned guitar. Which is why, clearly, it's necessary to play with your guitar strings at least as often as you play with yourself. Much like your thing, these things need constant tinkering and upkeep to remain in top working order, although they require significantly less hand cream and tissues. Or socks. Read more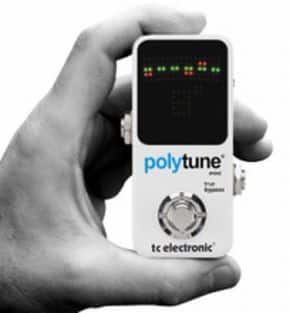 Two years ago, TC introduced polyphonic tuning to the world and since then guitarists everywhere have welcomed this next-generation way of tuning with open arms. Now TC reveals the world's smallest polyphonic tuner: PolyTune Mini that will fit on any pedal board. Sometimes size actually does matter and in such cases, PolyTune Mini is the perfect solution as no other pedal tuner in the world will take up so little space, which means more room for other pedals. Read more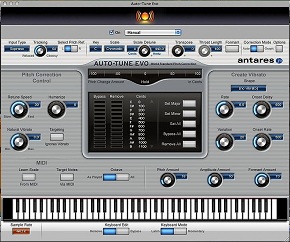 Have you ever listened to T-Pain? You know how his voice always sounds like a robot? Well, thanks to something in vocal technology called Auto-Tune, sensible style and effort to make music has been lost over the past few years. Thank god, the actual end of auto-tune can be seen on the horizon. Read more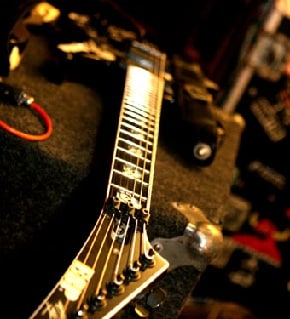 For the longest time, I refused to play anything but DR's on my electric guitar. Though, once I really began gigging out every other weekend, I began to encounter a really frustrating issue. Every two-three shows, I was breaking a string. After considering a setup and messing around with new saddles, I decided to try a set of Ernie Ball coated slinky strings. I haven't looked back since. Read more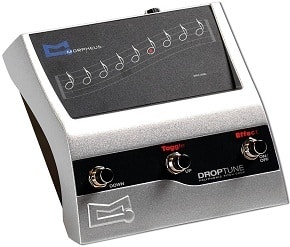 Have you ever sat down with a pitch shift pedal only to be disappointed when your E major chord turned into garbled nonsense?
Traditional pitch shift pedals can only process one string at a time, but with the Morpheus DropTune, real polyphonic drop tuning exists in a squash of a pedal.
The Morpheus DropTune takes technology developed by an avid team of professional guitar effect aficionados, and puts it into one extremely cool idea of a pedal. Allowing you to tune down three and a half steps in half step increments, this lets you do away with the extra guitars. This can really be a relief to those on tour that are hauling up to three or more instruments at a time. Multiple instruments can start to take up a lot of space in a tiny van, and can become an expensive upkeep considering strings alone. Read more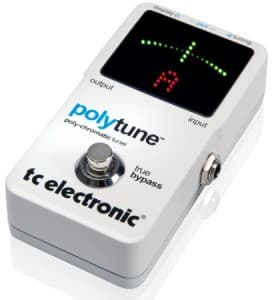 Being in tune is good, right? Personally, I am a tune-it-or-die type of person and can be very critical of electronic tuners that don't deliver all that they promise. Most of us use tuners that operate in the normal way: pluck a string, tune to pitch, move to the next one and repeat. Well, Pilgrim, that is all about to change.
The new T.C. Electronic Polytune ($149.00 retail) promises to change the guitar and bass tuning game forever with its ability to read multiple strings at the same time. You heard me right: strum all six strings at once and the Polytune reads them all and tells you which and in tune and which are out. Of course, it also tunes in the traditional way, too. It offers users a choice of needle or stream metering, true bypass when not in use, silent tuning, a 9-volt output to power other pedals, and a USB port for downloading future updates.
The Polytune may be just what many guitarists are looking for and should be a very popular unit. It speeds up the onstage tuning process a great deal and that is always appreciated. Plus, it is spectacularly visible on dark stages and direct sunlight, which is a big concern for those of us who play outdoors a lot. Time will tell how it does in the field, as with any new product, but initial reviews are favorable so be ready to see the Polytune in a great number of pedal boards this year and into the future. It is accurate, fast, and remarkably innovative in its design. What more do you really want in a tuner? Read more