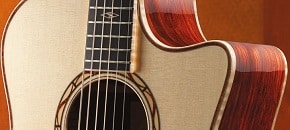 We live in a world of automation. A world of higher profits, lower costs, and mass production. Companies get big, and to satisfy an ever growing and diversifying market, they take these steps to make sure they are staying on the mark with consumers. Unfortunately, quality often gets chucked to the side in this process of trying to perpetually keep items on the shelves. More people means more materials, and more materials means more space, which all leads to the product quality depending on every single person doing everything correctly. Read more
NAMM 2011 — World-renowned fingerstylist and longtime Taylor Guitars clinician Doyle Dykes is best known for deft picking and melodic guitar arrangements. Read more
Taylor Guitars has been successfully producing its Baby Taylor model for almost 15 years, so it's safe to say that it's an unqualified success. But the folks at Taylor just can't leave well enough alone, and so when they approached the idea of re-imagining a smaller guitar, they kept the twin pillars of the Baby's winning architecture in mind: portability and great sound.
Enter the GS Mini, a scale version of Taylor's Grand Symphony line that adheres to the lessons learned in the Baby while boasting greater projection, a full NT neck, and a pickup option. First, the GS Mini remains portable. Compared to the Baby, the GS Mini is longer overall (35-5/8" vs. 33-3/4"), slightly wider (14-3/8" vs. 12-1/2"), and slightly deeper (4-7/16" vs. 3-3/8"). Virtually any space that can accommodate a Baby (overhead bin, overstuffed car hatch, etc.) will also fit GS Mini. Second, though the GS Mini is only slightly bigger with regard to dimensions, in the tonal sense it's significantly louder than the Baby. In other words, with a negligible enlargement, the guitar's projection capabilities became exponentially magnified—positively booming! Third, the GS Mini is built to accommodate an easy upgrade path to electrification with an optional user-installable soundhole pickup and with a volume-knob-equipped cord. You don't have to electrify the GS Mini, but if you choose to do so, you can purchase the pickup separately and install it yourself. Let's see what makes this Mini so mighty. Read more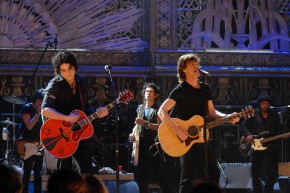 Fitting into the Mix
The easiest way to get a great acoustic sound is to start with a great-sounding guitar. Taylor acoustics have long been favored by artists and recording engineers for their clear, balanced tone. In fact, many engineers keep Taylors in their studios because they know they can always count on the clarity of "the Taylor sound" without the need for a lot of EQ tweaking. Between the crisp articulation and tonal balance of the bass, midrange and treble notes–full in the lower register, present in the midrange, and sparkling on the treble strings–Taylors offer a clean, even acoustic sound that makes recording a breeze. Taylors also fit nicely in a mix, occupying just the right amount of sonic space without taking up too much room or competing with other instruments. Read more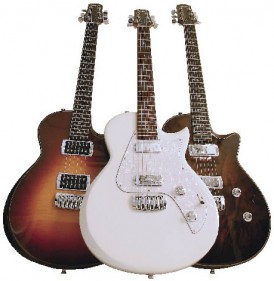 Taylor's divers line of electrics deliver a heap of fresh tones for every type of player. Breakthrough pickups, tone-shaping control and unmatched playability will redefine what an electric guitar can do in your hands.
The SolidBody Guitars were built around fresh pickup designs that blend vintage tones with amp-driving power. Choose from mini and full-sized humbuckers and noiseless single coils. A sleek, ultra adjustable bridge (with an optional tremolo) locks your intonation in place. Choose from several exotic wood top choices or tap into a rich palette of colors. All pickups are solderless and can easily be swapped out with other Taylor pickups.
The T3 soups up the semi-hollow sound and adds a touch of chrome-kissed style. The high-def humbuckers feature a coil-splitting function that uncorks killer single coil tones. A push/pull tone knob dials up even more sonic nuances, from classic rock to a warm, fat sound. Choose from a stop tailpiece or a Bigsby vibrato, each paired with a roller bridge for perfect intonation. Offered with a quilted maple top with several color and sunburst options. Read more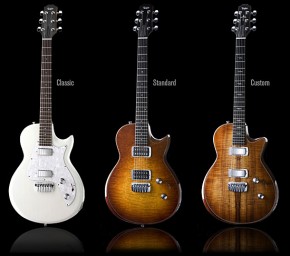 Before Taylor Guitars had their solidbody electric guitar breakthrough in 2007, the company has always been known and highly-regarded for their acoustic guitars, tone, and high quality. Read more
Taylor launch model in collaboration with guitar legend, Dave Matthews – Known for his rhythmic genius, long-time Taylor player Dave Matthews is a man who needs little introduction to fans of popular music.
As the lead singer, songwriter, and acoustic guitar savant of the Dave Matthews Band, Matthews' deft ability to elicit intricate melodies from his Taylor 914ce has endeared his compositions to legions of fans around the world.
To share his passion for playing and to capture his own signature style and tone, Taylor Guitars, in collaboration with Matthews, is releasing the Dave Matthews Signature Model (DMSM) guitar. Read more


Taylor Guitars are known for creating breakthrough products, such as its New Technology neck and Expression System electronics. Many progressive building techniques, like using CNC milling machines and laser cutters for precision woodworking , or applying UV-cured finishes that are buffed to perfection by a nimble robot, were introduced or refined by Bob Taylor and his crew. While building beautiful instruments, Taylor has also altered long-held notions about luthiery. Read more


Decades have passed since Taylor Guitars emerge as a force in the world of acoustic guitars by overcoming the "it's right because we've always done it this way" mentality of its long-established competition. Taylor demonstrated that new technology could be used to create instruments that looked and sounded as good or better than those made "the old-fashioned way," with a level of consistency that many traditionalist would trade his bone nut for. Read more


Taylor Guitars Presser — When it comes to finding the right acoustic guitar, a good place to start is with body shape. The right shape will complement your playing style and help you sound your best. Taylor Guitars virtually have every shape for every type of player. Read more