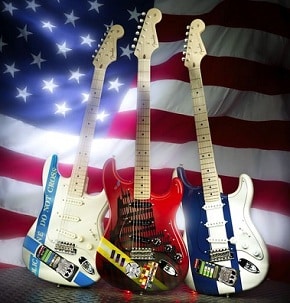 I'm a little late to the party, but thought this was something worth posting. I thought it was a classy move by both Fender and Gibson guitars. Below are the press releases and images of the 9/11 tribute guitars. Read more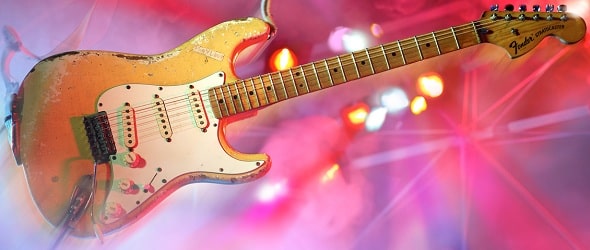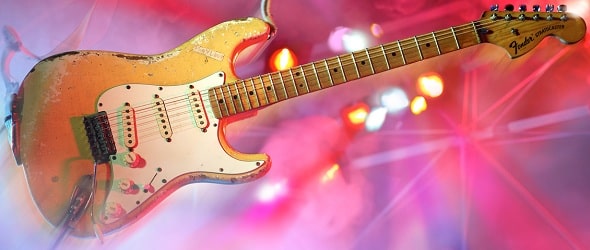 Yngwie Malmsteen. The name alone strikes wonder into the hearts of guitarists everywhere. Yngwie Malmsteen, the Swedish Stratocaster wunderkind; the fiery and flamboyant showman extraordinaire; the charmingly outspoken enfant terrible of metal; the Paganini of the electric guitar. His classically inspired, dazzlingly fleet-fingered technique and apocalyptic guitar sound continue to mesmerize listeners today just as it did when the world first felt his Fender-fueled fury in the early 1980s with Steeler, Alcatrazz and Malmsteen's landmark 1984 solo debut, Rising Force.
Then as now, Malmsteen often worked his magic on an Olympic White 1971 Fender Stratocaster. He bought the guitar in Sweden in 1978 while still a teenager and performed the unusual and delicate modification of scalloping the fingerboard to help create his signature sound; the guitar also acquired Read more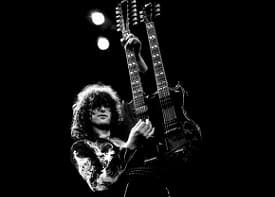 It's no secret that each major religion has a group of artifacts that its followers hold a high respect for. We guitar players have the same artifacts that we respect. The main difference is that ours can be used to raise fists and get laid. Well, Gear-Vault has put together a list of said guitars, so let's take a look at what many guitar players say are the holy of holies; the top ten most famous guitars, in no particular order. Read more

In the mid-1940s, Leo Fender invented a distinctive solidbody guitar design intended to address feedback issues by amplifying the guitar strings without effecting the resonance. Leo's vision led to the creation of the Fender Electric Instrument Manufacturing Company. By late 1951, the company's first showing two-pickup guitar model, the Fender Telecaster, started rolling off the factory's assembly line. Alongside Fender's three-pickup pickup, the Stratocaster, the Telecaster would eventually become the most commonly used six-string guitar in the world, altering the direction of prominent music in the process.
Sixty years later, the Tele's excellent playability and yielding sound makes it one of the industry's most adaptable solidbody guitars, similarly at home in jazz or rock, alternative or country styles. To celebrate this landmark year, Fender Guitars have constructed a limited-edition 60th Anniversary Telecaster which combines features originated on the '51 Telecaster prototype with several exclusive updates which makes this a Tele to outdo all Telecasters. Read more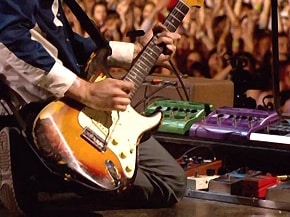 Fender Stratocaster is, along with the Fender Telecaster and the Gibson Les Paul, one of the most iconic electric guitars ever made and has been the ride of choice of literally generations of guitar players ranging from rank beginner to seasoned pro. It's seductive contours and curves have come to define what an electric guitar looks like and feels like for untold numbers of our guitar-slinging brothers and sisters out there, and there will be someone playing one somewhere for as long as there is any kind of interest in electric guitar playing. The Strat made its debut in 1954 Read more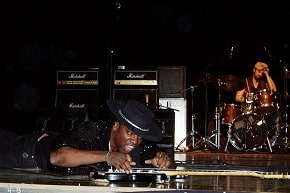 Blues You Can Use From the Desert Southwest – Every once in a while, you run across something that is just astonishing, something that you'd never expect to find. For this writer, that "something" is bluesman Carvin Jones, who has long been the pride of Phoenix, Arizona and has over time become a familiar and welcome face on the European concert circuit. Read more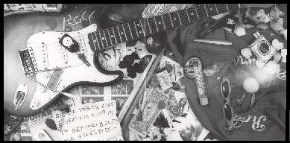 Irrespective of time, place or anything, whenever people talk about guitars, be it anywhere in the world, the name Fender Stratocaster inevitably creeps in.
Most people rip on anything made by foreign manufacturers, and demand it be made in America. Those who fit this bill are missing out on one of the best reissued guitars to date, the Fender '72 Telecaster Deluxe.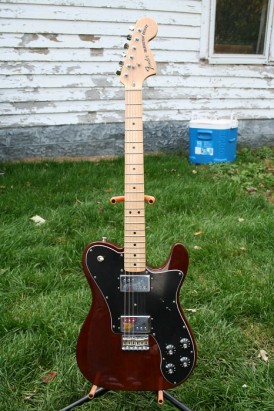 I've owned this guitar since October 2006. I saw it hanging in a Guitar Center. I noticed the strings were brand new; the plastic still on the pickguard… this axe must have just hit the floor that morning. But the one detail about this beauty that blew my mind was the neck: it was flamed… so beautifully flamed. I had been lucky enough to find a stock Tele Deluxe with a flamed maple neck, and I wasn't letting it get away.
Pulling it off the wall, I found a sales rep, told him I wanted to put this baby on lay away (which of course he was ecstatic about because he may make a sale without any effort whatsoever, talk about a reverse world!) I gave him all the money I had on me, which happened to be $20. I went home, put my Read more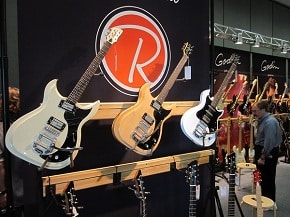 In the past decade, Godin Guitars have been making quite a name for themselves with their beautifully designed guitars becoming more and more popular each day. This isn't only because of their looks, but functionality as well. This year, Godin overwhelmed Winter NAMM with many new, affordable instruments. Read more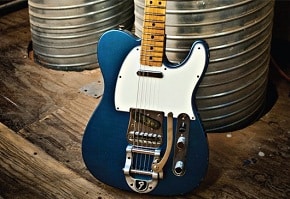 Every year Fender attempts to recreate their classic Stratocaster or Precision/Jazz bass somehow. Whether they call it "road worn" and relic the guitar for you, or call it "closet classic" and make it with 100 year old wood with a post-CBS appearance, they never stray too far from the original formula that has made their instruments a worldwide phenomenon. Strangely, this is where Fender is beginning to miss the mark in the consumer-based guitar industry. Read more