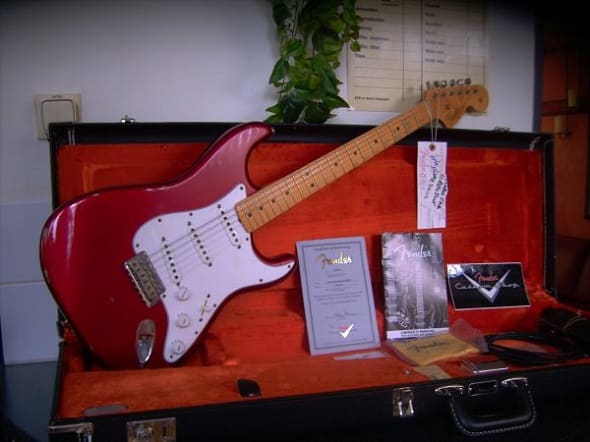 Talk about the holy-grail of guitar giveaways, here is your opportunity to win a Fender Custom Shop Closet Classic Stratocaster. Wow! This giveaway ends on September 13, 2013. The winner will be announced Tuesday, September 17. YOU MUST BE CONFIRM YOUR EMAIL TO BE ELIGBLE! Read more
Tags: guitar amp gear giveaway contests, gear-vault com/tag/giveaway, fender cs custom classic stratocaster, rever com custom shop strat giveaway, win a stratocaster,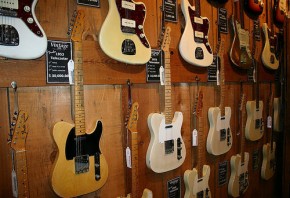 There is a lot of fuss made in the guitar community about so-called 'vintage' guitars, 'vintage' being another word for 'old'. There is a certain part of our world that longs to play a 30-, 40-, or even 50-year-old guitar or bass for a variety of reasons. To be honest, there is something to this argument when it is applied to instruments that truly are products of what many to be the 'golden era' of guitar production in the USA which, if we combine acoustic and electric guitars, would be roughly from the 1920's to about 1970.
Read more
Tags: gear telecaster, old guitars, price on portugal guitars over 70 years old,
I love a Fender Stratocaster, they are one of my favorite guitars. My biggest inspirations aside for Randy Rhoads, was Eric Clapton, Stevie Ray Vaughan, and Jimi Hendrix. Not only were their playing style legendary, but they created a sound that everyone wanted to emulate, and a big part of that was, of course, the Fender Stratocaster.
Today you have a chance to win a Fender Eric Clapton Signature Stratocaster guitar. This 'Blackie' Stratocaster has all the bells and whistles you'd expect from a USA made Fender, this guitar sells for $1,600! Read more
Tags: win clapton stratocaster,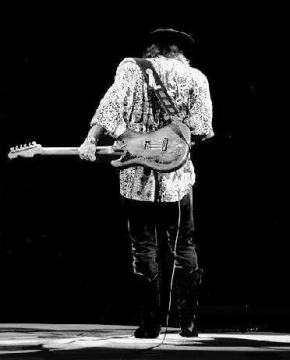 To understand what made Stevie tick, to get the whole story of the man behind the music, we have to turn to his closest confidants, the people who knew him best and miss him most. Given the opportunity to tell Stevie's tale and open up, revealing things they'd never revealed before. Read more
Tags: stevie ray vaughan tattoo chest, the life of stevie ray vaughn, what was stevie rays chest tattoo,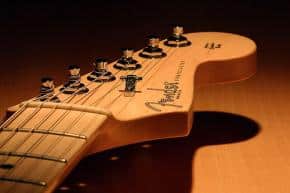 It's easy to get bamboozled if you're purchasing a vintage Fender guitar. Because these instruments are bolted together, their parts can be swapped, stripped or replaced faster than you can say "rip-off." A buddy of mine who has been in the vintage game for years recently estimated that between 15 and 20 percent of the "Sixties Strats" out on the market are bootlegged. And if that number sends a shiver down you fuzzy fretboard, the number of "all-original" Strats that feature replaced pickups, pots, bridges and other parts is even higher.
By and large, G-V has found that vintage guitar dealers who have a good reputation have earned it. Likewise, if the word on the street is that a certain seller is not on the up and up, he's probably guilty as charged. Avoid him like the plague. Read more
Tags: fake fender guitars, how to tell a fake stratocaster, fake stratocaster, Counterfeit Fender Guitars, how to spot a fake fender stratocaster, fake fender custom shop, Fender Guitar fakes, how to spot a fake strat, fake fender stratocaster, how to spot a fake clapton strat,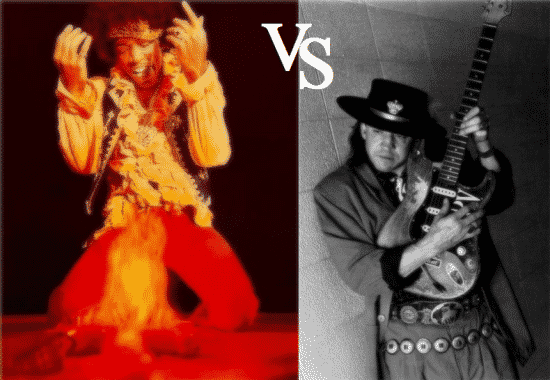 Two of the most revered guitar players in the blues/rock universe are Jimi Hendrix and Stevie Ray Vaughan. Both men helped define the sounds of their respective eras and are icons of the instrument and are most likely responsible for launching more guitar-playing careers (both real and air) than any post-Beatle guitarist outside of Eddie Van Halen. Today, however, your humble man of letters here at Gear-Vault has been given the difficult task of pitting Jimi and SRV in a head-to-head battle for musical supremacy, which is truly no easy task. In the flyover, both man share many similar qualities, from their explosions into public consciousness to their preference for Fender Stratocasters to their untimely deaths. When examined more closely, however, there are some major differences between the two that just might give one the edge over the other. Want to watch the fur fly? Keep reading. Read more
Tags: who was better hendrix or vaughn, stevie ray vaughan better than jimi hendrix, stevie ray vaughan hedrix, stevie ray vaughan vs jimi hendrix, Stevie Ray Vaughan vs jimmy hendrix, stevie ray von jimmy hendrix rip off, stevie ray vs hendrix, stevierayvshendrix, van halen gear, Stevie Ray Vaghn skill vs Jimi Hendix skill,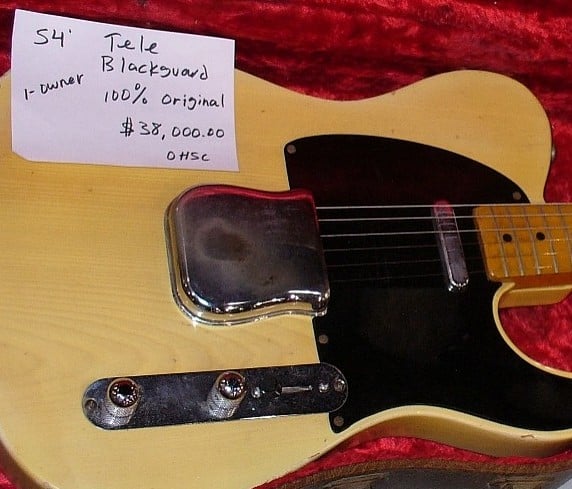 Just over a week ago I had the chance to visit the Orlando International Guitar & Music Expo 2012. That's fancy-talk for 'guitar show'.  If you're not familiar with what a guitar show is then try thinking of it this way – we all get the concept of a convention or conference for business professionals – a big room with various vendor booths showing off the latest products (expo hall) and there are usually some speakers/presenters teaching or otherwise discussing the latest industry news, etc.  Well, other than NAMM, guitar shows are the closest thing to a business convention that we players, collectors and all-around guitar lovers have for our favorite subject!
While some of the largest guitar shows may offer special 'clinics' (training sessions are often sponsored by a manufacturer hoping to show you why you need to buy their latest products) not all guitar shows will offer much in the way of training.  However, what they ALL do have in common is their version of the 'vendor expo hall' where guitar dealers bring lots of cool (and often vintage) guitars, amps, effects and more hoping to sell/trade them to/with show attendees. In other words, it's a lot like a big flea market for guitar and music gear!  And for the guitar lover it sure beats just about any other kind of shopping experience since you have so many cool old guitars under one roof.  I'll take a guitar show over going to the mall with my wife any day! Read more
Tags: Beano Les Paul, gary moore les paul, gibson amp vfront, les paul junior gary moore, orlando guitar expo reviews, pearly gates les paul,
It's that time of year again, when everyone is on the edge of their seat—waiting and watching, for the shiny new products to be rolled out at NAMM. Calm down – this isn't a game changing miracle device, but it's still pretty cool.
Fender has introduced the new Squier models for 2012, putting some nice touches on a guitar line that has had less than impressive results in the past. Read more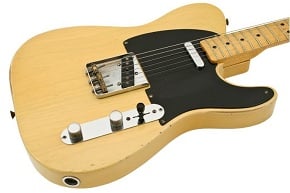 The Fender Telecaster is seen by many as the primordial electric guitar. Sure, one can argue that Paul Bigsby was also developing solid body instruments at the same time and in the same general area as Leo Fender but it is the Telecaster that is generally accepted as the first production solid guitar and the start of the modern guitar manufacturing business. Since its debut in 1952 Read more
Tags: fender telecaster history, telecaster history, Fender Telecaster 1950, first telecaster reocrding, fender telecaster production history, fender stratocaster history, telecaster deluxe history, MUSIC HISTORI FENDER TELECASTER MADI IN CHINA, history telecaster, history of the fender telecaster,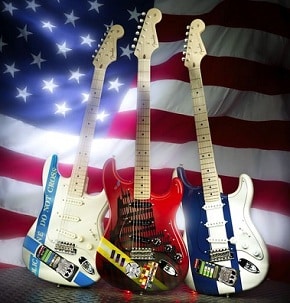 I'm a little late to the party, but thought this was something worth posting. I thought it was a classy move by both Fender and Gibson guitars. Below are the press releases and images of the 9/11 tribute guitars. Read more
Tags: 9-11 tributes, гитара gibson les paul 2013,