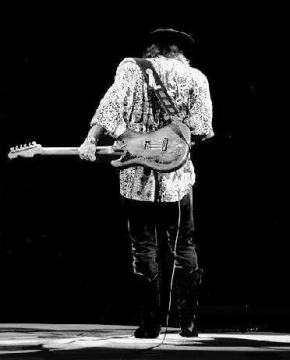 To understand what made Stevie tick, to get the whole story of the man behind the music, we have to turn to his closest confidants, the people who knew him best and miss him most. Given the opportunity to tell Stevie's tale and open up, revealing things they'd never revealed before. Read more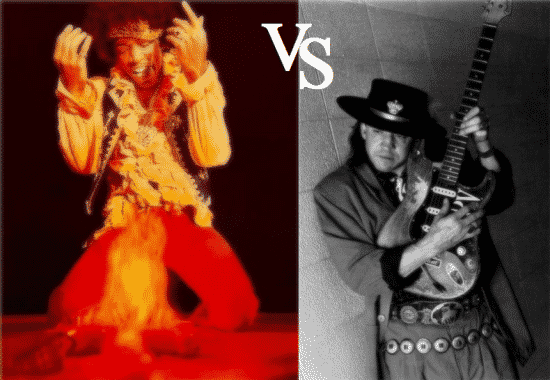 Two of the most revered guitar players in the blues/rock universe are Jimi Hendrix and Stevie Ray Vaughan. Both men helped define the sounds of their respective eras and are icons of the instrument and are most likely responsible for launching more guitar-playing careers (both real and air) than any post-Beatle guitarist outside of Eddie Van Halen. Today, however, your humble man of letters here at Gear-Vault has been given the difficult task of pitting Jimi and SRV in a head-to-head battle for musical supremacy, which is truly no easy task. In the flyover, both man share many similar qualities, from their explosions into public consciousness to their preference for Fender Stratocasters to their untimely deaths. When examined more closely, however, there are some major differences between the two that just might give one the edge over the other. Want to watch the fur fly? Keep reading. Read more
Happy 4th of July, everyone! In honor of today's independence day, I think it's fitting to share some videos of, what I would consider, some of the greatest guitar players to ever perform "The Star Spangled Banner". Read more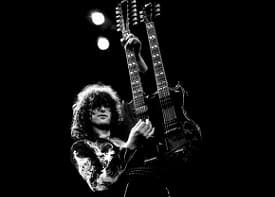 It's no secret that each major religion has a group of artifacts that its followers hold a high respect for. We guitar players have the same artifacts that we respect. The main difference is that ours can be used to raise fists and get laid. Well, Gear-Vault has put together a list of said guitars, so let's take a look at what many guitar players say are the holy of holies; the top ten most famous guitars, in no particular order. Read more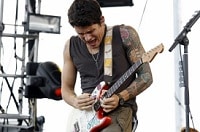 No matter what anyone says, every musician pulls influence and is inspired by at least another musician(s) in his or her lifetime. For me, my list of artists spans a few different genres, and I really don't think some of my playing would be what it is today if not for them. Read more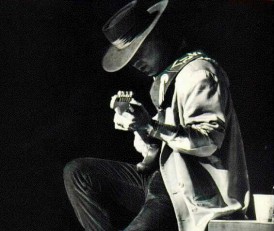 Stevie Ray Vaughan – October 3, 1954 – August 27, 1990
Nothing touches the hearts and minds like good music; especially music from down deep in the soul. It is only appropriate to respectfully remember a musical-maverick-man that gave us a plethora of mind-mellowing, soul-soothing, straight from the heart and soul from the life of SRV.
[Read Life & Death of Stevie Ray Vaughan]
Warmly remembering the guitar legend, everyone's Pride and Joy, Stevie Ray Vaughan. The best remembrance and tribute to him is to listen to his music…. Watch and listen to it below. Read more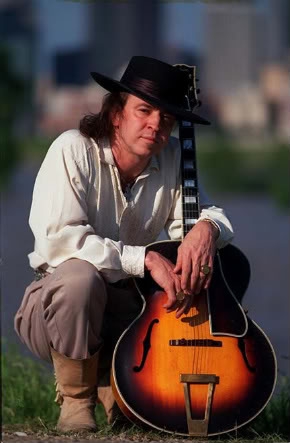 The first flash comes over the Associated Press wire at about 7 a.m. on Monday, August 27, 1990: "Copter crash in East Troy, Wisconsin. Five fatalities, including a musician."
Keen-eyed staffers at the Austin American Statesman catch that item and begin putting two and two together. The AP updates its story every half hour with fresh details: The mysterious "musician" becomes "a member of Eric Clapton's entourage"—and then, "a guitarist." By 9:30, rumors spread that Stevie Ray Vaughan was aboard the doomed craft. Read more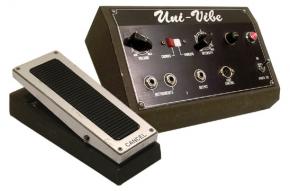 Multiple personality disorder may be a debilitating condition in humans, but it's a delightful quirk in effects pedals. With small digital multi-effects pedal so prevalent these days, it's always refreshing to check out a few analog stomp boxes that feature some pleasantly psychotic twists.
To that end, we subjected three effects pedals to analysis: three distortion related units—inspired by the venerable Uni-Vibe—Jim Dunlop's Uni-Vibe Stereo Chorus, Fulton's Deja Vibe and Roger Mayer's Voodoo Vibe. While no two pedals were exactly alike in function, each possesses a dual nature that, when fully exploited revealed unique opportunities for extreme sonic manipulation. Any guitarist bored by conventional sounds will find plenty to get excited about in these boxes. Read more
Sources tell us that The Allman Brothers Band has sued a record company for roughly $13 million. The Allman Brothers is taking a stand and are demanding a bigger cut of recordings sold through third parties, such as UGM and Apple's iTunes music service.
The rock band claims it's the victim of "digital exploitation," theft from digital downloads. The Allman Brothers demand more royalties from sales.
The Southern rock band filed its lawsuit against UMG Recordings Inc. in federal court in Manhattan on Monday August 11th, 2008, saying it was the victim of "digital exploitation."
The band behind such hits as "Melissa" and "Ramblin' Man" demands at nearly $13 million and additional royalties from the sales of newly configured compact discs and digital downloads, such as for use on telephone ring tones.

Advertisement————————————
————————————————————
The Allman Brothers Band was formed in the late fall of 1968 and was inducted into the Rock and Roll Hall of Fame in 1995.
The lawsuit says that when the Allmans entered into a contract with Polydor in 1985 (Polydor was later bought by Universal), the deal called for the band to get paid half the profits of the sale of records by third parties, which includes iTunes downloads and ringtone sales. The band also accuses UMG of refusing to renegotiate the royalties and having a "wanton disregard" of their original contract. The lawsuit equals to about $1 for every second of "Mountain Jam."
Gear-Vault Classifieds is an eBay alternative. Come sell your music equipment with us, for FREE!




"He knew how to bring out the best in people," says Gregg Allman of his late brother Duane, legendary guitarist and founder of the band which bears their surname. "He knew which buttons to push." Read more