When the phrase "guitar solo" comes to mind, you picture a guy just shredding apart a fretboard on stage to a crowd going absolutely crazy. This may hold true for some instances, but there are just as many great, even better guitar solos that only consist of a few notes…and are absolutely breathtaking. Read more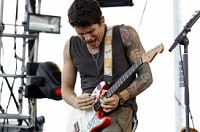 No matter what anyone says, every musician pulls influence and is inspired by at least another musician(s) in his or her lifetime. For me, my list of artists spans a few different genres, and I really don't think some of my playing would be what it is today if not for them. Read more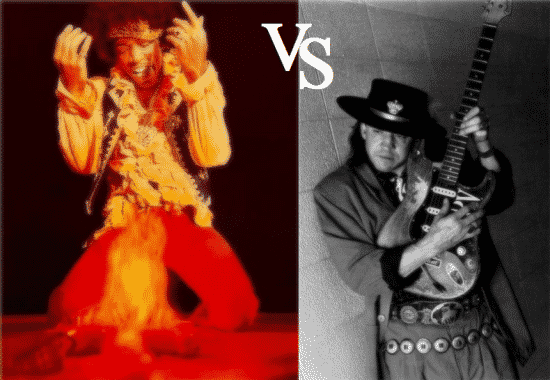 Two of the most revered guitar players in the blues/rock universe are Jimi Hendrix and Stevie Ray Vaughan. Both men helped define the sounds of their respective eras and are icons of the instrument and are most likely responsible for launching more guitar-playing careers (both real and air) than any post-Beatle guitarist outside of Eddie Van Halen. Today, however, your humble man of letters here at Gear-Vault has been given the difficult task of pitting Jimi and SRV in a head-to-head battle for musical supremacy, which is truly no easy task. In the flyover, both man share many similar qualities, from their explosions into public consciousness to their preference for Fender Stratocasters to their untimely deaths. When examined more closely, however, there are some major differences between the two that just might give one the edge over the other. Want to watch the fur fly? Keep reading. Read more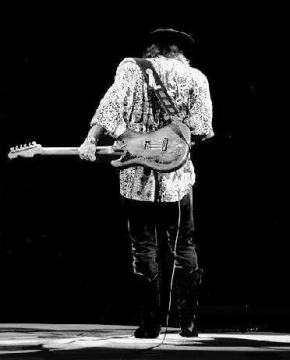 To understand what made Stevie tick, to get the whole story of the man behind the music, we have to turn to his closest confidants, the people who knew him best and miss him most. Given the opportunity to tell Stevie's tale and open up, revealing things they'd never revealed before.
At a young age, Stevie remembers a western swing band called Texas Playboys, they hung out at his house all the time. "They were a lot of character hanging around" Stevie continues "They would do some playing and liked to get drunk." Every once in awhile his dad would yell [affects heavy rural Texas accent], "Hey Jim, Steve, come out here and show them what you can do!". We can all imagine little Stevie and Jimmie Vaughan performing some music with the Roy Rogers roping a cow guitar.
Stevie got his first guitar when he was just seven years of age given to him by Michael Quinn. It was a Roy Rogers guitar with the picture of a cowboy roping a cow. Stevie also had a blanket that matched his Roy Rogers guitar.
Jimmie gave him his first guitar lesson. "Jimmie showed me a lot of stuff on guitar, but there was a time when Jimmie warned me, "if you ask me to show you anything again, I'll kick your ass." Well I did, and he did" –Stevie continued on "My brother Jimmie actually was one of the biggest influences on my playing. He really was the reason I started to play, watching him and seeing what could be done."
Seventeen years after his death, Stevie Ray Vaughan's influence only continues to grow. It can be heard in bar-rooms and arenas around the globe, in the playing of everyone from protégés like Kenny Wayne Shepherd to mentors like Buddy Guy to rockers like Mike McCready and Kirk Hammett. It can be seen in the popularity of vintage gear and straight-forward, ear-ringing tone, both of which were considered passé before Stevie proved there was plenty of influence in Fender Strats.
But perhaps the most telling evidence of Stevie's continued relevance is that his music still speaks volumes to millions of listeners. Some voices are stilled by death, but his has grown only louder.
The first flash comes over the Associated Press wire at about 7 a.m. on Monday, August 27, 1990: "Copter crash in East Troy, Wisconsin. Five fatalities, including a musician."

Keen-eyed staffers at the Austin American Statesman catch that item and begin putting two and two together. The AP updates its story every half hour with fresh details: The mysterious "musician" becomes "a member of Eric Clapton's entourage"—and then, "a guitarist." By 9:30, rumors spread that Stevie Ray Vaughan was aboard the doomed craft.

At 11:30, Clapton's manager confirms the worst: Vaughan was indeed among the passengers in the five-seat helicopter, which slammed into a fog-shrouded hillside near southeastern Wisconsin's Alpine Valley ski resort. Stevie Ray had boarded the aircraft after he and a stellar cast of guitarists that included Eric Clapton, Robert Cray, Jimmie Vaughan and Buddy Guy performed before a crowd of 25,000 at a blues show at the resort. The wildly successful show concluded with Vaughan, Clapton and the others taking part in an all-star finale/jam on Robert Johnson's "Sweet Home Chicago." It was a short time after this triumph that Stevie Ray met his fate.

On Friday August 31, just a few days after the accident, more than 3,000 of the faithful gather at Laurel Land Memorial Park in Dallas, Texas, braving 100-degree heat to say farewell to Stevie Ray. Stevie Wonder, Bonnie Raitt and Billy Gibbons, among others, join the assembled mourners in an emotional chorus of "Amazing Grace." Crowding the burial site are more than 150 floral arrangements that have been sent from around the world. Nearby stands a placard: "We will cherish what you have given us and weep for the music left unplayed."
"Unfortunately, you never fully grasp someone's greatness or importance until they're gone" says B.B King. "And I think that's true with Stevie. As the years go by and he's not here, it just becomes more and more clear how special he was, and how much he's missed."
Missed so much that hungry fans eagerly await news of "lost" SRV tracks discovered in the vaults, crossing their fingers with the hope that a mother-load of unreleased material sits waiting to be unearthed and aired.
At least some of these prayers were answered on March 23, 1999 when Sony Legacy released Stevie's four studio albums with Double Trouble (Texas Flood, Couldn't Stand the Weather, Soul to Soul and In Step), each of them were updated with four bonus tracks recorded in the same time frame as the original. A new Greatest Hits, Volume Two was released back in 1999 as well and both are still hot sellers to this date.
Stevie Ray Vaughan is a portrait of an artist completely dedicated to his craft, and of a man who had wrestled with his demons and emerged victorious, with a new lease on life and rededicated passion for his life's work. Stevie was undoubtedly making the finest music of his life when he died at age 35.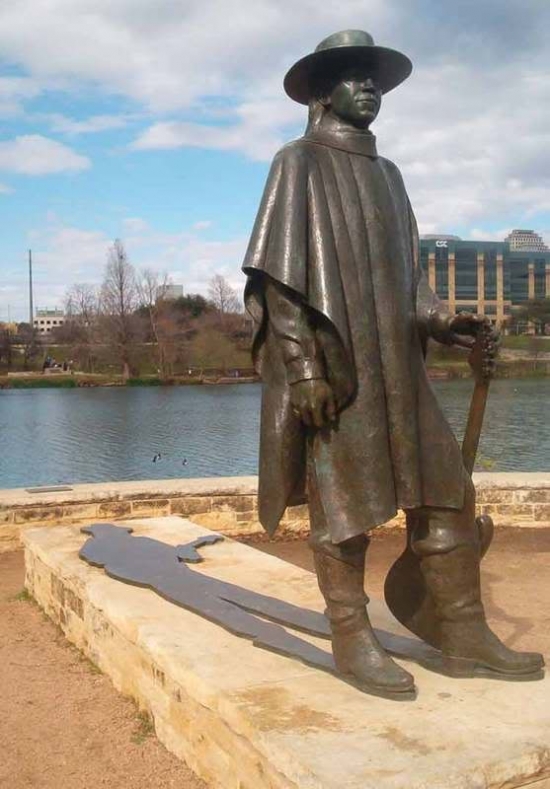 Stevie Ray Vaughan died, August 27, 1990, just a few moments after midnight in a helicopter crash after being in the air just a few seconds in East Troy, Wisconsin was just a short distance from his destination in Chicago and his new sweetheart Janna, Stevie's former fiancé.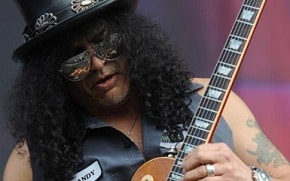 Happy 4th of July, everyone! In honor of today's independence day, I think it's fitting to share some videos of, what I would consider, some of the greatest guitar players to ever perform "The Star Spangled Banner". Read more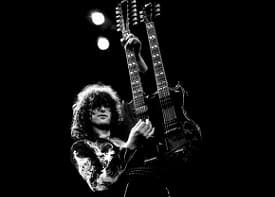 It's no secret that each major religion has a group of artifacts that its followers hold a high respect for. We guitar players have the same artifacts that we respect. The main difference is that ours can be used to raise fists and get laid. Well, Gear-Vault has put together a list of said guitars, so let's take a look at what many guitar players say are the holy of holies; the top ten most famous guitars, in no particular order. Read more
Here is a compilation of the world's best lead guitarists of all-time by YouTube member: Mike Redshaw. Personally, I won't dispute his list — I think he picked some of the best guitarists known to mankind. However, one could argue for days who "their" version of 'best guitarists' are. There's a lot of talent out there and everyone get's moved by music / guitars differently. For me, if I were to pick just one "best" guitarist, it'd be Randy Rhoads (not on his list). All of his work has moved me and he was one of my biggest influences when I started playing guitar. Okay Gear-Vault readers, who would you pick for the 'world's best lead guitarist' of all time? Read more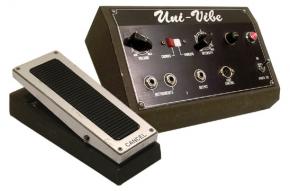 Multiple personality disorder may be a debilitating condition in humans, but it's a delightful quirk in effects pedals. With small digital multi-effects pedal so prevalent these days, it's always refreshing to check out a few analog stomp boxes that feature some pleasantly psychotic twists.
To that end, we subjected three effects pedals to analysis: three distortion related units—inspired by the venerable Uni-Vibe—Jim Dunlop's Uni-Vibe Stereo Chorus, Fulton's Deja Vibe and Roger Mayer's Voodoo Vibe. While no two pedals were exactly alike in function, each possesses a dual nature that, when fully exploited revealed unique opportunities for extreme sonic manipulation. Any guitarist bored by conventional sounds will find plenty to get excited about in these boxes. Read more
Let's take a look at 4 killer Marshall stompboxes to help shape your guitar tone. In this review, we will sit down and play all 4 pedals, and also includes video tone sample. You want to hear how kickass these Marshall Pedals sound, right?
Pedals in review:
BB-2 Bluesbreaker II
SV-1 Supervibe Chorus
ED-1 "Edward" Compressor Pedal
VT-1 Vibratrem
BB-2 Bluesbreaker II

Modeled after Marshall's original Bluesbreaker pedal, the BB-2 offers two modes instead of one. The unit's clean, but merciless boost function can pummel an amp's input stage or drive long cables without altering the tone of your guitar, while the blues mode uses the pedal's drive and tone controls to create a wide range of valve-like overdrives rich in 2nd-order harmonics.
The Bluesbreaker II worked extremely well with a vintage Marshall Super Lead, producing no low-end loss when interacting with the amp's power tube distortion. It's performance was equally commendable with a Blackface Fender Reverb, where the BB-2's ultra-musical crunch was plainly in evidence. Read more