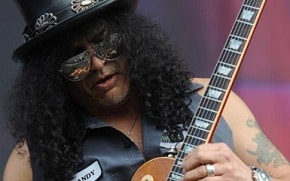 Happy 4th of July, everyone! In honor of today's independence day, I think it's fitting to share some videos of, what I would consider, some of the greatest guitar players to ever perform "The Star Spangled Banner". Read more
Marshall is proud to present the AFD100 Slash Signature amplifier: a dual mode, all-valve 100. head that captures the tone and spirit of one of rock's most celebrated and sought after sounds – Slash's guitar tone on Guns 'N' Roses legendary, "Appetite for Destruction" (AFD). Released in 1987, this highly influential has sold in excess of 18 million copies worldwide and is the best selling debut album of all time.
Using the original AFD master recordings, Slash and Marshall painstakingly worked together to replicate his AFD sound. "This is an idea I've had for quite some time," the guitarist reveals. "So many fans have been trying to duplicate that sound. I thought, 'who better than to really perfect it other than Marshall?' We spent a lot of time together developing this amp. We stripped a couple of guitar tracks off the original AFD masters and basically got in there with a fine tooth comb so we could suss out exactly what made that sound the way that it was."
After countless hours and several prototypes, the Slash AFD100 was born with two distinct, footswitchable modes labeled #34 and AFD – both offering 100% pure Slash sounds. The first is based on the modified JCM800 2203 he's used since the late '80s and had "34" stenciled on the side, hence the "#34" name. The second is, of course, pure, unadulterated AFD. "We used 'Night Train' as one of the man reference tracks and the amp sounds just like it." Slash concludes. "I think we've been totally successful!" The amp boasts a mixture of both traditional and modern Marshall aesthetics – a unique blend of Plexi, JCM800 and Silver Jubilee cosmetics. In addition to its dual, footswitchable modes, the Slash AFD100 also has the following features:
1. Two inputs – high and low sensitivity
2. Built in Electronic Power Attenuation. Controlled by a front-panel knob, this allows you to adjust the amp's output from 100% to 0.01%, and anywhere in-between, without sacrificing the tone and feel of those all-important power valves
3. Footswitchable* Series FX loop with Return Level control
4. Valve Fault Indicator: meaning that if one of the output valves develops a fault, a visual indicator on the rear of the amplifier shows which one is working incorrectly. This "roadie friendly feature" will save valuable time getting the amplifier back up and running again, should a valve issue occur
5. Auto-Bias & Bias Current Trimmer to ensure correct power valve biasing and optimal valve life and function
*NOTE: A two-way, LED Footcontroller (PEDL-00054) comes supplied with the AFD100, facilitating switching between the #34 & AFD modes, plus FX Loop on/off.
To commemorate the 23 years that have passed since the recording of "Appetite for Destruction", the AFD100 is Limited to 2300 units worldwide, 500 in the US. Retail price is $2899 (but can be had for much cheaper – surf the online stores below to find better deals).
SLASH BACKGROUND
Slash is widely considered one of the greatest rock guitar players of all time. He has received countless accolades and awards including a 2007 star on the Hollywood Walk of Fame alongside his idols Jimmy Page and Jimi Hendrix. An original member of iconic rock band Guns N' Roses, Slash helped the band create signature sounds like the guitar riff of #1 hit "Sweet Child o' Mine" and "Welcome To The Jungle." The band dominated the 1980's and 90's music scene selling more than 100 million albums worldwide and ushered in a decade of hard charging rock music. After leaving the band, Slash went on to critical acclaim in his personal project Slash's Snakepit, and global success with supergroup Velvet Revolver.
Slash has been widely sought after by the biggest musicians of all time, performing with everyone from Michael Jackson to Stevie Wonder to Ray Charles. Slash is one of the marquee playable characters in Guitar Hero III, has two signature Gibson guitars in his name, and authored his own top-selling biography Slash in 2007. Slash recently landed on the top of the charts with his first true solo album, SLASH, which debuted as #1 Rock Album and #3 overall on Billboard's coveted Top 200 charts, in addition to going #1 in more than 13 countries. The album features an all-star roster of guest musicians including Ian Astbury, Chris Cornell, Rocco DeLuca, Fergie, Dave Grohl, Myles Kennedy, Kid Rock, Lemmy Kilmister, Adam Levine of Maroon 5, Duff McKagan, M. Shadows of Avenged Sevenfold, Ozzy Osbourne, Iggy Pop, and Andrew Stockdale of Wolfmother. In addition to a long career filled with prestigious awards and accolades, Slash was recently honored by the Hollywood Chamber of Commerce who named him as an official selection for 2011 to receive a star on Hollywood's iconic Walk of Fame. A date for the ceremony has yet to be determined. See the Marshall Randy Rhoads JCM800 1959RR Guitar Amplifier.

Vintage V100AFD Paradise — Looking through some of the new guitars that are being introduced this time of year, with NAMM 2011 kicking off this week, I found a guitar that looks like something that Slash would love to play. No, it's not a Gibson (though may be priced as much?). It's a Les Paul -style guitar; solid mahogany body w/ set mahogany neck, flamed maple veneer & carved maple cap, Wilkinson WVHZ pickups, and pearloid inlays… you get the idea. Read more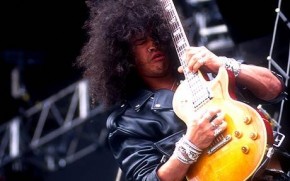 Top 10 Guitar riffs by Gibson.com — I would have 'Sweet Child o' Mine' up further and Rush, 'Limelight' removed in favor of Metallica's cover versions of Diamond Head's 'Am I Evil?'. Review these top 10 guitar riffs of the 1980s and decide if you agree. Read more
We here at Gear-Vault.com have been keeping in tune with the progress of Slash's new AFD100 prototype. Here is the first audio samples of the amplifier–the video you've all been waiting for–Slash finally gets his hands on the AFD100 prototype (#1) and putting the amp through its paces with some classic Guns N Roses Appetite For Destruction riffage! Read more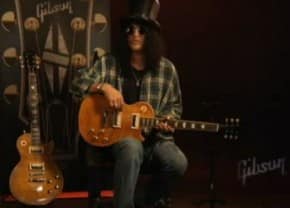 Eternally top-hatted former Guns N' Roses guitarist Slash is one of the most iconic guitarists of our time and, in some circles, is considered one of the last true guitar heroes. When he burst onto the rock scene in the 80's, Slash immediately became a poster boy for Gibson guitars and the Les Paul model, as much of the world was playing then-current super strat-type axes like Kramers, Charvels, and the like.
In honor of his ongoing Les Paul use, Gibson has made a Slash model, which seems like a very nice guitar. It has all the features and specs that LP guys like, a beautiful amber flamed top, and a cool Slash logo on the headstock. So what's the problem? Read more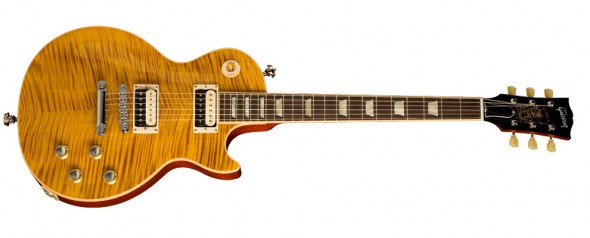 Gibson Guitars and Slash have collaborated to recreate the Les Paul Slash used on the legendary Guns-N-Roses Appetite For Destruction album. Below is a video of Slash talking about his all-new Slash Appetite For Destruction Gibson Les Paul Guitar, and compares the components to his original guitar. Of course we here have Gear-Vault were first on the case to announce the new Slash Gibson Les Paul guitar. Go here to read the official Gear-Vault introduction of the guitar: Gibson Slash Appetite for Destruction Les Paul Guitar. Read more
From his groundbreaking work with Gn'R, to Slash's Snakepit, to Velvet Revolver and numerous acclaimed solo and side projects, Slash has continued to embody the ultimate rebel rocker, putting addictive licks and eviscerating tone above all else, and throughout he has continued to do it on a Les Paul. To honor this achievement, Gibson introduces the Slash Appetite for Destruction Les Paul, a guitar equipped with the finest features of the original Les Paul Standards of 1958-'60, and the added punch of Seymour Duncan Signature Series Alnico II Pro Slash humbucking pickups. Read more

Ex- Guns N Roses and current Velvet Revolver guitarist, Slash, plays an eerie cover from the 1972 Italian-American mob flick, The Godfather. You'll notice Slash's tempo on guitar is a bit faster than the original "Waltz" version. Another part of the guitarist's style that really stands out is his aggressive and sustained bends–which brings the song to an entirely new level. Slash brought piano, bass and drums into the mix for an even more dramatic feel to the song. Watch both versions below and tell us what you think. Read more