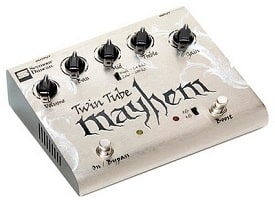 WHO COULD HAVE imagined that a decades-old company solely devoted to pickup winding would suddenly set the guitar industry on tilt with masterfully crafted pedals like the Twin Tube Classic, Lava box, Power Grid, Shape Shifter and Tweak Fuzz. Never before has a specialized company like Seymour Duncan so successfully diversified its product line and received such high marks for its freshman effort.
Another great addition to the company's stomp box line is the anxiously awaited Twin Tube Mayhem pedal. This is the Twin Tube Classic's criminally insane brother, born of Duncan's malicious intent and capable of terrifying acts of sonic aggression. Like the Classic, the Mayhem is more of a footswitchable tube preamp than a mere stomp box by virtue of its standalone ability to generate tube- derived gain and control a full-waveform signal, as opposed to only shaping or boosting portions of the sound to create a desired effect. Simply put, Duncan's Mayhem conjures diabolic high gain like you've never heard from a pedal. Read more
Seymour Duncan announces the Liberator, the first universal Solderless Pickup Change System for guitars and bass. Liberator is a bare-wire Lockdown system integrated with a high-quality volume pot. With a Liberator-equipped volume pot installed, changing pickups no longer requires heating up a soldering gun—you only need a mini screwdriver. Since Liberator doesn't require proprietary connectors, it works with nearly any manufacturer's passive pickups. Read more

The legacy of the Super Strat lives on with the Schecter C-1 FR, a dual-humbucker-equipped ax with Floyd Rose licensed tremolo and a familiar double-cutaway shape. With its Duncan Designed HB-105 active humbuckers, 25 ½-inch scale and 24-fret fingerboard, this is a great guitar to check out first if you're looking for a high-octane shred machine.
Unlike most shred axes in this price range, the C-1 FR's body is crafted from genuine mahogany instead of some bizarre mystery wood. The bolt-on neck is maple with a rosewood fingerboard decorated with subtle dot inlays. The C-1 FR is one of only a few Super Strats with a three-on-each-side tuner configuration rather than the more common six-on-a-side arrangement–a definite plus for players weaned on Gibsons.
My review guitar came with a delicious whiter-than-white finish that made me want to join an Angel cover band, and the contrasting black binding, black chrome hardware and jet black pickup covers gave the guitar irresistible two-tone ebony-and-ivory appeal. The C-1 FR's fit and finish is so immaculate that's its difficult to believe this guitar lists for well under $1,000. Read more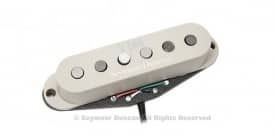 No other guitarist unleashes the fury like Yngwie J. Malmsteen. His influence is undeniable, his technique unparalleled. So, when a legendary axe-slinging metal virtuoso like Yngwie says he wants to take his tone to the next level, we listen. After hundreds of hours of intense tone pursuit, we proudly unleash the STK-S10 YJM Fury.
The YJM series includes a dedicated bridge pickup as well as a separate neck/middle pickup, representing two highly individual customized voices that sound sweet and fluid with more articulation and responsiveness to dynamics. They're recommended for any fast playing style including neo-classical, shred, hard rock, power metal, and heavy metal and can directly retrofit most single-coil equipped guitars. But players beware, installing the YJM Fury into your guitar, might unleash the Fury in you.
Seymour Duncan have leaked some information about the new 8-string Blackout pickups. This is great for the growing trend of 8-string guitars. We here at Gear-Vault have been reporting news about Schecter Guitar Research announcing 8-string guitarsbefore the NAMM show–Schecter BlackJack ATC-8 limited edition guitar comes with 8-string Blackouts installed from the factory. Read the presser below. . . Read more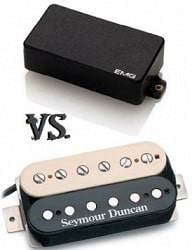 Electric guitar pickups are a touchy and subjective topic. Most long-time players have gone through a number of different types before they work out what is the best sound for them. Sometimes they will even prefer different styles or brands of pickups for different applications. Today, we are doing a flyover comparison of two of the most popular makes of pickups on the market, EMG and Seymour Duncan, which is really a comparison of active, or powered pickups, and passive, traditional units. These are the two basic flavors that pickups come in and provide vastly different sounds when deployed.
Most Seymour Duncan pickups are old-style passive pickups, meaning they are mostly magnets wrapped in wire. They work as pickups have worked since the dawn of time and give many variations on the guitar sounds we are all used to. Users will find normal and hum-cancelling single coils and different models of humbuckers with varying output levels and tonalities, but they will all be more similar to traditional pickups than they are different. Duncan does make actives, the Blackout series, which are gaining in popularity, but the Duncan company was built on passives and that is what the firm is still best known for. They are a good choice for players seeking enhanced versions of conventional pickup designs. Read more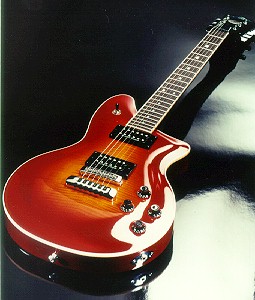 Washburn's P-series were a fine instrument, especially the P4 Deluxe. The guitar was introduced in early 1997, featuring a mahogany body with a flamed maple top that was so beautiful that you would literally drool down your chin.
The guitar also featured Washburn's (exclusive) sound chambers, which made the guitar extremely lightweight and resonant. The P4 came from the factory with Seymour Duncan classic '59 and custom humbuckers installed, the tone was absolutely to die for.
Also included in the P4 Deluxe was Schaller locking tuners and a fine-tuning tailpiece, which was designed to give you full control over tuning with the added benefit of a graphite nut. The instrument was available in a variety of burst colors, including Wineburst, Cherry Sunburst, Blueburst, Honeyburst, Coffeeburst and Tobaccoburst.
Advertisement————————————
[% oiopub-banner-3-left %]————————————————————
I'm always excited when new pedals are released. One of the more recent releases was Seymour Duncan's Twin Tube Mayhem SFX-04, which is a balls-to-the-wall full-range tube driven distortion pedal jam-packed with welcoming features. It comes with your standard EQ–Treble, Mid, and Bass controls but a great added feature is the mid boost switch from 600hz to 1.4khz. The Mayhem also has a foot-switchable boost that you can set to either +4dB or +8dB. Loaded with gain, the Mayhem is perfect for hard rock, old school metal to death metal and everything in between.
Application
Rugged High-Quality guitar preamp with built in 4dB or 8dB boost. The Mayhem uses a duet of premium, mil-spec, subminiature, USA-made Phillips-Sylvania 62051 pentode preamp-tubes. Perfect for hard rock, new metal, thrash, death and doom.
Description
The high plate voltage and 100% vacuum tube signal path allow the preamp-tubes to operate at their fullest potential and provide maximum dynamic range. Additional gain is achieved with a high voltage, low noise, discrete Class A input stage. The solid state input stage increases the resistance of the stomp-box to microphonics. The result is maximum dynamic range, the most gain, and the heaviest tone you would expect from a great tube preamp voiced for hard rock and metal. Also features user-selectable 4dB or 8dB boost for pre-setting rhythm and lead levels. True bypass. Fully encapsulated toroidal transformer for quiet operation. As expected, you can trust that the Seymour Duncan Mayhem is built with a rugged heavy duty steel chassis, with the hardcore guitarist in mind.