Roland launches the most powerful guitar amplifier in the CUBE-Series lineup, the new Roland CUBE 80X guitar amplifier expands on Roland's top-selling CUBE-60. The Cube 80-X delivers a massive 80-watts of power through a 12-inch speaker, and features a switchable clean and lead channel designed from its renowned predecessor, CUBE-60 series.
Roland Cube 80X Guitar Amplifier
Not only does the Roland CUBE-80X offer more power, it adds exciting new features to the guitarworld of portable amps, including a new "Looper" function and "Solo" function with memory capability. The direct recallable SOLO function stores the settings of each and every LEAD channel control, allowing you an easy to use third channel option. In addition, the boost feature can be toggled via the footswitch. Ten onboard COSM amp models include the new "DLX COMBO". Also onboard the CUBE 80X is six classic Roland effects with independently controllable reverb and delay, including a model of the classic spring reverb for a natural sound. Read more
NAMM 2011 — Roland is extremely proud to announce the GR-55 Guitar Synthesizer, a revolutionary new product from the world's undisputed leader in guitar synthesis technology. Combining PCM synthesis with digital instrument modeling derived from the respected VG-99 V-Guitar System, the GR-55 represents Roland's latest breakthrough advances in guitar synthesis, offering playability, features, and sound quality that far surpasses the capabilities of previous generations of guitar synthesizers.
The GR-55 is the pinnacle of Roland's exhaustive efforts in the field of guitar synthesis over the last 35 years. In 1977, the company created the GR-500, the world's first guitar synthesizer. This milestone product ushered in a new era of guitar expression, allowing guitarists to play an entire palette of sounds that were previously available only to keyboard players. Since then, Roland has remained steadfastly dedicated to guitar synthesis, constantly developing and improving the technology to make it accessible and easy to use for all guitarists. Read more
Roland has sold over 10,000 CUBE amplifiers, and that number continues to grow every day. Drawing on the company's 35-plus years of innovation and know-how, these portable performers combine cutting-edge technology with design and construction features typically found in amps almost that cost up to five times as much. In this article, we'll take a closer look at what goes into every CUBE amp, and introduce you to the latest guitar amp in the lineup, the CUBE-XL series. Read more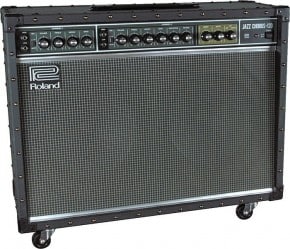 The Roland JC-120 Jazz Chorus amp is one of the most popular amps among musicians because of its quality sound. This amp has two channels for a wide selection of sound options, with a clear and true tone that makes is one of the best amp choices today. No matter what your play style is, you can use the Roland Jazz Chorus amp both for practice and live concerts. Read more
Roland is proud to announce the Cube-XL series of guitar amplifiers, the latest generation of its top-selling Cube amp family. With over one million Cube amps sold and still going strong, Roland continues its quest for innovative technology and design with the new Cube-XL series, consisting of the Cube 80XL, 40XL, 20XL, and 15XL.
The Cube-XL amplifiers include new ultra-heavy COSM amp models, updated effects, and onboard phrase looping. There's a wide range of sounds from crystal clear to crushing metal, along with the addition of extra-powerful amp models such as Extreme, and Metal Zone.
Among the many additional features found in the Roland Cube-XL series amplifiers are onboard effects (including a new COSM vintage Spring Reverb effect), an Acoustic Guitar Simulator, and Solo and Memory functions.
All the new amps feature a JC clean channel, using the modeling from the legendary Roland JC-120 amp. Read more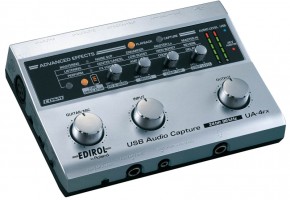 There is no doubt that personal computers have changed the way we record music. Gone are the days of big and bulky tape machines, expensive reels of two-inch tape, and all the maintenance that goes along with keeping a great-sounding analog rig up and running. Now, most of us are tracking into a computer of some kind or another, which keeps everything digital, cut-and-paste-able, and affordable. These days, however, even computer-based recording is changing, as the computers themselves get small, lighter, and more powerful. Many musicians are tracking on laptops running DAW software, which allows a huge amount of audio firepower to be as portable as a spiral notebook. All you need is a way to get your music into the computer, which is where devices like the new Cakewalk UA-4FX enter the picture. Read more

Roland V-Drum Presser — The all new Roland V-Pro Series TD-20SX makes a bold statement with sight, sound and function. Stylish, versatile and built like a tank. Read more