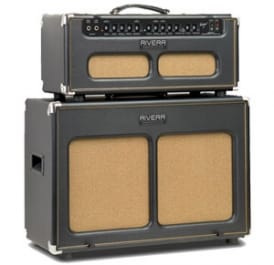 Rivera Venus series has been making big waves in the amp world, and with good reason. The Venus amps are the company's first foray in Class A designs and they are taking things way beyond the typical Vox-derived flavors that many players think of when they hear the term. The newest amp in the line is the Venus 5. Read more
NAMM 2011 — Rivera Shaman Making their surprise debut last Friday alongside the all-new Rockcrusher attenuator, Rivera have announced a new range of stompboxes – the first to be released under the Rivera name for thirty years.
The Shaman range kicks off with three very different overdrive pedals: the Blues Shaman is aimed at blues players; the Metal Shaman is for metallists – naturally; and for everything else the Double Shaman promises to be a highly versatile performer, with two channels called LA and Austin. Read more
NAMM 2011 — Due to be unveiled at this year's NAMM, the all-new Rockcrusher attenuator is built to Rivera's usual high standard, handles 120 watts and features a super heavy-duty stepping switch controlling a reactive load.
Unlike the simple resistive loads used in many attenuators, this means the Rockcrusher responds more like a loudspeaker and doesn't mess with your amp's tone.
The Rockcrusher also features switchable input impedance, EQ controls, and separate balanced and unbalanced line outs, all for a damn good price. Read more
Page 1 | Page 2 | Page 3 | Page 4 | Page 5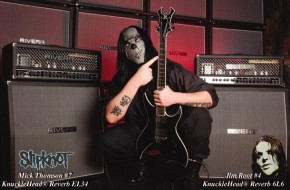 Metal, as we all know, is about power. From the playing styles to the gear, anything involved in today's metal scene had better be able to dish it out as well as take it. The Rivera amp company has always had a large stake in the rock market with its Knucklehead series Read more