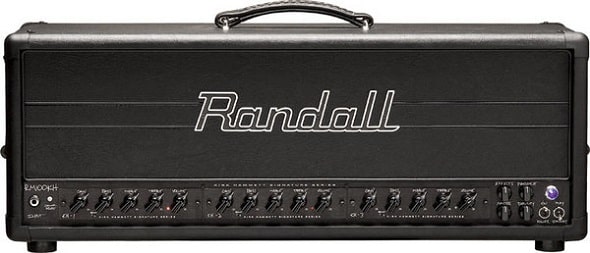 KIRK HAMMETT characteristically relies on a rock star—sized rack of amplifiers, preamps and custom-tweaked processors to generate his volcanic live sound. In the studio, this rack becomes a part of an even larger equation, where Hammett meticulously augments and shapes his iconic tones with a menagerie of specialized and vintage gear. If you haven't guessed it, Guitar World's first Hall of Fame inductee is an incurable tone hound that has lacked only one thing: an amplifier singularly capable of creating his current trademark tones and versatile enough to grow with Hammett's changing tastes and needs.
Randall Amplification teamed with Hammett to devise this metalhead's daydream amplifier after Anthrax's Scott Ian raved to Hammett about his and Dimebag Darrell's positive experiences with Randall amps. It just so happens that Randall's MTS (Modular Tube System) amplifiers are perhaps the ideal platform for Hammett's amp, because they are famous for their high-end sound quality and allow for practically limitless expansion. Amp whiz Bruce Egnater pioneered this cleverly practical system where the preamp consists of removable tube-driven modules, each designed to achieve a specific tonal goal. Kirk's Hammett's signature series Randall MTS amplifier comes loaded with the three modules that he and Randall's engineers crafted over an extensive research and development collaboration. Read more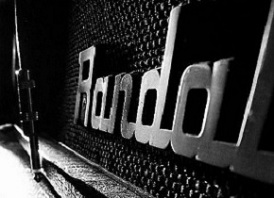 Randall Amplifiers was formed by a gentleman named Don Randall. Before he began building his own amplifiers, Randall work at Fender Guitars where he designed some of the company's legendary amplifiers. Don Randall also came up with the model name for a couple of Fender's solid body guitars, the Telecaster and Stratocaster. Read more
Last around this time we posted a story about Nuno Bettencourt's new signature head amplifier, NB KING 100. Following the release of the award-winning NBKing head and cab, Randall Amplifiers is proud to announce the nexst addition, the all-new Nuno Bettencourt signature combo amplifier–the NBKing 112.
The NBKing 112 is an all tube 30 watt combo amplifier powered by 4 EL84 tubes. It utilizes the same 3 channel preamp found on the 100 watt Randall NBKing head. The top facing gold control panel contains 2 full featured channels, clean and overdrive. The third channel is a dedicated solo channel containing drive and volume controls. Read more
Randall Amplifiers announces the new RT Series of all tube guitar amplifiers. The series is pro caliber and at a price point that would normally be considered solid state territory.
It offers novices and solid state fans the opportunity to step into the world of real tube tone. The series includes three heads, the RT103, RT503 & RT50, one combo, the RT50C and two cabinets, The RT412XC & RT212XC.
The RT103 is a 3 channel, 100 Watt head with reverb and the RT503 is a 50 watt version. Both heads feature one clean channel and two overdrive channels. The RT50 is a 2 channel, 50 watt head with reverb featuring one clean and one overdrive channel. Read more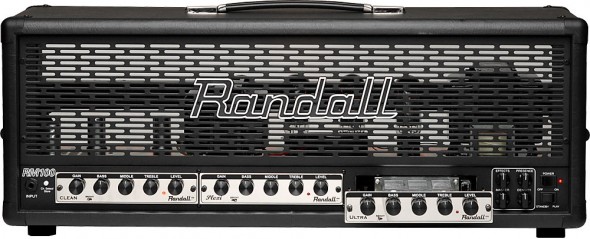 Randall RM100M MTS is one of the most flexible all tube guitar amplifiers, preamps, and combos ever created. Here is a demonstration video created by Vince Genella. Vince Genella takes you through some of the features and demonstrates the Clean, Plexi, and XTC Modules on the Randall MTS. Read more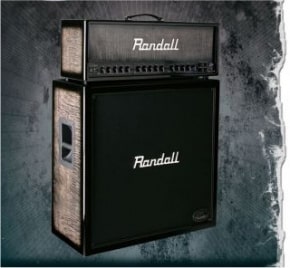 Randall knew what they were doing when they decided to collaborate with the guitarist from Metallica, Kirk Hammett to create the RM100KH Limited Edition Half Stack. Hammett is known for his legendary guitar work, leads and the sounds he is capable of manipulating, the hype surrounding the new series of MTS amplifiers. Hammett helped design and perfected the RM100KH. Read more
Hear y'all, hear y'all, Randall Amplifiers announced the all new Nuno Bettencourt Signature head and cabinet at NAMM 2009. With legendary Peter King along with the Nuno himself they collaborated a master piece of art like no other. From the amp's design and brilliant tone, this amplifier will blow you away.
Nuno Bettencourt's signature amp is a two-channel-plus-solo-mode design. The amp has a very cool and distinctive look; cross between a retro studio preamp and a modern guitar amp. Powered driven through its four EL34 powertubes, has a go-faster VU meter and is as eccentric as Betttencourt himself.

Advertisement—————————————
[% oiopub-banner-3-left %]—————————————————————
The NB King100 has the perfect mixture of classic feel and modern circuitry to create unforgettable tone. With its two channel amp featuring three different kinds of operation, (which you can easily select with the MIDI channel) has a refreshing clean channel and intense drive, and overdrive from modern to vintage rhythm tones, in addition to the aforementioned intimate SOLO mode for harmonized sustained. The back panel includes many goodies: MIDI in/thru, Power tube bias section and series effect loop.
What's more is the matching NB412 (4×12) cabinet, and of course, is designed perfectly to maximize the NB King 100 sounds. Constructed from solid birch plywood and loaded with Celestion Greenbacks, this cabinet provides a perfect level of character and breakup for the 100 watt NB King 100 head. This is a match made in heaven that produces ecstasy for vintage to modern tube tone.
If you are looking for an all tube rig and want to stand out from the rest, do the right thing and test drive the new NB King 100 & NB412. I know we will!
Blake Beckman of Idaho is probably looking up at the sky thanking God for the opportunity of a lifetime. Why? Because he was just chosen as the winner of ESP guitars summer contest in which the winner gets an all expense paid trip to Dallas, Texas to see Ozzfest. Blake will hang with the Ozzfest crew, including Shadows Fall, Devil Driver and other ESP bands. Not only is he going to get to meet all of the Ozzfest bands, he also has special access to "Ozzy's Lair" VIP area and gets free apparall from Affliction Clothing so he can be properly dressed and ready for the affair. (Some of the clothing will be hand signed by Ozzy Osborne himself and that is just another added bonus!) Of course, after all the festivities are over it is going to be hard to have to return to his small town life in Idaho, so it is a good thing he is going to have an ESP LTD KH-602 Guitar and Randall RM100KH Amplifier waiting for him back at home.
Beckman can play his new rig and think back to this amazing event in his life. How many people can actually say "I won a trip to Ozzfest, all expenses paid, limo, meals, drinks, hotel… and oh I also have hand signed Ozzie gear!" not too many people can honestly say that! But Blake Beckman can! How very lucky of him!

Advertisement————————————
[% oiopub-banner-3-left %]————————————————————
Are you just a little jealous of the prize package that Black Beckman has won? You can relive the experience with Blake after the show as his adventures at Ozzfest before, during and after will be featured later by ESP. If you still feel a twinge of guilt, keep an eye on ESP's website espguitars.com as they are going to have more contests resembling the Ozzfest 2008 complete package later in the year.
The Ozzfest 2008 Sweepstakes was sponsored by ESP Guitars, AEG Live, Affliction Clothing and Randall Amps–
Gear-Vault Classifieds is an eBay alternative. Come sell your used guitars and amps with us, for FREE!