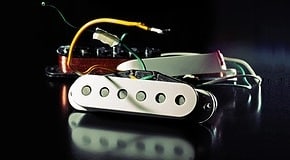 Passive (i.e. battery-free) electric guitar circuits are relatively simple and the possibilities for customization are endless.  A basic understanding of pickups, potentiometers, capacitors and switches is all you need to get creative and take more control of your instrument's voice on an electronic level. Read more
Lollar Guitar Pickups announce the release of the new Regal humbucking guitar pickups.
According to Jason Lollar, "After several years of research (and debating if the cost of tooling would be worth it), we've come up with a reproduction of the 'wide range' humbucker that sounds and functions almost identically to the originals. Ours sound a little bit clearer than the vintage version, partly because we made the pickup covers out of slightly thinner material, which reduces the dampening of tone that metal pickup covers can sometimes cause. The originals had the same winding specs for the neck and bridge… ours vary a little for better volume and tone balance. We make custom sized bobbins in our shop, with the covers, base plates, and lead and magnet wire made to spec for us in the US. The covers will be engraved with the Lollar logo, and offered in nickel, chrome or gold." Read more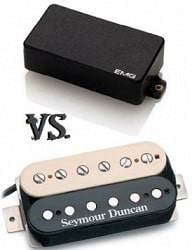 Electric guitar pickups are a touchy and subjective topic. Most long-time players have gone through a number of different types before they work out what is the best sound for them. Sometimes they will even prefer different styles or brands of pickups for different applications. Today, we are doing a flyover comparison of two of the most popular makes of pickups on the market, EMG and Seymour Duncan, which is really a comparison of active, or powered pickups, and passive, traditional units. These are the two basic flavors that pickups come in and provide vastly different sounds when deployed.
Most Seymour Duncan pickups are old-style passive pickups, meaning they are mostly magnets wrapped in wire. They work as pickups have worked since the dawn of time and give many variations on the guitar sounds we are all used to. Users will find normal and hum-cancelling single coils and different models of humbuckers with varying output levels and tonalities, but they will all be more similar to traditional pickups than they are different. Duncan does make actives, the Blackout series, which are gaining in popularity, but the Duncan company was built on passives and that is what the firm is still best known for. They are a good choice for players seeking enhanced versions of conventional pickup designs. Read more
Press Release–If you've been admiring Andy Timmons's signature Ibanez, Billy Corgan's new Fender Strat, or Steve Morse's custom Music Man but can't break the bank, DiMarzio has the answer. For 2009, we're releasing the DiMarzio Andy Timmons AT-1, the Billy Corgan BC-1 & BC-2 and reintroducing the Steve Morse Neck and Steve Morse Bridge model pickups – the same custom signature pickups in these artists' guitars.
Andy has been described as a "player's player" because of his great touch, phrasing and tone. Since 2001, he's been playing a custom DiMarzio bridge humbucker and until now that pickup has only been available in his signature Ibanez guitar. For the first time we offer the Andy Timmons' AT-1 with the balance, warmth and clarity of a classic humbucker and the attack of a hot rock pickup.

Advertisement—————————————
[% oiopub-banner-3-left %]—————————————————————
As a result of working with Billy Corgan on his custom Strat, we modified the Air Norton S for the neck and the Tone Zone S for the bridge. Billy asked for a deeper sound from the low strings without losing punch and a cleaner sound with high-gain amps. We lowered the frequency response of one coil in each pickup to boost the bass while opening up the mids. The end result is the new BC-1 and BC-2.
Steve Morse has developed a unique approach to soloing and we followed Steve's lead in developing unique pickups to be there when he needs them. Steve likes an even balance up and down the fingerboard. The Steve Morse Neck model has a dark, clean and uncompressed sound with low output and warm, smooth attack. The Steve Morse Bridge model has lots of power with a strong upper midrange peak making the low notes pop with a hard pick attack. The lows are tight and clean even when he uses them with a high-gain amp.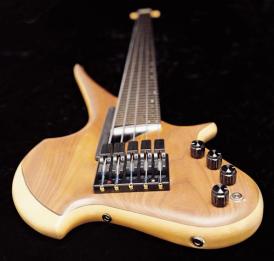 First there were magnetic pickups, hex pickups for guitar synth, and piezos for that acoustic guitar sound. Now there's LightWave Pickup System from Audio Optics, Inc. The LightWave is a departure from conventional magnetic pickup technology.
Photodetectors use infrared illumination to measure the shadow cast by each vibrating string. This optical signal is then converted into an audio output. Meanwhile, each string is also "felt" by a piezo signal in the bridge, which contributes other components to the string's sound. The bass player controls the blend of these optical and piezo outputs, and selects among 15 presets EQ settings for a wide range of tone colors. The LightWave is rockin' in 4-, 5-, and 6- string basses. With acoustic-electric guitars to follow the lead. Your ears will be amazed at what your pickups are "seeing". http://www.lightwave-systems.com
Gear-Vault Classifieds is an eBay alternative. Come sell your guitars and amps with us, for free!

Advertisement————————————
[% oiopub-banner-3-left %]————————————————————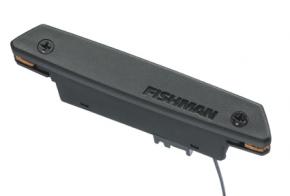 For years; acoustic guitars have been trying to perfect a system of amplifying their "unplugged" styling without the use of a microphone. Though many guitars these days come with built-in piezo electric transducers (i.e. pickups), players still complain of the harsh, brittle tone associated with those systems—a sound that requires quite a bit of tweaking to make it vaguely resemble an acoustic guitar.
Though piezo transducers have improved quite a bit over the years, the other option for acoustic players is to use an electromagnetic transducer (not unlike an electric guitar pickup) that fits snugly into an acoustic guitar's soundhole, such as Fishman's Rare Earth Models.
The Rare Earths are so named because they use neodymium (a rare metal) pole-piece magnets which, according to Fishman, allow for better string-to-string response. Available in single-coil or stacked-humbucking versions, the pickups are completely active, using low-current, battery-powered Class-A preamps. Installation is unquestionably hassle-free—just pop the pickup into the soundhole and tighten the mounting screws. For permanent installation, you'll need to cut the Rare Earth's pickup wire down to a length suitable for it to run comfortably from the pickup to the endpin jack, and drill a hole in the guitar's endblock to accommodate the Fishman jack (definitely best left to a pro).
We sampled the Rare Earth pickup in a Lowden 0-10 jumbo acoustic, played through a Marshall Soloist acoustic amp and directly into a Mackie mixer via a SansAmp. Each pickup had it's own distinct sound, but both models captured the exceptional bottom end, bright highs and broad dynamic range of the guitar.
The single-coil pickup behaved like a single-coil. It was susceptible to RF and 60 Hz noise conditions, and it was significantly brighter and more shimmering than its humbucking counterpart, making it a good choice for dreadnoughts and other boomy-sounding guitars. It also proved to be exceptionally responsive to fingerpicking and situations with various dynamic peaks.
The Rare Earth humbucker is very quiet and not as bright as the single-coil. It excellently harnessed the percussiveness and nuances of the guitar, fully capturing the instrument's natural, acoustic tone. The humbucker also features a brilliance switch that boosts 3 dB from 2 to 20 kHz. The effect is subtle, but definitely makes a difference when fingerpicking, yielding better single-note definition. Its coloration is also audible when strumming hard on the treble strings.
The End Line
Eric Clapton and his touring guitarists, Andy Fairweather-Low and Alan Darby, are using the Fishman Rare Earths on E.C.'s tour—and our tests explained why the man who made "unplugged" a household word relies on them. These pickups are an excellent choice for anyone who's in love with the characteristics of his acoustic guitar and is looking for a way to amplify it. Official link for Fishman's Transducers