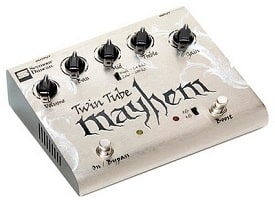 WHO COULD HAVE imagined that a decades-old company solely devoted to pickup winding would suddenly set the guitar industry on tilt with masterfully crafted pedals like the Twin Tube Classic, Lava box, Power Grid, Shape Shifter and Tweak Fuzz. Never before has a specialized company like Seymour Duncan so successfully diversified its product line and received such high marks for its freshman effort.
Another great addition to the company's stomp box line is the anxiously awaited Twin Tube Mayhem pedal. This is the Twin Tube Classic's criminally insane brother, born of Duncan's malicious intent and capable of terrifying acts of sonic aggression. Like the Classic, the Mayhem is more of a footswitchable tube preamp than a mere stomp box by virtue of its standalone ability to generate tube- derived gain and control a full-waveform signal, as opposed to only shaping or boosting portions of the sound to create a desired effect. Simply put, Duncan's Mayhem conjures diabolic high gain like you've never heard from a pedal. Read more
Westside distribution announces four new Morley guitar products for 2010.
Mini Morleys
Two new optical pedals for 2010, the Mini Morley Wah and Mini Morley Volume. Both pedals are as fully featured as you would expect from Morley but measuring only 4.5 (W) x 6.75 (L) x 2.75 (H) inches, are perfect for pedals boards when space is at a premium. Read more
With its simple operation and stellar analog tone—the MXR Micro Chorus joins the ranks of MXR Classics such as the Phase 90, Dyna Comp, and Micro Amp. This 80's reissue delivers a stunning range of rich chorus textures, from sparkly watery shimmers to intense rotating speaker simulation with a twist of the Rate control. The Micro Chorus is designed with old-school bucket brigade technology for warm analog tone and features true bypass for pure guitar tone when the pedal is off. Its road-worthy hardware and components are housed in a space saving Phase 90 sized box. Check for price. Read more
Electro Harmonix–the Electro Harmonix Bass Blogger Distortion Pedal is "the perfect dialog with your drummer". Like other Electro Harmonix pedals, the Blogger is encased in a durable metal box for rugged use. Read more
NAMM 2009 (January 15th) DigiTech announces its all-new advanced delay pedal TimeBender at the 2009 Winter NAMM Show in Anaheim, CA. The DigiTech TimeBender delay features ten useful delay types including Analog, Digital, variable speed tape, moving head tape, dynamic (ducking) digital, dynamic (ducking) tape, dynamic (ducking) analog, time warp, reverse, envelope (chopping delay), along with a full 20 second looper.
Further surpassing the competition, the TimeBender allows the user to create custom repeat rhythms or patterns by simply strumming the guitar. Up to 6 taps can be set to quickly create delays that would normally take a rack of effects hours of programming. For instance; a 6 tap moving head tape delay can be created where the delay taps are not equally spaced but fall on beats set by the guitarist.
If Strum Pattern were not enough, DigiTech has included intelligent harmonies that can be added to the delays. Topping off the TimeBender is the ability to add intelligent harmonies to the delays. Choose from over 100 different voicing's including octaves, 5ths, and 3rds to create delay effects that can only be created with a rack full of gear.
The TimeBender further adds full-time tone control, modulation, multiplier, tap tempo and repeat ping-pong patterns on all delay types in an easy to use stompbox user interface. Four memory settings also allow the user to save their favorite sounds.
The DigiTech TimeBender offers more than a full rack of delay effects topped with intelligent harmony and the capability to quickly set the repeat rhythms – never has a delay so advanced been this simple to use and all packed up in one pedal. Read more