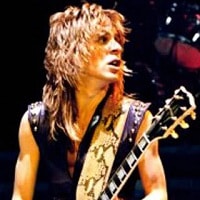 Randy Rhoads fans, here's some unseen video footage that recently surfaced. As a huge Randy Rhoads' fan, whenever some unseen audio or video is discovered, it's like finding the Holy Grail. And so it is, apparently, with the below video of Randy Rhoads performing an extended (7:50) solo from 1979 with his former band, Quiet Riot. Read more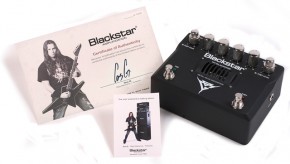 Blackstar HT-Blackfire – The HT-BLACKFIRE is the first artist signature product by Blackstar, developed with influential guitarist Gus G. (Ozzy Osbourne, Firewind). Gus's instructions to the Blackstar design engineers was to produce "the ultimate heavy metal distortion pedal". The HT-Blackfire is a two channel, valve-driven, metal distortion pedal. Read more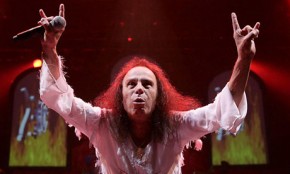 Gear-Vault is sad to report the passing of a true rock legend. Ronnie James Dio, noted heavy metal vocalist with Rainbow, Black Sabbath, and his own band, Dio, has succumbed to the stomach cancer he announced publicly late in 2009. His wife, Wendy, released this statement Read more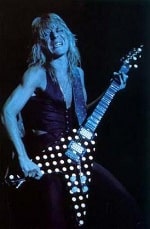 It's been a long time since Randy Rhoads left us but there are many who still rave about his characteristic crunch. Randy had a slight different sound from album to album but it usually had a sort of thin and bright, nasally tone. He carried quite a few guitars but was usually seen with his Les Paul and of course his famous polka-dotted flying V.
To go for Randy's sound on "Over the Mountain" from Ozzy Osbourne album Diary of a Madman, start with a standard distortion pedal. Crank the gain control wide open, the tone at about mid, and the level set at a comfortable level (comfortable being relative). Pay close attention to the amount of distortion the pedal produces; many just won't have enough grind. If this is the case, switch to a metal type distortion but increase the tone or presence control to one or two o'clock. Next in the chain of effects is an octave pedal for use on the first of the solo. If you're lucky enough to have a real pitch transposer, set it for one octave down using a chromatic scale type and play the high part. Keep in mind this will not sound exactly like it does on the song but it will sound a lot closer than if you went without. Last is the stereo chorus set to simulate the double guitar. Leave it on for the entire song. Read more
Did anyone go to Ozzfest 2008, with Metallica and Ozzy Osbourne as the headliners? It was held on August 9th @ Pizza Hut Park in Frisco, Texas.
According to producers Sharon Osbourne and AEG Live, the show grossed nearly $3.5 million and drew close to 30,000 people to Dallas' Pizza Hut Park. Sponsored by Affliction Clothing, this year's Ozzfest marked the return of the 13-year-old music brand after a free run at amphitheaters last year.
This year's one-off event did "fantastically well," Says Sharon. "The one thing is you want for the kids to go away and keep talking about what a great show it was, and that's what they're doing." Read more
Blake Beckman of Idaho is probably looking up at the sky thanking God for the opportunity of a lifetime. Why? Because he was just chosen as the winner of ESP guitars summer contest in which the winner gets an all expense paid trip to Dallas, Texas to see Ozzfest. Blake will hang with the Ozzfest crew, including Shadows Fall, Devil Driver and other ESP bands. Not only is he going to get to meet all of the Ozzfest bands, he also has special access to "Ozzy's Lair" VIP area and gets free apparall from Affliction Clothing so he can be properly dressed and ready for the affair. (Some of the clothing will be hand signed by Ozzy Osborne himself and that is just another added bonus!) Of course, after all the festivities are over it is going to be hard to have to return to his small town life in Idaho, so it is a good thing he is going to have an ESP LTD KH-602 Guitar and Randall RM100KH Amplifier waiting for him back at home.
Beckman can play his new rig and think back to this amazing event in his life. How many people can actually say "I won a trip to Ozzfest, all expenses paid, limo, meals, drinks, hotel… and oh I also have hand signed Ozzie gear!" not too many people can honestly say that! But Blake Beckman can! How very lucky of him!

Advertisement————————————
[% oiopub-banner-3-left %]————————————————————
Are you just a little jealous of the prize package that Black Beckman has won? You can relive the experience with Blake after the show as his adventures at Ozzfest before, during and after will be featured later by ESP. If you still feel a twinge of guilt, keep an eye on ESP's website espguitars.com as they are going to have more contests resembling the Ozzfest 2008 complete package later in the year.
The Ozzfest 2008 Sweepstakes was sponsored by ESP Guitars, AEG Live, Affliction Clothing and Randall Amps–
Gear-Vault Classifieds is an eBay alternative. Come sell your used guitars and amps with us, for FREE!