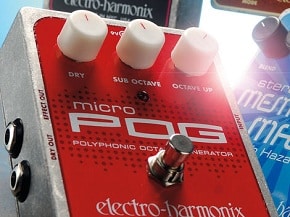 Bored with the guitar's four-octave range (and that's only if you have a 24-fret guitar)? You could succumb to the seven-string itch, but that will only increase your range by a perfect fourth (or five half steps). No wonder many guitarists lust for other instruments like the bass, six-string bass, 12-string guitar or—the horror—ukulele or mandolin. Thanks to the ElectroHarmonix Micro POG, you can expand the range of your guitar by two octaves without cheating on your faithful ax. Read more
Nothing sounds quite like an Octaver, and Rocktron makes that point with the introduction of the Black Rose!
Part of the Rocktron Boutique Series of stomp boxes, the Black Rose comes in a rugged metal chassis with retro-custom designed, laser-etched artwork. The Black Rose Octaver is a true bypass pedal: when turned of it is out of the signal path.
Controls for the Black Rose Octaver include: Thorns, Merge, and Fragrance. Thorns determines the intensity and tracking (-12 steps) of the Octave below Effect. Merge controls the Mix between the original input and the Octave effect. Fragrance controls the overall tonal color of the effect.
A special switch called Roots allows you to go from Thick (heavy crunch) to Thin (smoother). Read more
NAMM – MXR Bass Innovations announced, yet, another phenomenal bass pedal, the M-288 Bass Octave Deluxe. This pedal offers bass players true analog tone, pure bypass, and a large array of tone-shaping options. A single 9 volt battery powers this insanely phenomenal pedal. MXR's 18-volt Constant Headroom Technology provides studio-performance headroom and superior tracking.
Utilize the "Dry" knob to mix your direct bass signal with the octave effect, or hit the "Mid+" switch to add up to +15dB of internally adjustable low-mid punch and midrange pop, all this helps produce your killer sound.
Bass players will be enthralled with its two separately processed and individually voiced octave controls, deep growls, throaty lows, midrange below-tone and a girthy smooth octave sound. The MXR Bass Octave Deluxe comes a rugged aluminum casting and, as all MXR pedals, you can expect the same high-quality jacks and switches that the company is renown for over 30 years. The Bass Octave Deluxe is totally gig-ready and should be a standard on any bass players pedal-board Read more