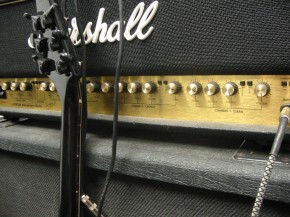 Marshall is one of the most reputed guitar amplifier manufacturers in the world. The history of Marshall Amplifiers is a really interesting one and the company with its excellent products has indeed rewritten the way a genre of music is heard! Many guitarists to date prefer the signature Marshall "crunch sound" which only Marshal amps can deliver. The company throughout its history has indeed developed many models which have been extremely well received by both veteran and entry level players and it continues to do so till date. Read more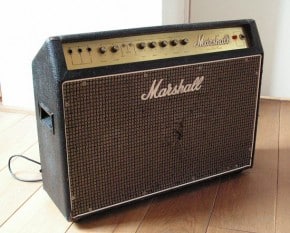 Continued on from "Gibson Firebird Guitar Born 1963"
Of course the electric guitar wouldn't have developed at all had it not been for amps. And the guitar amplifier would never have come into being had it not been for Mr. Lee De Forest, who invented the vacuum tube Read more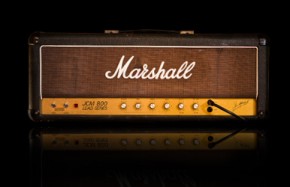 Marshall Amplification is a British company which is renowned for manufacturing some of the best and most versatile guitar amplification units out there. The sought after "crunch sound" which only Marshall Equipments have to offer remains unrivaled till date. Guitarists who prefer a heavier guitar sound have always invariably ended up selecting a Marshall. Read more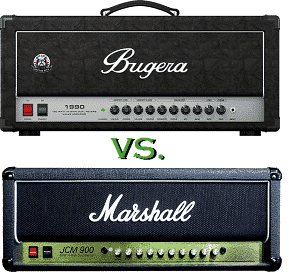 Anyone looking for that classic stage sound, but doesn't have the classic stage budget, would do well to check out the Bugera 1990 amplifier. The 1990, built in the Behringer factory for the Italian manufacturer Bugera, comes so close to the sound of the Marshall JCM900 as to make critics split hairs when debating the two.
When presented with TheToneKings side-by-side audio/video comparison (see below), the online reactions ran the gamut of Marshall homer-isms. The 900 is cleaner, they say. A little tighter. Has thicker bass. Better distortion. Transcendent reverb. All of this can apparently be determined by listening to a set of tiny little computer speakers, played from a YouTube video, its properties broken apart and reproduced out of binary code as if sent through the USS Enterprise's transporter room (or like poor Jeff Goldblum in The Fly).
Some opined that the Bugera is more apt to have problems if it gets moved from place to place (one can only surmise that such depends on how one throws one's amp around). One deep thinker suggested that the Marshall has superior tubes – akin to asserting that a Mercedes is preferable to a BMW because it has better tires.
Such complaints may well be valid if one is playing CDs through the head and speakers, but that's not the case. That which goes into an amplifier is a musical instrument. It's called a guitar. It's made out of wood, metal and magnets (with some little bits of plastic, bone and Mother of Pearl here and there). When Marshall-loving elitists sniff at the Read more
Marshall is proud to present the AFD100 Slash Signature amplifier: a dual mode, all-valve 100. head that captures the tone and spirit of one of rock's most celebrated and sought after sounds – Slash's guitar tone on Guns 'N' Roses legendary, "Appetite for Destruction" (AFD). Released in 1987, this highly influential has sold in excess of 18 million copies worldwide and is the best selling debut album of all time.
Using the original AFD master recordings, Slash and Marshall painstakingly worked together to replicate his AFD sound. "This is an idea I've had for quite some time," the guitarist reveals. "So many fans have been trying to duplicate that sound. I thought, 'who better than to really perfect it other than Marshall?' We spent a lot of time together developing this amp. We stripped a couple of guitar tracks off the original AFD masters and basically got in there with a fine tooth comb so we could suss out exactly what made that sound the way that it was."
After countless hours and several prototypes, the Slash AFD100 was born with two distinct, footswitchable modes labeled #34 and AFD – both offering 100% pure Slash sounds. The first is based on the modified JCM800 2203 he's used since the late '80s and had "34" stenciled on the side, hence the "#34" name. The second is, of course, pure, unadulterated AFD. "We used 'Night Train' as one of the man reference tracks and the amp sounds just like it." Slash concludes. "I think we've been totally successful!" The amp boasts a mixture of both traditional and modern Marshall aesthetics – a unique blend of Plexi, JCM800 and Silver Jubilee cosmetics. In addition to its dual, footswitchable modes, the Slash AFD100 also has the following features:
1. Two inputs – high and low sensitivity
2. Built in Electronic Power Attenuation. Controlled by a front-panel knob, this allows you to adjust the amp's output from 100% to 0.01%, and anywhere in-between, without sacrificing the tone and feel of those all-important power valves
3. Footswitchable* Series FX loop with Return Level control
4. Valve Fault Indicator: meaning that if one of the output valves develops a fault, a visual indicator on the rear of the amplifier shows which one is working incorrectly. This "roadie friendly feature" will save valuable time getting the amplifier back up and running again, should a valve issue occur
5. Auto-Bias & Bias Current Trimmer to ensure correct power valve biasing and optimal valve life and function
*NOTE: A two-way, LED Footcontroller (PEDL-00054) comes supplied with the AFD100, facilitating switching between the #34 & AFD modes, plus FX Loop on/off.
To commemorate the 23 years that have passed since the recording of "Appetite for Destruction", the AFD100 is Limited to 2300 units worldwide, 500 in the US. Retail price is $2899 (but can be had for much cheaper – surf the online stores below to find better deals).
SLASH BACKGROUND
Slash is widely considered one of the greatest rock guitar players of all time. He has received countless accolades and awards including a 2007 star on the Hollywood Walk of Fame alongside his idols Jimmy Page and Jimi Hendrix. An original member of iconic rock band Guns N' Roses, Slash helped the band create signature sounds like the guitar riff of #1 hit "Sweet Child o' Mine" and "Welcome To The Jungle." The band dominated the 1980's and 90's music scene selling more than 100 million albums worldwide and ushered in a decade of hard charging rock music. After leaving the band, Slash went on to critical acclaim in his personal project Slash's Snakepit, and global success with supergroup Velvet Revolver.
Slash has been widely sought after by the biggest musicians of all time, performing with everyone from Michael Jackson to Stevie Wonder to Ray Charles. Slash is one of the marquee playable characters in Guitar Hero III, has two signature Gibson guitars in his name, and authored his own top-selling biography Slash in 2007. Slash recently landed on the top of the charts with his first true solo album, SLASH, which debuted as #1 Rock Album and #3 overall on Billboard's coveted Top 200 charts, in addition to going #1 in more than 13 countries. The album features an all-star roster of guest musicians including Ian Astbury, Chris Cornell, Rocco DeLuca, Fergie, Dave Grohl, Myles Kennedy, Kid Rock, Lemmy Kilmister, Adam Levine of Maroon 5, Duff McKagan, M. Shadows of Avenged Sevenfold, Ozzy Osbourne, Iggy Pop, and Andrew Stockdale of Wolfmother. In addition to a long career filled with prestigious awards and accolades, Slash was recently honored by the Hollywood Chamber of Commerce who named him as an official selection for 2011 to receive a star on Hollywood's iconic Walk of Fame. A date for the ceremony has yet to be determined. See the Marshall Randy Rhoads JCM800 1959RR Guitar Amplifier.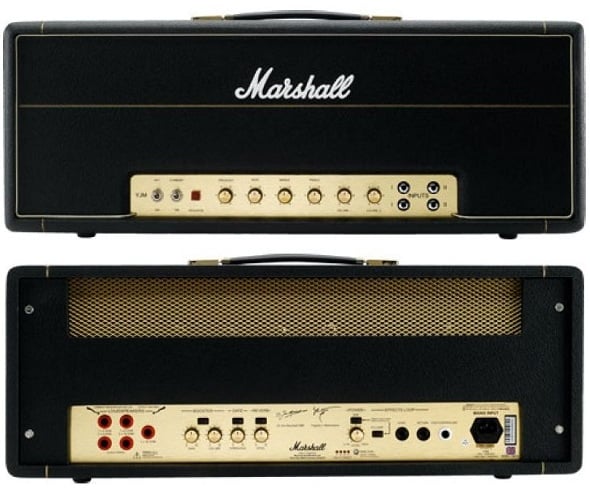 Marshall Amplification is proud to present the Signature YJM100: a 100-watt, valve head that was developed in close conjunction with the legendary Swedish six-string shredder, Yngwie Malmsteen. The YJM offers the perfect balance of vintage tone and looks alongside modern features which makes the amplifier the perfect players' tool for "plug in and play" recording or live performance.
[% oiopub-banner-3-right %]
Malmsteen has been a Marshall devotee from the get-go so this collaboration comes as no surprise to his countless fans. "I can't say enough about my love for the sound, feel and look of the wall of Marshall's. Since I was 10 years old, I've insisted on having them behind me at all times," the guitarist reveals. "I must have had every amp company in the world ask me to endorse them, over the years. To finally have my own signature Marshall is an honor and this amp is truly a master piece!" Read more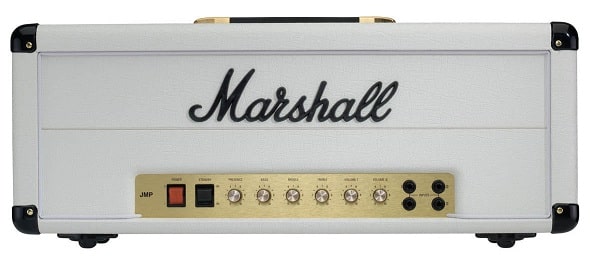 THE HOT-RODDED Marshall phenomenon that started in the Eighties can be attributed mainly to two players: Eddie Van Halen and Randy Rhoads. Ironically, Eddie's original amp wasn't modified at all, while the modifications to Randy's amps were long rumored hut never confirmed. Because Randy's amps were returned to his family and locked tip in a vault after his death in 1982, details of the modifications remained a mystery until recently.
Working with the assistance of Randy's mother Delores and brother Kelle, Marshall finally gained access to Rhoads' legendary white Marshall amp head. Marshall investigated every minute detail, including the cascaded input modification that was performed at the Marshall factory in 1980 when Rhoads custom-ordered two white Marshall stacks. As a result Marshall just released the limited-edition 1959RR Randy Rhoads Signature Series Super Lead 100-Watt head, an exact duplicate of the 1980 Marshall JMP 1959 Super Lead MKII 100-watt head that Randy used onstage with Ozzy and on the recordings of Blizzard of Ozz and Diary of a Madman. Read more
Following Marshall's acquisition of Natal percussion earlier this year, the amp giant has branched out again, this time into the headphone market.
Marshall Headphones are set to launch on 15 November with a dedicated website – marshallheadphones.com – complete with pre-order notification sign-up already live.
Other than the 1/4-inch gold jack and comfortable-looking earcups teasingly poking out of the box to the left, actual spec and price is TBA.
Marshall's press release claims that its "unparalleled amount of wisdom" gained from nearly 50 years of "breathless roadies and roaring trucks" has "been distilled and fused into every part of Marshall Headphones." A claim which suggests that they are Marshall built – not just Marshall branded. Let's hope so, anyway. Read more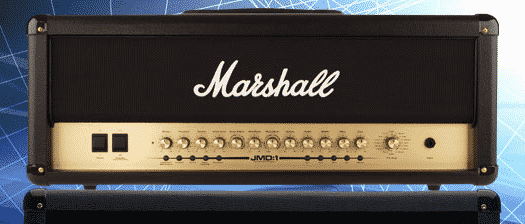 Marshall Amplification introduces the JMD:1 Series. Marking a new era for Marshall, the JMD:1 integrates an all-valve power amp, advanced digital preamp and studio-quality multi-effects to deliver an encyclopedia of classic Marshall tones. Embracing both the benefits of new technologies and the legacy of valve power, the JMD:1 is the ideal amp for the modern musician seeking an authentic tone.
The preamp offers 16 presets divided into clean, crunch, overdrive, and lead categories; all are easily accessed via a single knob. These 16 settings reflect tones from a wide range of current and historic popular Marshall amps. Patented technology, developed in conjunction with the Swedish developers Softube, provides a truly natural playing experience. Unlike preamps that simply mimic a certain sound, the JMD:1 uses complex algorithms to replicate amplifier topologies at the component level, providing a much more interactive performance. Featuring four fully-programmable channels, the JMD:1 Series also include Marshall's STOMPWARE foot controller, providing instant access to 28 programmable sounds. Read more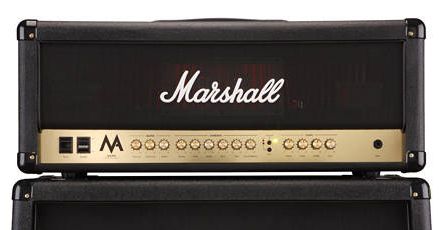 For the best part of 50 years the sight and sound of a Marshall valve amplifier has been the envy and dream of many a guitarist. Legendary artists such as Slash, Jeff Beck and the late great Jimi Hendrix, plus rising stars like Ray Torro (My Chemical Romance) and Alexi Laiho (Children Of Bodom) continue to inspire with their raw talent and mighty valve-powered Marshall backlines. So when it comes to tone, it's clear that professional guitarists love valves.
Now Marshall invites you to experience valve tone for yourself with our most accessible range of valve-driven guitar amplifiers ever – introducing the all-new, all-valve MA Series. Read more