Page 1 | Page 2 | Page 3 | Page 4 | Page 5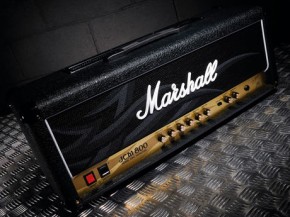 Did you really think number one on the list was going to be anything else? When it comes right down to it, Marshall IS metal. Marshall invented that sound we all love and is still building great amps today.
Notice that I didn't select any particular model; that is by design. Pretty much any tube-powered real Marshall will let you get your rock on, though I do prefer the JCM800. Some might need a pedal in front, some you can drive with preamp gain, some are big and a few are small, but they all have that Marshall sound that we know as the sound of rock music. Plus, they are the ultimate in cool, being seen for decades behind the biggest names in rock from Judas Priest to Ozzy to anyone else who ever mattered, really. Think about it: when you were in high school, did you ever dream about standing in front of a wall of Peaveys? I don't think so. Read more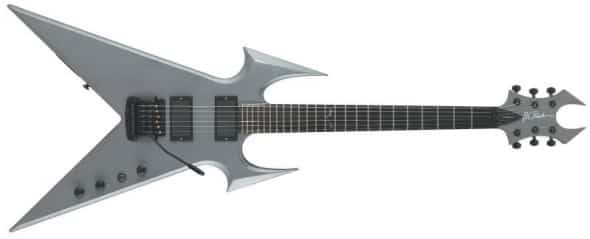 B.C. Rich is back with a firestorm of new signature models created in collaboration with Kerry King, legendary guitarist for Thrash Metal titans Slayer. Four new models are available, each bearing finishes, features and tones approved by King himself.
Two models feature an intense new Kerry King graphic: The Kerry King V Flame Generation 2 depicts a two-tone tribal graphic over a flaming backgound image and the Kerry King V Metal Master Generation 2 shows this same graphic over a gloss Black finish. The Generation 2 images are based on the B.C. Rich Handcrafted guitars that King plays on tour with Slayer.
The V Flame features a Kahler X-Trem tremolo unit, 24-fret Ebony fingerboard, beveled body top, black hardware and B.C. Rich Active pickups for a street price of $569.99. The V Metal Master guitar utilizes a wrap-around bridge, 24-fret Rosewood fingerboard, beveled body top, chrome hardware and B.C. Rich BDSM humbucking pickups for a street price of Read more
The monarch of uniquely designed and shaped guitars have once again teamed up with the ruler of metal to introduce the next innovated guitar design. So sit back and brace yourself for the sinister B.C. Rich Kerry King Beast V, Beast V NT and V2. Inspired by Kerry King himself, the Beast V is known as the unholy alliance between B.C. Rich's famous Beast body shape and Speed V design.
The Beast V (pictured below) is equipped with B.C. Rich B.D.S.M. humbucker pickups and a fully adjustable bridge with a string-through body design for even more added sustain. The guitar has a rosewood fingerboard, Beast headstock and bolt-on neck construction.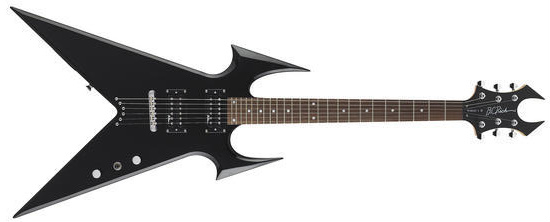 The Beast V NT version (pictured below) features neck-through body construction for added sustain and tone and improved access to the upper frets. It is equipped with B.C. Rich active pickups and a Kahler locking tremolo.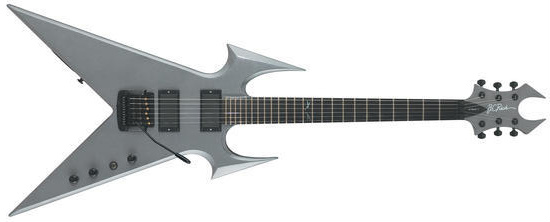 Advertisement—————————————
[% oiopub-banner-3-left %]—————————————————————
In addition to the new models, B.C. Rich is now offering Kerry's exclusive
Generation 2 graphics
on the
V2
and
Metal Master V2
model guitars.
For the hundreds and thousands of people that have seen the godfather, Kerry King, on stage with Slayer have recently seen his Generation 2 graphics. This striking new tribal design is floating over a hand drawn flame making it visually stunning. Now B.C. Rich is bringing this remarkably new graphic to a new production model V-shaped guitar called the Kerry King V2. (see photo below)

The body shape is the aggressively styled B.C. Rich speed V and it has been augmented with many Kerry King inspired features. The V2 model is equipped with B.C.R.A. active pickups and a genuine Kahler locking tremolo. It also features a basswood body, bolt-on construction, ebony fingerboard with a specially designed inlay and a Beast headstock. The 24 jumbo frets provide 2 full octaves of notes to shred.
For more information, visit their official website at www.bcrich.com.