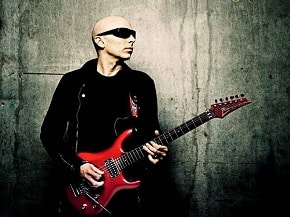 Electric guitar fans everywhere clap your nimble hands.  Our favorite wizard (no, not the bespectacled Harry Potter) has unveiled his current live setup–or, you could say, his book of spells.  For those who don't know, Joe Satriani is on his Wizards and Wormholes tour, where he's showcasing songs from the new album, Black Swans and Wormhole Wizards, along with old classics like "Flying in a Blue Dream", "Satch Boogie", and "Andulusia".  While Satch has always been very down-to-earth and open to discussing guitar technique, it's always a treat to get a glimpse of what goes down behind the tech-side of the curtain. Read more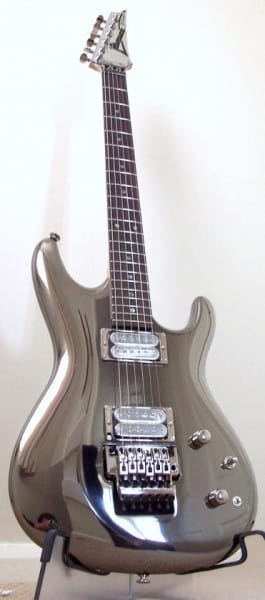 The Ibanez JS2PRM is an extremely unique and extremely rare instrument in the guitarworld. The JS2PRM—PRM stands for (Premium Rock Mirror)—which is a high-tech finish that was designed to look as if it was carved from a solid chunk of polished metal.
In 2005, the JS2PRM was Ibanez's third attempt to recreate the chrome guitar. Ibanez's first two attempts, the JS2 and the JS10th, both were unsuccessful due to finish problems. The process of bonding a chrome finish onto a wood bodied guitar is an extremely difficult process. The JS10th (2nd attempt) a luthite body was used, which is similar to plastic, and the results were better than the original JS2 Chromeboys, however, they were still beset by water marks and peeling and sounded nowhere near as good as the basswood body. Read more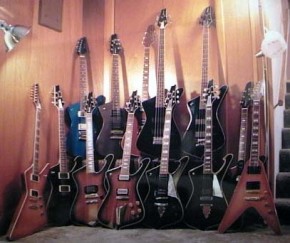 The history of Ibanez guitars is one of the most interesting ones in the guitar world. It all began in 1929 when Hoshino Gakki, a Japanese Musical Instruments company began importing and further-on, bought out the Spanish company Salvador Ibanez guitars as it was pretty much destroyed during the Spanish civil war. By 1935 Hoshino Gakki had started the production of Ibanez Salvador Spanish acoustic guitars in Nagoya, Japan. Read more
Below is a picture of Satriani's pedalboard that he uses with his new band Chickenfoot. Can you guess what those pedals are? Read more
Joe Satriani announces his all-new Chickenfoot JS1000 guitar on Twitter. As being a former owner of one of the most rarest Joe Satriani's guitars Ibanez JS2PRM Chromeboy (only 60 made), I get especially excited about Joe's guitars.
Pictured is Joe's all-new one-of-a-kind Chickenfoot Ibanez JS1000. Look at how nice it is with the Chickenfoot logo stamped on it's white JS1000 body, just looks yummy to play! Joe is an active Twitter lately, which is really cool… you can follow him too by going to twitter.com/chickenfootjoe
Don't forget to follow GEAR-VAULT on TWITTER!

Advertisement—————————————
[% oiopub-banner-3-left %]—————————————————————
Joe Santriani contributed numerous ideas that were unheard of in existing wah pedals, endowing the Big Bad Wah with an unparalleled range of sounds from vintage to modern, as well as those that are totally original. Read more
Hard rockers, retro-geeks, and shred-heads rejoice! A new super-group has formed!
I know, we all thought the days of the super-group had long since died and withered, much like the big-hair and ripped jeans that were so prevalent, as they say, back in the day.
This new musical juggernaut, is made up of some of the most formidable names ever mentioned in the hard rock circles: Sammy Hagar, Michael Anthony (both of Van Halen fame), Chad Smith (drums; Red Hot Chili Peppers), and last but certainly not least, guitar-virtuoso and legendary superhero Joe Satriani (aka Satch).
According to lead singer Sammy Hagar, "We've written eight, nine songs… When people hear the music, it's Led Zeppelin. It's as good as that. I know that's a mighty bold statement… We could rival Zep!"
Mighty bold, indeed. However with such a powerhouse lineup, anything is possible…even time travel.
Well, maybe not time travel, but rest assured this beast of a band will be marching to the sound of their own drum…and bringing a hoard of guitar-slinging shredders in tow. Keep your eyes open for Chickenfoot's debut CD in stores (hopefully) this year.
Check out Chickenfoot on myspace to hear some of their awesome teasers: www.myspace.com/thechickenfoot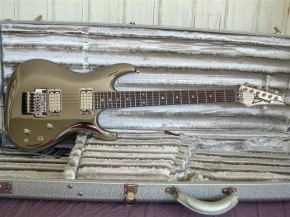 The Ibanez JS2PRM electric guitar is a custom guitar, designed in conjunction with guitar master Joe Satriani. The JS2PRM is based on Satch's previous (and famous) 'Chromeboy' design, which features a mirrored chrome finish. The most striking feature of the JS2PRM is that it is designed to look as though the guitar was fashioned from a block of metal, rather than wood.
The limited edition Ibanez JS2PRM is essentially the third design in the Chromeboy family of guitars, with only 60 pieces made, 38 of which are available here in the United States. As with all other Ibanez guitars co-designed by Joe Satriani, the quality of the JS2PRM is exceptional. Read more
NAMM 2009 – Peavey and Joe Satriani have collaborated to create the all-new Peavey JSX 50 guitar amplifier head, the latest project in the Peavey JSX Series of signature amplifiers and enclosures designed with the guitar legend.
Like the three-channel Peavey JSX 100-watt Head and JSX Mini Colossal™ before the this new JSX 50 head, the new amplifier aims to give guitar players a wide new tonal palette that allows them to express an abundance of sounds and styles. But that's where the similarities end. With the JSX 50, Satriani and Peavey have redefined the classic 50-watt guitar-amp format with extensive tone-coloring tools to accommodate modern guitarists.
"Traditionally, 50-watt amps always seemed to have the perfect amount of volume and sag to create a true rock & roll moment," said Satriani. "But the golden era of the 50-watt didn't see a version that had a variety of sounds or that were actually useful tools for the gigging musician. Peavey and I were finally able to bring this idea of a really rockin' 50-watt into the modern era where real guitar players can use it. We wound up with a really bold, in-your-face sound."
The JSX 50 accomplishes this through a design that pairs five 12AX7 preamp tubes with two 6550 power amp tubes and two independent channels with three-band EQ. Both the Clean and Crunch channels feature master volume and preamp gain controls, so guitarists can adjust the interplay between the preamp and power amp on each channel for an array of gain possibilities. The Crunch channel also includes a boost switch and a six-way attack selector that adjusts the bass response.
On the rear panel, a built-in Peavey MSDI microphone-simulated XLR direct interface eliminates the need for miking by allowing users to route the amp's signal directly to a recording device or mixing console. Additional controls include a line out with level control; active effects loop with send/return level control; impedance selector; and a tube bias adjustment jack.
Joe Satriani talks Peavey JSX 50
Featured images of a rare Ibanez JS2PRM (Premium Rock Mirror) Joe Satriani Chromeboy – Read more info on the Ibanez JS2PRM Chromeboy
Read more