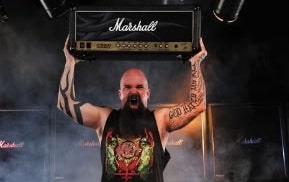 When you take the amp that has been the source of pure rock and roll crunch for decades and mix it with one of the most powerful metal guitarists ever to unleash havoc on this planet, what do you get?
Give up? How about Marshall's 2203KK. What's the 'KK' for? Why, the loveable Mr. Kerry King from Slayer, of course! Did I say 'loveable'? OK, perhaps not so much, but this amp sure is!
The 2203KK is essentially a modified JCM800, tweaked to Kerry's specifications. The guys at Marshall took his threats… um… I mean, suggestions, and incorporated some very awesome features. Read more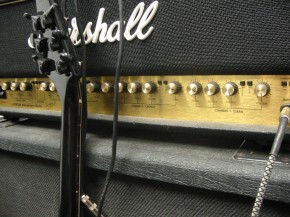 Marshall is one of the most reputed guitar amplifier manufacturers in the world. The history of Marshall Amplifiers is a really interesting one and the company with its excellent products has indeed rewritten the way a genre of music is heard! Many guitarists to date prefer the signature Marshall "crunch sound" which only Marshal amps can deliver. The company throughout its history has indeed developed many models which have been extremely well received by both veteran and entry level players and it continues to do so till date. Read more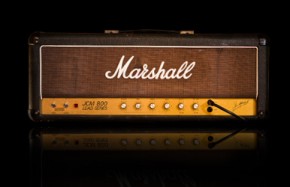 Marshall Amplification is a British company which is renowned for manufacturing some of the best and most versatile guitar amplification units out there. The sought after "crunch sound" which only Marshall Equipments have to offer remains unrivaled till date. Guitarists who prefer a heavier guitar sound have always invariably ended up selecting a Marshall. Read more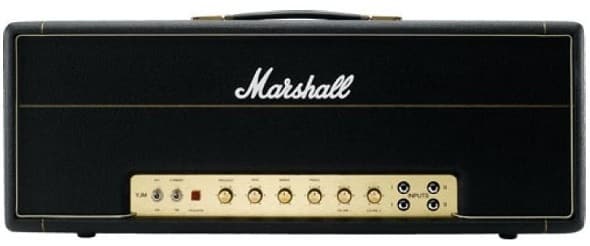 Most have been waiting for this for years. Others are still trying to pronounce his name. For those who have never heard of Yngwie Malmsteen, he's only one of best neo-classical gone hair metal guitar players of all time. Finally, he's getting a Signature Marshall Amplifier.
The Marshall YJM100 Signature Valve Amplifier is something like a dream for guitarists like me. It's a near clone of the 1959 Marshall Plexi that Malmsteen has made a staple of his arsenal. Though, this baby's got some features that really got me interested. First of all, it has reverb. Yeah, you may not think this is a huge deal, but having reverb on a head is pretty convenient. Next, it's got a half power switch so you can either operate the head at the full 100 watts or 50 watts.
[% oiopub-banner-3-right %]
This is great so you can keep your volume level where it needs to be so you don't sacrifice tone whether you're playing in the bedroom, or on the stage. But the coolest thing about this amp is the infinitely variable Attenuator control. This allows you to keep the power tubes cranked all while keeping your output level at a reasonable volume appropriate for the setting. This is something that custom amp companies began doing on many older amps like the JCM800 so that players could crank their master, but keep the volume at a practical level without losing their hearing. This feature is SO COOL! Why doesn't every tube amp come with an attenuator? Read more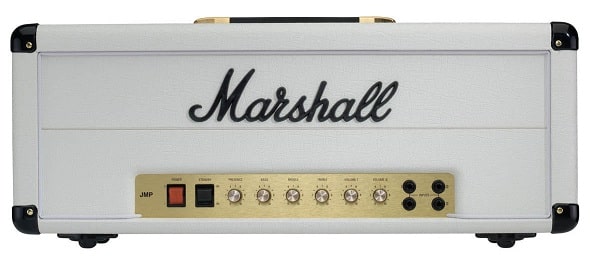 THE HOT-RODDED Marshall phenomenon that started in the Eighties can be attributed mainly to two players: Eddie Van Halen and Randy Rhoads. Ironically, Eddie's original amp wasn't modified at all, while the modifications to Randy's amps were long rumored hut never confirmed. Because Randy's amps were returned to his family and locked tip in a vault after his death in 1982, details of the modifications remained a mystery until recently.
Working with the assistance of Randy's mother Delores and brother Kelle, Marshall finally gained access to Rhoads' legendary white Marshall amp head. Marshall investigated every minute detail, including the cascaded input modification that was performed at the Marshall factory in 1980 when Rhoads custom-ordered two white Marshall stacks. As a result Marshall just released the limited-edition 1959RR Randy Rhoads Signature Series Super Lead 100-Watt head, an exact duplicate of the 1980 Marshall JMP 1959 Super Lead MKII 100-watt head that Randy used onstage with Ozzy and on the recordings of Blizzard of Ozz and Diary of a Madman. Read more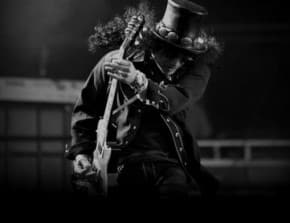 Marshall Amplifiers and legendary guitarist, Slash, have been working together to recreate the amp that was used on the 1987 Guns n' Roses album, 'Appetite For Destruction'. Marshall have been posting a number of updates on their AFD100 website.
Fans of both Slash and Marshall are able to follow the progress of the amp's creation by visiting www.afd100.com, where they will receive regular updates throughout the development stages of the amplifier. The AFD100 is planned to be released later this year 2010. Marshall Amplification has had a long association with Slash — the JCM 2555SL Slash Signature Series amplifier was released in 1996. Read more
Page 1 | Page 2 | Page 3 | Page 4 | Page 5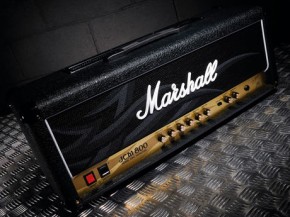 Did you really think number one on the list was going to be anything else? When it comes right down to it, Marshall IS metal. Marshall invented that sound we all love and is still building great amps today.
Notice that I didn't select any particular model; that is by design. Pretty much any tube-powered real Marshall will let you get your rock on, though I do prefer the JCM800. Some might need a pedal in front, some you can drive with preamp gain, some are big and a few are small, but they all have that Marshall sound that we know as the sound of rock music. Plus, they are the ultimate in cool, being seen for decades behind the biggest names in rock from Judas Priest to Ozzy to anyone else who ever mattered, really. Think about it: when you were in high school, did you ever dream about standing in front of a wall of Peaveys? I don't think so. Read more