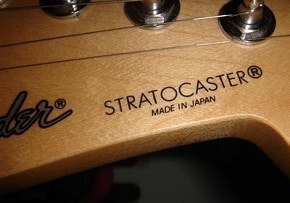 Every guitar player, at some point or another, aspires to own one of the top brand-name instruments on the market, whether made by Fender, Gibson, Gretsch, Paul Reed Smith or anyone else. In some ways, the guitar one plays becomes an identifying symbol; Stevie Ray Vaughn, for instance, was seldom seen with anything other than a Fender Stratocaster in his hands. Not many people could pick Peter Frampton out of a lineup today, but they know he played a Gibson Les Paul. Read more
Tags: korean vs japanese guitars, import guitars from china, imported guitar brand names, is korean fender guitar better than japanese, japanese guitars as good as any usa guitars, acoustic guitar japan vs korea, mexico vs korea guitar, south korea vs mexico guitar, true tone guitars japan fakes, u tube fake gibson import guitars/how good are they?,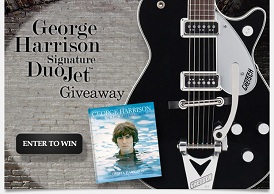 Gretsch is giving away one G6128T-GH George Harrison Signature Duo Jet guitar and copies of the book – George Harrison: Living in the Material World. Read more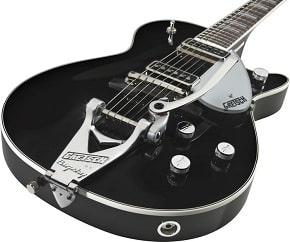 Fans of George Harrison may well remember the guitar he was holding on the cover of his Cloud Nine record: a black '57 Gretsch Duo Jet. When the Gretsch Company decided to honor the legendary guitarist with a signature guitar, it was this Gretsch Duo Jet they chose to re-create. Read more
Tags: gretsch george harrison duo jet review, george harrison gretsch guitar reviews, George harrison guitar gear, gretsch duo jet review white, gretsch george harrison duo jet,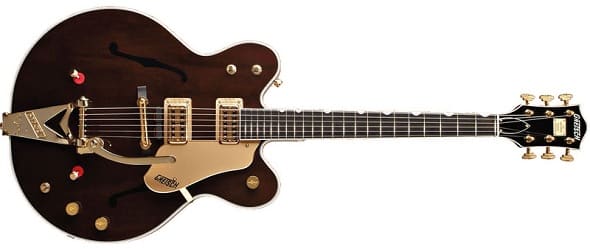 This has to be one of the most generous giveaways I've posted on Gear Vault this week, you simply can't put a price tag on a Gretsch "Crazy Heart" guitar, the guitar is autographed by Academy Award winner, Jeff Bridges. Since the highly regarded film, 'Crazy Heart', Jeff Bridges has been hot in the music scene. This guitar isn't your typical $2,800 Gretsch G6122-1959; this guitar is a collector's dream! I really hope it goes to someone who can really appreciate it! Read more
Tags: signed gretch guitar,
NAMM 2011 — Gretsch is extremely proud to introduce a very special limited edition instrument, the Gretsch Custom Shop G6128T-GH George Harrison Tribute Duo Jet. Limited to 60 pieces worldwide, the guitar is a meticulously crafted replica of the all-black 6128 Duo Jet Harrison played with the Beatles from summer 1961 through spring 1963 Read more
Tags: gretsch harrison,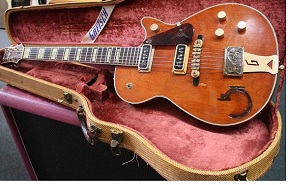 As Billy Gibbons explains in this month's feature on Eliminator, he played a whole axes on that ZZ Top album, including a 1955 Gretsch 6131 Roundup. Once you get a look at this ultra rare model, you'll understands why the guitar has appeal for a Texas son like Billy. Read more
Tags: GRETSCH G6130 ROUNDUP,


The name Gretsch conjures up images of big-bodied guitars, with cool names like White Falcon, Black Phoenix and Country Gentleman being put through their paces by legends like Beatle George Harrison, 50s rock 'n roller Eddie Cochran and king of rockabilly Brian Setzer. But there's more to Gretsch than big fat guitars with f-holes and Bigsby vibratos. Back in the 60s the company produced a solid-body electric guitar named the Corvette, and this little beauty was reissued as part of Gretsch's Electromatic range, so there's no need to trail around second-hand guitars shops. Read more
Tags: cool guitars names, Electromatic G5135 Corvette, grescht, gretsch corvette reissue review, gretsch corvette review, gretsch corvette reviews, gretsch female players, GRETSCH G5135 Electromatic review,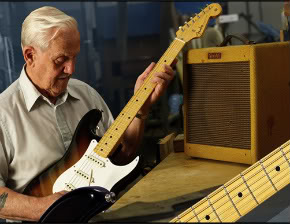 The 20th century will be remembered as an age of technology. And the electric guitar has been one of the most benign technologies to emerge from our troubled outgoing century. Like the innovations of Thomas Edison or Henry Ford, the electric guitar is a great populist invention. For the most part, it wasn't dreamed up by people with college degrees in design engineering but by hard-traveling musicians and practical-minded businessmen clawing their way out of the Great Depression.
One of the greatest of these pragmatic mid-century geniuses was Clarence Leo Fender. Born on a farm near Anaheim, California in 1909, Leo Fender was operating his own radio repair shop in nearby Fullerton by the mid Forties. Thanks to the post-WWII economic boom, this was an era of great prosperity, marked by exciting new inventions like television, a middle-class migration out to the suburbs and the birth of sleek new design aesthetic that was streamlining everything from home furnishings to automobiles to electric shavers and hair dryers. Opportunities were plentiful for entrepreneurs and inventors of every stripe, which suited Leo Fender just fine.
Circa 1943, Fender built a very simple solidbody electric guitar that he'd rent out from his shop. (Fender Radio Repair also rented P.A. systems and even a panel van with speakers mounted on top to advertise local events!) In a garage out back, Leo began making lap steel guitars under K&F brand name in partnership with Doc Kauffman, another bailed out of the business in 1946, Leo continued on his own, starting Fender Electric Instruments in 1948. One of the first people he hired was George Fullerton, who became his assistant and lifelong business associate. Read more
Tags: 1950 broadcaster, 1950 fender broadcaster neck pickup specifications, fender broadcaster, fender telecaster broadcaster, first fender broadcaster,