Here's your chance to win a beautiful Gibson ES 335 Semi-Hollow body Joe Bonamassa Signature Model guitar! This guitar values at around $3,300 big ones.
Contest ends April 4th
Don't be stingy! "GET ACCESS" by Tweeting, Like us, or +1 us to share this giveaway with your friends. After you share and get access, you will see the "ENTER TO WIN" button. After you click "ENTER TO WIN" just enter your email
Video: Gibson ES-335 Joe Bonamassa
See this guitar in action!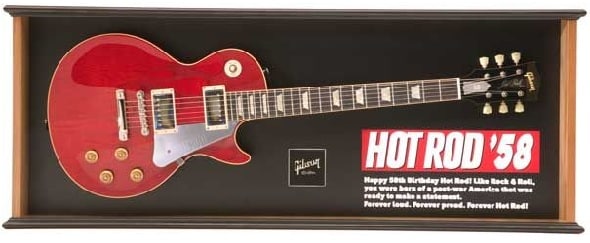 Hey GearVault readers, awhile back I randomly signed up to a guitar giveaway that I found on the net. I figured it was a waste of time because I NEVER win anything (hence, why I don't play the lottery =). A month or so later I received an email saying I had won their contest and they shipped me a Gibson Les Paul Studio equipped with P90s and a Fender Deluxe combo amplifier. I was delighted! Though I already have my own gear, I just gave this stuff to my nephew so he could learn to play guitar. After feeling lucky, I downloaded an auto-fill extension to my browser (in my case Firefox) and signed up to a bunch other gear giveaways, it literally took 5 seconds and the effort involved one click of the mouse. About a month later I received a Maxon OD808 pedal in the mail.
So this gave me an idea! I decided to report every guitar/gear giveaway to you, GV readers, so you can get in on action! Of course since I have my handy-dandy auto-fill extension connected to both my FireFox and Chrome browsers, one click the mouse BAM! I am entered in these giveaways too… However if I win, I don't need the guitars and gear as I have my own setup, I would rather give GearVault readers any merchandise I win! So when I win gear I will pass the equipment on to a dedicated GV reader. If you are not on GV's mailing list, then obviously your email won't be there to get selected for a chance to win, so you are going to want to sign up to the Feedburner mailing list below and activate it to prove your email is valid. If you fail to validate your email then it won't show in our system and you will miss out on the chance to win. Another really cool thing is when you are on our Feedburner mailing list, you will get notifications of cool giveaways and hot news, but don't worry, like you, I hate spam mail… so you don't have to worry about that!
Enter to Win Guitar Giveaways 4 Life!
As well as receive other Guitar & Gear News!
Disclaimer:
By entering above you agree to receive mail from GearVault. You will not only be registered in our system to win free shit, but you will also get updates about guitars, guitar songs, interviews, news and other cool state of the music gear.
Only valid users are eligible to win.
Tags: guitar giveaway, win guitar, online guitar giveaway tips,
I love a Fender Stratocaster, they are one of my favorite guitars. My biggest inspirations aside for Randy Rhoads, was Eric Clapton, Stevie Ray Vaughan, and Jimi Hendrix. Not only were their playing style legendary, but they created a sound that everyone wanted to emulate, and a big part of that was, of course, the Fender Stratocaster.
Today you have a chance to win a Fender Eric Clapton Signature Stratocaster guitar. This 'Blackie' Stratocaster has all the bells and whistles you'd expect from a USA made Fender, this guitar sells for $1,600! Read more
Tags: enter to win closet classic stratocaster, Fender Stratocaster Blackie, win a fender custom shop stratocaster, win stratocaster on the sound la,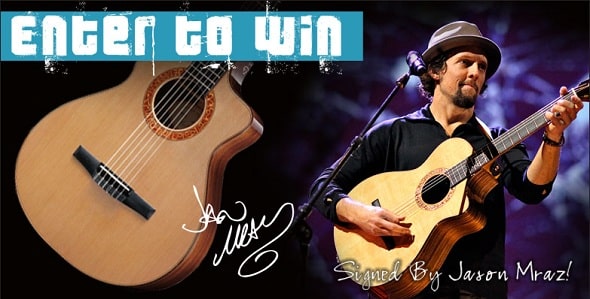 Hello GearVault readers, to kick off the New Years I'd like to direct you to this awesome Taylor acoustic guitar giveaway valued at $2,900. Enter now for your chance to win a Taylor JMSM Mraz Signature acoustic guitar — Giveaway Ends January 15, 2012. Read more
Tags: taylor guitar giveaway, guitar giveaways, win a taylor guitar, enter to win a baby taylor guitar, guitar givaways, guitar give aways, guitargiveaways, taylor 814 guitar giveaway, taylor guitar sweepstakes,

Enter for your chance to win a Fender Modern Player Telecaster Thinline Deluxe, Modern Player Jaguar, Modern Player Telecaster Plus, Modern Player Marauder, Modern Player Telecaster Bass, or choose a Modern Player Jazz Bass or Modern Player Jaguar Bass.
Fender Guitars would like to introduce to you its awesome new Modern Player guitar family by giving you an chance to score a shiny-new Modern Player electric guitar or bass guitar. One lucky grand-prize winner in the USA or Canada (among other countries) will get to choose any one of the seven distinctive Fender instruments. Better hurry, this offer ends January 26, 2012. Read more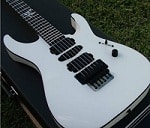 Enter for your chance to win an ESP BMF M-III Bushido Makoto guitar (valued at $3,500). The BMF M-III Bushido Makoto guitar is one of a short run of custom models, exclusive to Bmusic.co.au, and is extremely rare. Only six ESP BMF M-III Bushido Makoto guitars were constructed, never to be produced ever again. Better hurry, this offer ends December 31st, 2011. Read more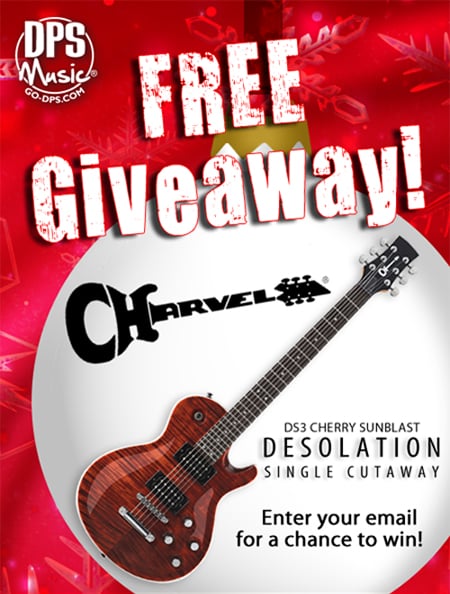 Here's your chance to win yourself a Charvel DS3 Guitar for a late Christmas gift from Santa – sponsored by DPS Music. This guitar is a Cherry Sunblast sexxy Les Paul -style guitar, also known as a single cut-away. This guitar is geared more toward rock guitarists. Read more
Tags: charvel guitar giveaway, robb flynn amp and effect settings,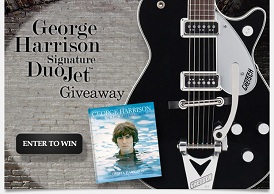 Gretsch is giving away one G6128T-GH George Harrison Signature Duo Jet guitar and copies of the book – George Harrison: Living in the Material World. Read more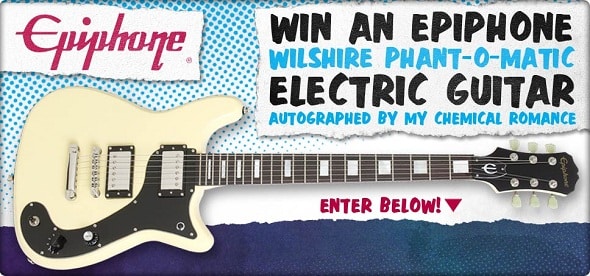 Enter to win an Epiphone Wilshire Phant-O-Matic electric guitar signed by My Chemical Romance! Whether you're chunking rhythm or cutting leads, any fan of the Fabulous Killjoys will dig this keepsake axe that's equipped with all the vintage styling that has made Wilshire models a favorite of countless rock icons. Just fill out the entry form at Musician's Friend anytime through October 31, 2011. Approximate Retail Value Read more
Tags: epiphone wilshire phant-o-matic, wilshire phant-o-matic guitar,

Enter to win a Gibson Limited Run Flying V Melody Maker electric guitar. The Gibson Flying V Melody Maker is valued at $539. The guitar comes autographed by the band My Morning Jacket. Read more