Following in the footsteps of Fuzz Face masters Eric Johnson, David Gilmour, and Jimi Hendrix – Joe Bonamassa relies on his Fuzz Face to deliver his trademark searing leads. Tested and developed over several world tours, the JBF3 Joe Bonamassa Signature Fuzz Face is voiced specifically for Joe's humbucker-driven tone, adding sustain and thickness for a rich, creamy fuzz.
Dunlop Fuzz Face JBF3 pedal boasts a hand-wired circuitry built around matched NOS Russian military germanium transistors for their characteristic warmth and growl. The JBF3 also features classic grey Cliff jacks and Omeg pots all housed in a polished copper finish that will patina over time. "I wanted this Fuzz Face to be a pedal that would instantly transform your tone," Joe says. "It drives you to a different place as a player. Kick on the inspiration box!" Production of the Joe Bonamassa Signature Fuzz Face is limited to a single batch each year. Read more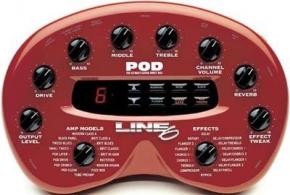 The law of the rock and roll jungle has dictated that, while electric guitarists get the glory of the girls, bassists have had the small consolation of being able to walk into a recording studio, plug into any half-decent direct box and immediately produce a useable tone. The advent of the Line 6 POD, a stellar and affordable direct-recording device for guitarists, is going to change all that. Now guitarists truly have it all.
Shaped like a space-age kidney bean, the POD uses Line 6's trademark digital TubeTone software to create "amp models" that recreate the sound and feel of a wide variety of classic amps (that, of course, includes "modern" classics). For example, the tweed '53 Fender Deluxe used for the POD's Small Tweed setting was extensively tested, so that every aspect—from the overdrive characteristics of the power stage to the interactivity of the tone controls—could be replicated. Other presets in the POD's vast sound spectrum include Tweed Blues ('59 Fender Bassman), Modern Class A (Matchless Chieftain), Brit Classic ('65 Marshall JTM45) and Fuzzbox, a satanically accurate recreation of a 1960 Dallas Arbiter Fuzz Face. On presets like Black Panel, where the amp being modeled (a '65 "blackface" Fender Deluxe) has built-in reverb, the POD's reverb control emulates a spring reverb with relative accuracy. For amps that originally came without spring reverb, the control adds a deep, large room reverb. Read more