People in the 1950s thought that we'd all be wearing jetpacks and driving flying cars about now. But did they bother to predict what kind of guitars we'd be shredding on? No, they didn't. Probably because they couldn't imagine just how hard these eleven axes would rock. From robot-tuning to synth access, these guitars will have you dreaming of the possibilities.
First up is the Gibson HD.6X Pro Digital Guitar, an instrument that's capable of making each string sound completely different than every other. Using fancy tech and hexaphonic pickups, the signal from each string is pushed through and Ethernet port to a computer, where you can tailor the sound, EQ and wave-shape. And did I mention that you can put a different effects signature and amplification on each string? Even though this guitar came out in 2007, it's still pushing the envelope even now. Read more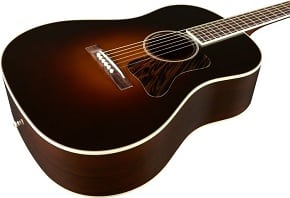 On January 12, 2011, the Jackson Browne Signature Gibson acoustic guitar was unveiled at the National Association of Music Merchants (NAMM) winter show in Anaheim, California. Hearkening back to Gibson's revered Roy Smeck models of the 1930's, Browne's baby took the better part of a decade to complete, as he went back and forth throughout the process with the Gibson Montana Acoustic Master Shop up in Bozeman, Montana. Read more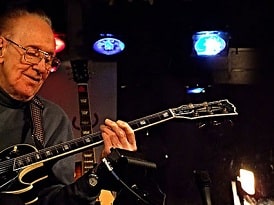 The world has seen many advances in music technology in recent years, but if you dig down about 80+ years ago, you'll find a young curious boy tinkering with electronics. He would be the reason that the solid body guitar and multi-track recording exists. His name was Les Paul.
At the age of eight years old, Les Paul was interested in music, and started off playing the harmonica. Fast forward 11 years, and he was in Chicago, playing on the radio. Les had an avid ability to hear things that others did not, and appealed to listeners all around. Playing mostly country and jazz, Paul had always been playing on archtop guitars, because that's all that existed. This would all change soon enough.
Les didn't enjoy the sound of the archtops. The body resonated the sound of the strings too much, and made the instrument feedback when playing at louder volumes. He wanted to change that. Once he realized that a solid piece of wood would end this inconvenience, he invented what we now know as the Gibson Les Paul. The first version of the guitar was built in the Epiphone factory in 1940, and when Gibson decided to market it, it became an instant success. Without the Les Paul, who knows what Jimmy Page would have played… would it have been a Stratocaster? Read more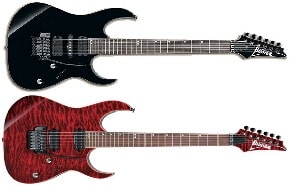 I have to admit right from the start that metal has never been my medium of choice; I prefer trem-bar bends in short bursts, not big bombs, and I like distortion to sound like distortion, not explosions. Read more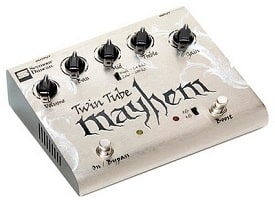 WHO COULD HAVE imagined that a decades-old company solely devoted to pickup winding would suddenly set the guitar industry on tilt with masterfully crafted pedals like the Twin Tube Classic, Lava box, Power Grid, Shape Shifter and Tweak Fuzz. Never before has a specialized company like Seymour Duncan so successfully diversified its product line and received such high marks for its freshman effort.
Another great addition to the company's stomp box line is the anxiously awaited Twin Tube Mayhem pedal. This is the Twin Tube Classic's criminally insane brother, born of Duncan's malicious intent and capable of terrifying acts of sonic aggression. Like the Classic, the Mayhem is more of a footswitchable tube preamp than a mere stomp box by virtue of its standalone ability to generate tube- derived gain and control a full-waveform signal, as opposed to only shaping or boosting portions of the sound to create a desired effect. Simply put, Duncan's Mayhem conjures diabolic high gain like you've never heard from a pedal. Read more

Reverend Guitars announces the release of their latest signature model, designed in collaboration with Grammy-nominated rock and blues artist Rick Vito. Known for his tasteful and versatile chops, Rick is a former member of Fleetwood Mac and has worked with Bonnie Raitt, Jackson Browne, Todd Rundgren, John Fogerty, Bob Seger (that's Rick on the "Like A Rock" slide solo), Roger McGuinn, John Mayall, Hank Williams Jr., The Mick Fleetwood Blues Band, and many others. Read more
From ass-kicking Metallica epics like "Master of Puppets" to new monsters like "Cyanide," riff master James Hetfield's venomous style has inspired many. Preferring picks with a bright tone and biting attack, James Hetfield looked to Dunlop for the perfect tool for his fierce downward picking style. Based on a vintage tortoise-shell pick, the Black Fang is made of tough, sturdy Ultex material with a defined tone and sharp attack. Read more
Seventy years after his birth and three decades after his untimely passing, John Lennon's message of peace continues to touch the masses, and his songs still resonate in the hearts and minds of fans around the world. At the request of Yoko Ono, Gibson Acoustic is very proud to offer three 70th Anniversary John Lennon J-160E acoustic guitars to celebrate the legacy of this extraordinary artist. Accordingly, only a very limited number of these handmade acoustics will ever be available. Read more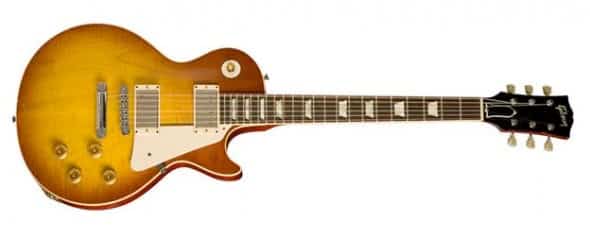 Gibson Custom has introduced the Don Felder "Hotel California" 1959 Les Paul, an instrument created in the image of Felder's original 1959 'Burst used for nearly all of the solos on the Eagles' Hotel California album. Produced as a three-tiered Limited Edition, there will be 50 guitars hand-aged by Gibson Custom and personally signed by Don Felder, 100 hand-aged, and a further 150 given Gibson's VOS treatment. Read more
From his groundbreaking work with Gn'R, to Slash's Snakepit, to Velvet Revolver and numerous acclaimed solo and side projects, Slash has continued to embody the ultimate rebel rocker, putting addictive licks and eviscerating tone above all else, and throughout he has continued to do it on a Les Paul. To honor this achievement, Gibson introduces the Slash Appetite for Destruction Les Paul, a guitar equipped with the finest features of the original Les Paul Standards of 1958-'60, and the added punch of Seymour Duncan Signature Series Alnico II Pro Slash humbucking pickups. Read more