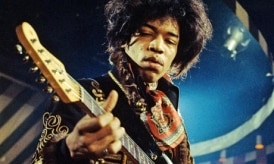 Jimi Hendrix was given the top spot — According to the readers of Time Magazine, Jimi Hendrix was voted the greatest electric guitar player of all time, and honestly, I can't say that I disagree. He's influenced so many great guitarists in his short time here in this world, that I'm not sure anyone could disagree…
But you are more than welcome to in the comment box below!
Music critic Josh Tyrangiel compiled a list of his top ten best guitarists, which included legends such as Eric Clatopn, Jimmy Page, Chuck Berry and BB King.
Jimi Hendrix was given the top spot on the strength of his unique fusion of genres such as rock, blues and psychedelia. Read more