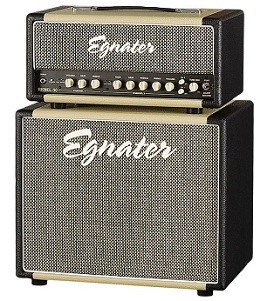 The paradigm for guitar amps has shifted radically in the past several years. Today, players are looking for amp solutions that provide tonal flexibility with good tone at manageable volume levels. For playing at home without annoying the family, for rehearsals, for worship band use, for club gigs, for school events… these days, and electric guitar player is expected to be able to match their volume level to the situation.
Fortunately, manufactures have responded with lower-powered amps, and among the best of these is the Egnater Rebel series. Egnater sent me a Rebel-30 head and two matching Rebel 112X cabs for this review. Once I plugged in, it was clear that this was an amp that could provide almost any tone. It had loads of convenient features and could operate at any volume level, from bedroom to club stage. Read more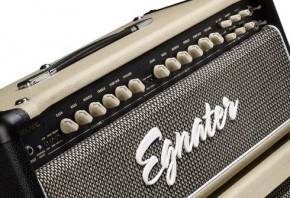 Plug in to all-tube tone that takes no prisoners! The incredibly versatile Renegade is a 2-channel powerhouse that gives you the tools to forge your sound and the power to move some serious air in any size venue. Channel 1 produces lush, three dimensional clean tones with just a bit of grunt when you dig in — Says egnater.com. Read more
Sure it's tiny, but do not mistake it for a toy. The Rebel-20 from Egnater is a truly professional amp head with features and sound that are anything but small. Inside you'll find three GrooveTubes 12AX7 preamp tubes, a pair of GrooveTubes EL84 power tubes and a pair of GrooveTubes 6V6 power tubes. Not only do you get the signature Egnater TIGHT and BRIGHT voicing switches, you also have wide range gain control that lets you go from bluesy clean up to roaring high-gain lead all using a single gain knob. Read more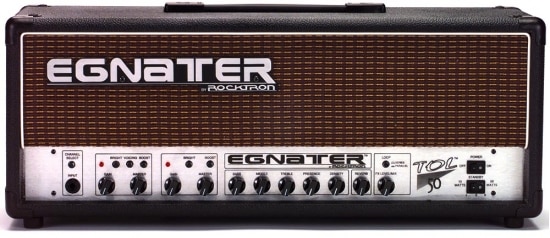 The Egnater TOL 50 is a two-channel, all tube 50-watt amplifier head powered with EL34 power tubes. Each channel is equipped with master and gain controls and switches for bright and boost. Channel 1 features a voicing switch for cleans and dirty rhythm tones. EQ controls include bass, mid, treble density and presence. The TOL 50 also features a power selector switch which runs the TOL 50 at either 50 or 100 watts. The TOL 50 was also available as a 1×12 and 2×12 combo amp.
Egnater TOL50 tube amp. 10 or 50 watts. (TOL100 10 or 100 watts.)
Rocktron/Egnater TOL 50 $1295. 10-watt or 50-watt. 1×12 combo version $1395, 2×12 $1495.
Has 10-watt setting. Beside the main power switch is a standby switch with a special feature: you can select 50 or 10 Watt for output power. Has fx level/mix control, the latter being of dual duty also. Can switch between series and parallel effect modes. In the series position, the control functions as a master volume; in parallel it controls the effect volume. Send and return jacks. Slave Out jack. Recording Out jack; the direct signal from the output stage can be routed from here to mixer, separate effects units, or additional amps systems. A push-pull pot sets the signal level, between 0 and -15 dB. Has an internal and an external speaker jack with impedance selector. TOL = Tone Of Life.
Rocktron – Egnater TOL 100 $1795. 10- or 100-watt tube 4-ch head MIDI. reverb. Ser/paraFX loop w/ level mixing. 10-watt power sw. 2×12 combo version $1995.
Top-mounted controls (on 1×12 and 2×12 combos) for convenient easy-to-use tone adjustments, reverse Oxblood grill cloth for an attractive look and black kayhide covering for the ultimate protection and road worthiness. Controls for Bass, Mid, Treble, Presence, Density and Reverb. The effect loop section features effect mix control for effect volume and a selector button for choosing either series or parallel effect loop option. Each of the two channels feature controls for GAIN and MASTER. Channel one features switches for Voicing, Bright and Boost for added tone manipulation. Channel two features controls for Bright and Boost. Footswitch controls for channel selection and gain boost (Egnater EG2 Footswitch included). 50-watt power amp section utilizing the time-tested Class A/B design, EL34 output tubes and the option to run at either 50 or 10 watts via the output selector switch. The preamp section features 4 specially selected 12AX7 tubes. Slave out with high/low level selector (for driving external effects and/or power amp.) Three-spring vintage reverb tank. Custom-designed 12″ Egnater Pro Speakers. (Celestion speakers optional on 2×12 combo) – Source: Amptone.com
Approximate Used Price: $900 – $1000 Buy – Sell – Trade used music gear at Gear Search
Egnater TOL 100
*note: the Rocktron Egnater TOL 50 tube amplifier is no longer in production.
Select either 50 or 10 watts into 4, 8, or 16 ohms
Two channels each with selectable gain/voicing and bright switches – Channel one for clean to crunch. Channel two for clean to Megadrive
Master Presence and Density controls
Series/Parallel effects loop with return level control
Slave out with level control for driving external effects/power amp
Rich, 3-spring vintage reverb
EL34 power tubes
Top mounted controls (on combos)
Combos come with heavy-duty removable casters
The Tone Of Life
Dimensions: 1 x 12 – 23.5″w x 20.5″h x 10.5″d. 2 X 12 – 27″w x 20.5″h x 10.5″d. Head – 23.5″w x 9″h x 9.5″d
Output Power: 50 watts into 4, 8, or 16 ohms
Input Impedance: 1meg Ohm
Density: +8dB at 100Hz
Presence: +8dB at 5kHz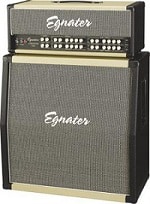 For three decades Bruce Egnater has been building and designing amplifiers which have inspired many modern amplifier builders with their balance and serious high-gain tones, and to this day remains a major point of reference for boutique amp builders looking for that killer distortion. Of Egnater's talents, his design of multi-channel amps is prominent, which is solidified with his contribution to the design of Rocktron's TOL amplifier series as well as the Modular Tube System (MTS) amps from Randall.
One of Egnater's more notable amps, the Tourmaster, is a work of art that is packed with a variety of sounds, gain levels, and features – all packed in a 75-pound monster. The Tourmaster features four preamp channels, voicing options and a contour circuit to give you a wide range of tones, suitable for just about any player. However, Egnater also includes their Power Grid control, which allows you to adjust the wattage of the amplifier, which takes versatility to a whole new level. The Tourmaster gives you the ability to switch between 10, 20, 25, 50, or 100 watts of power on any of the four channels. To top it off, the Tourmaster is a tube-driven amp, using four 5881s and a whopping eight 12AX7 tubes (all from Groove Tubes). Read more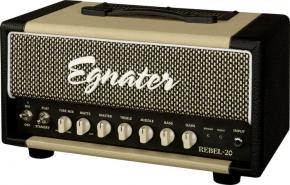 You know that kid in your class that was the rebel? Always sat in the back and caused chaos by disregarding all of the rules? The teachers couldn't get him under control, and all of the girls thought he was cool for that. Well, what if you could get those same qualities in a guitar amp? Now you can. Read more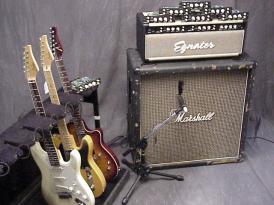 For many guitarists, collecting amps and pedals is more than just a hobby, it is most likely an obsession. A three by two foot area of your floor filled with assorted stompboxes, combo amps stacked on top of half-stacks with a/b/y splitters running cables to every single amp input, and all of those running to your mixer. It's a beautiful site. Read more