NAMM 2011 — The new TightMetal distortion pedal takes the TightDrive and TightBoost overdrive platform to the next level and provides over-the-top metal and hardcore crunch tones with adjustable tightness thanks to the Tight control.
This issue came up early on when discussing various ideas with Mark Kloeppel, guitarist from the hardcore band Misery Index. Like many other metal players, Mark was looking for a particular guitar tone, one with a lot of harmonics but with the ability to stop the notes really fast to work with their music. The Tight control varies the pick attack from smooth and thick to tight and aggressive. Read more
AMT California Sound — The good folks at AMT's UK distributor Black i Distortion reckon this pedal will add some 'boogie' (Mesa Boogie) to any setup. This pedal has that modern US saturated distortion tone associated with Metallica and the fat bottom-end makes your low E string riffs rumble like a bastard. Read more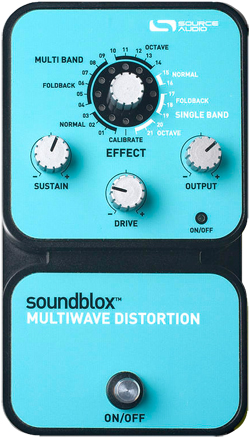 Source Audio Soundblox Multiwave Distortion
Rock guitarists like distortion. How is that for an understatement? More specifically, rock guitar players eat, breathe, and sleep distortion. Many of them even have more than one on their pedalboards. There are also some that run more than one pedal simultaneously. Yeah, it seems that distortion is an integral part of the tonal diet of the rock musician.
But what do you do when you have tons of distortion pedals, but no more room on that ever-expanding pedal board? Easy – you downsize your setup.
Downsize may indeed sound like a dirty word to many guitarists, but there are benefits to getting rid of those three extra overdrives. For starters, your setup is easier to carry to gigs. But more importantly, you can fit new distortion boxes into the chain! Of course, with fewer pedals, you lose the possibility of quite a few different tones. What is a rocker to do?
Enter the Soundblox Multiwave Distortion pedal from the electronic gods over at Source Audio.
What makes the Soundblox Multiwave Distortion worthy to sit on your board? Easy. This sucker packs a wide variety of distortion tones, dished out by a SA601 56-bit Digital Signal Processor that has 24-bit A/D D/A conversion. What does that mean? It means an unbelievably large palette of sounds from slightly crunchy to ridiculous at best.
Advertisement————————————
[% oiopub-banner-3-left %]————————————————————
This pedal has a whopping 21 types of distortion, sure to please any fuzz-hungry gear hog. Not to mention, the Soundblox Multiwave Distortion uses distortion algorithms that are totally different from your normal digital distortions. The pedal gives you the ability to control the single- and multi-band distortions, giving you more freedom with your tone.
One of the other features that make this pedal different than other 'normal' distortions is the Foldback and Octave sections, which give you yet more control of your distortion tone, allowing you to dial in some wicked sounds. Let's put it this way: if you want a unique distortion pedal that can do some seriously whacked-out sounds, the Soundblox Multiwave Distortion is definitely for you. You can even tweak the pedal to give you some funky wah and synth distortion sounds.
If you are in need of a versatile (and way out) distortion sound check out the Soundblox Multiwave Distortion pedal from Source Audio. You will most likely be glad to replace at least one of your other distortions with this thing.
Here is a video demonstration. Enjoy!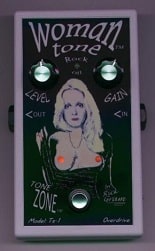 "Nipples glow red when ON!" boasts the brochure for Rick Gram Studio Tz-1 Woman Tone. And indeed they do. Activate this titillating tone bender and you'll be pleased, amused or maybe just outraged to find that the red LEDs illuminate the bountiful breasts of the bodacious blond silk-screened on the control panel of this creamy overdrive unit.
But if the packaging of the Woman Tone is outrageous, the tones it produces are as classy as they come: warm, responsive overdrives that react with smooth subtlety to variations in picking attack and guitar volume. Like Ibanez's hallowed Tube Screamer or Boss' now extinct OD-1 Overdrive pedals, the Tz-1 is not designed to produce gobs of gain. It instead excels at reproducing the creamy, compressed tones obtained by flooring classic non-master volume Marshall and Fender amps.
The plastic casing and input and output jacks may eventually crumble at the feet of booted bruisers, and a tone control would have been a welcome addition to the level and gain knobs. But the Woman Tone's innards, which include noise quashing internal voltage-regulation circuitry and tone-saving virtual-bypass circuitry, are thoughtfully designed and well assembled. Rick Gram Studios also offers the Catch-A-Buzz and the Franken Tone fuzz/distortion pedals. They, however, are not mammary powered.
Let's take a look at 4 killer Marshall stompboxes to help shape your guitar tone. In this review, we will sit down and play all 4 pedals, and also includes video tone sample. You want to hear how kickass these Marshall Pedals sound, right?
Pedals in review:
BB-2 Bluesbreaker II
SV-1 Supervibe Chorus
ED-1 "Edward" Compressor Pedal
VT-1 Vibratrem
BB-2 Bluesbreaker II

Modeled after Marshall's original Bluesbreaker pedal, the BB-2 offers two modes instead of one. The unit's clean, but merciless boost function can pummel an amp's input stage or drive long cables without altering the tone of your guitar, while the blues mode uses the pedal's drive and tone controls to create a wide range of valve-like overdrives rich in 2nd-order harmonics.
The Bluesbreaker II worked extremely well with a vintage Marshall Super Lead, producing no low-end loss when interacting with the amp's power tube distortion. It's performance was equally commendable with a Blackface Fender Reverb, where the BB-2's ultra-musical crunch was plainly in evidence. Read more