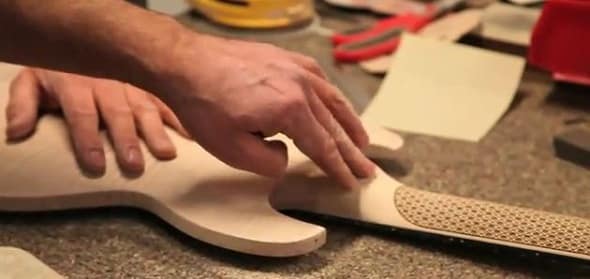 NAMM 2011 — DBZ Guitars announces a new breakthrough in guitar neck design. Unveiling of DBZ's cutting edge new necks, called the Dean B Zelinsky 'Z-Glide' Reduced Friction Neck (patent pending) will take place at the 2011 NAMM show January 13 in Anaheim, California.
The Z-Glide guitar necks, which will be available as an option on DBZ USA Custom Shop Guitars, utilize a surface designed to let your hand glide effortlessly up and down the neck. Dean Zelinsky's Z-Glide necks eliminate the sticky/clammy feeling gloss lacquered necks are known to produce. Read more
DBZguitars — Legendary guitar builder, Dean B Zelinsky, sent us an image of their newest addition to the DBZ Guitar family. Check out the DBZ Peacemaker Cavallo V guitar. This is more than just a guitar, it is a piece of art. Look at how beautiful the workmanship is on this guitar, the etching is nothing short of spectacular. The guitar is equipped with double humbuckers, 2 controls (volume and tone), a 3-way selector switch, and string-thru-body for maximum sustain. Of course, the guitar wouldn't be complete without DBZ's patent headstock. Join us at the guitar message forum to read more. Read more
Master guitar builder Dean Zelinsky creates textured Snake Skin finish using new techniques — DBZ Venom Snake Skin Guitar.
DBZ Guitars travels to Frankfurt, Germany next week to reveal the new Venom Snake Skin guitar along with its entire line of guitars at Musikmesse, the world's leading trade fair for music.
This is the first time Dean Zelinsky will take his new company, DBZ Guitars, to display at the show and is in direct response to the international success the new line has experienced during its first year. The new Snake Skin finish achieves unparalleled realism, in both looks and feel, using Zelinsky's proprietary techniques. Read more
DBZ Guitars NAMM 2010–Another beautiful guitar by Dean B. Zelinsky. DBZ Guitars has unveiled the Bolero Banneret, the first in the new Regalia Series of guitars debuting at the National Association of Music Merchants–NAMM–trade show January 14th – 17th 2010 in Anaheim, California. Read more
DBZ Guitars–For the first time in history a legendary guitar maker has granted us a unique opportunity: A front row seat to a real behind the scenes look at "The Making of a Guitar Company". The last time anything like this was possible was when Leo Fender left Fender and started Music Man. At that time we did not have the Internet and the technology to broadcast the journey did not exist. Read more

DBZ Guitars is receiving magnificent press in the guitar world, and rightfully so. Legendary guitar builder & designer, Dean B. Zelinsky, has really intrigued us with his excellence in guitars. Yesterday Gear-Vault reported the recognition DBZ Guitars is receiving from their Bird of Prey guitar that will be published in GuitarWorld. Read more
DBZ Guitars is proud to announce a guitar that will blow minds and turn heads: the Croc Skin Bolero. Straight from the mind of legendary guitar designer Dean Zelinsky, The Croc Skin Bolero combines DBZ's legendary playability with looks so realistic Dean B. Zelinsky may soon be explaining himself to the U.S. Fish and Wildlife Service.
There's no pattern in nature more rock n' roll than crocodile skin, and DBZ's Croc Skin Bolero is the first guitar in the world to wear it proudly without harming any animals. While the Croc Skin Bolero's curvaceous body looks like it has been covered in real reptile skin, the finish is actually a never-before-seen textured maple top, produced using proprietary DBZ technologies. Of course, the Croc Skin Bolero is more than just looks; it's made to play. A thick cut maple top gives the Croc Skin Bolero a distinct, brighter personality, and the custom-voiced DBZ pickups have been painstakingly tailored to compliment its unique body while providing a ferocious tonal palette. A custom designed and engraved DBZ tailpiece made of lightweight alloys adds to the guitar's already incredible sustain, while the slick mahogany neck gives players a fast stable platform to express themselves on.
"DBZ Guitars is all about using technology to take our guitars to the next level. We have now harnessed that technology to realistically texture guitars and imitate the things we see in life. The Croc Skin Bolero does just that," says CEO and founder of DBZ Guitars, Dean Zelinsky.
Made in the USA, the Croc Skin Bolero features a solid mahogany body and a 3/4″ maple top with proprietary Croc Skin finish. It also includes a slick 22-fret set mahogany neck and an ebony fingerboard, custom DBZ private label humbucking pickups, a custom-designed lightweight DBZ stop tailpiece, graphite saddles and Sperzel tuners.

Advertisement—————————————
[% oiopub-banner-3-left %]—————————————————————
Croc Skin Bolero Specifications:
Construction/Scale: 24.75" scale set neck, 22 frets
Neck/Fingerboard: Mahogany/Ebony
Body: Mahogany/Maple
Pickups: DBZB/DBZ5
Controls: Vol/Tone/3-way
Tuners: Sperzel
Hardware: Gold
Bridge: DBZ Stop Tail
Finish: DBZ Croc Skin
MSRP $6,220/MAP $3,999
—————Gallery————————————————————————————————————-
[nggallery id=15]
For more information:
DBZ Guitars
Source: GuitarSite
Buy – Sell – Trade guitars at GEAR SEARCH
Premier Guitars had the pleasure of meeting Dean Zelinsky and doing a really cool video interview with the godfather, himself. Scroll down to watch this exclusive video interview. Read more
DBZ Guitars, Inc. founders Dean B Zelinsky and Jeff Diamant announced today the official launch of their website, DBZGuitars.com. Dean B Zelinsky, who also founded and eventually sold Dean Guitars, is taking a more stylish direction with his 2009 DBZ guitar designs, while still incorporating those edgy, sexy Zelinsky style cues for which he has been world-renowned since the late 1970s. Read more
Dean Zelinsky, founder of Dean Guitars, announced this past Tuesday that he is launching a new line of guitars, called DBZ Guitars LLC (http://www.DBZGuitars.com). Zelinsky recently removed his name and endorsement from Dean Guitars, noting that he did not want his name on them any longer, due to their 'declining' quality.
DBZ Guitars was launched in order to give Mr. Zelinsky 'personal control over design, direction and quality'. The company website also features a forum, where Zelinsky can chat with fans of his guitars. Sign up to DBZGuitars Message Forum.
Dean Guitars was founded in 1976, when Dean Zelinsky was only 18 years old, and helped to bring about some new concepts in guitar design. The new line of DBZ Guitars will continue with that legacy of inventiveness, using laser technology, proprietary graphics applications, and exotic woods. The new DBZ Guitars are scheduled to debut in January 2009.
Dean Zelinsky has also partnered up with Jeff Diamant (Diamond Amplification) and Terry Martin.

Advertisement————————————
[% oiopub-banner-3-left %]————————————————————
"Jeff and I share a vision for DBZ, and see eye-to-eye on how this industry should be serviced", said Zelinsky.
DBZ Guitars plans to put more of the modern technology to use to bring about the next generation of guitars. They also plan to produce not only high-end guitars, but models that will fit everyone's budget.
Zelinsky plans to exceed the expectations of Dean Guitar's fan base of over 30 years.
Gear-Vault Classifieds is an eBay alternative. Come sell your guitars and amps with us, for FREE!