Originally published on: Jul 17, 2009 @ 3:05pm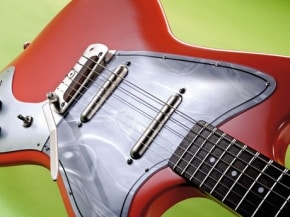 Danelectro guitars have long been known as great, affordable instruments and many guitarists have used them for everything from entry-level department- store thrillers to character-filled alternatives to the more commonly seen Gibson/Fender/Gretsch axes we all know and love. Dano's thing is keeping their retro vibe alive. They maintain the style and feel they have always had and, in a world of constantly shifting styles of guitars, they remain a touchstone to the classic rock era. Their new Dead On '67 continues this tradition in fine form, taking its cue from the Hornet Series H2V6 instruments the company made from 1967 to 1969, albeit with some deviations from the original specs.
See the Danelectro Dead On '67 Guitar demonstration video below – Read more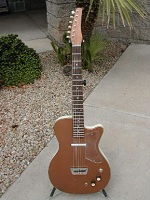 The story of Danelectro Guitars started way back, even before its first product made its way out of the factory. The founder of the company, Nathan Daniel, who served Epiphone Guitars during the 1940s, was in charge of manufacturing amplifiers for various companies like Montgomery Ward, Sears and Roebuck & Co. among others at that time. He decided to start his own line of equipments and instruments and established the corporation DanElectro in 1947, which in its initial years completely dedicated his efforts in selling his range of amps to the companies mentioned above using his already established contacts with them.
The turning point came in 1954, when the company manufactured their first range of electric guitars and christened them as Silvertone, selling them to companies like Sears among others. However, parallel to it they also continued to produce and manufacture guitars and related equipments under agreements with different dealer brands such as Airline, etc. Read more

Danelectro has announced the reissue of the classic Danelectro '56 Single Cutaway Guitar. The Dano '56 is available in a number of different options. Lovers of the Dano singlecoil sound can pick up a 'coke bottle' headstock model in black or red/black crackle.
A white version comes with gold hardware and the 'bell' headstock, first used in 1954 on the very first Danelectro logoed guitars. Meanwhile, those looking for a chunkier sound can pick up a '56 with a single-coil in the neck and a humbucker at the bridge for [check for price]. Available in red, black and aqua shades, these models feature the slender 'dolphin' headstock, which also adorns the '56 bass. Read: History of Danelectro Guitars Read more
Danelectro guitars are highly sought after collectible items by discerning guitarists and are of extra-ordinary quality and style. The history of Danelectro begins in 1947 when it was founded Nathan Daniel primarily as an amplifier manufacturer. However by 1954, the company had started producing solid bodied electric guitars and finally acoustic and bass guitars. The amplifiers and guitars that Danelectro produced were sold to retailers like Montgomery Ward and Sears which sold the instruments after putting their own brand names on them. Read more

[% oiopub-banner-3-left %]
When Nat Daniel made the first Danelectro back in the mid Fifties, could he have hand any clue that his trashy, low-end electric guitar would sound electric guitar would sound so great and play so majestically? Could he have anticipated that these instruments would find their way into the hot, sweaty palms of Satan's cabana boy, Jimmy Page, and numerous other future rock stars? Not likely. In truth, the late New Jersey guitar and amp maker—whose primary business was supplying guitars sold by Sears (under the "Silvertone" brand name) and Montgomery Ward (under the name "Airline") and other chain stores—wasn't a master luthier, but an entrepreneur looking to make a buck. He built'em cheap, sold'em cheap, and made 'em available in a paint-box worth of colors. Danelectro's market was anyone looking for a good, super-affordable electric guitar. Read more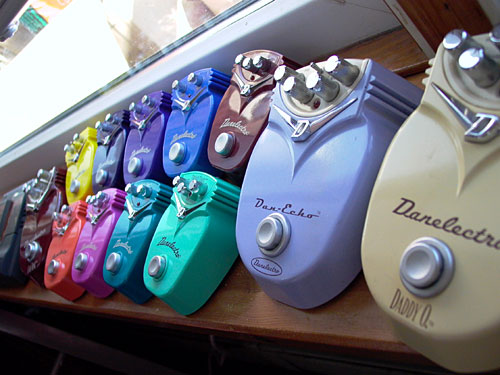 The classic-looking effects boxes created under the revive Danelectro moniker have been among the most well-received musical products in recent memory. It's easy to understand why: Danelectro has reproduced popular vintage tones in four reasonably priced and good-sounding pedals. Featuring quality construction and killer design, these units were made to look as good as they sound. Read more
They're out there. The original Danelectro guitars that is—pennywise student guitars with 40 years' worth of chips and dings, and tuners that have lost their grip. Sure, they're bad ass but do these battered budget playmates deserve their four figured collectors' tags? Danelectro didn't think so. Their response was to build the guitars again, and build them 100 times better, then sells them for a lot less than they could have. Following the roaring success of the company's re-issued '56-U2, Danelectro dusted off the rest of its blueprints.
First in line is the "59-DC, the model that launched a thousand garage bands. Much of the unique character of Danelectro guitars stems from their famed "lipstick" pickups and other domestic materials and radio-shop components that were commandeered for the manufacture. Luckily, the reissued '59-DC retains all of these weird trademarks, including the TV set knobs and "baked Melamine" pick guard. The two lipstick single coils are height adjustable fro the back and each is governed by a stacked volume and tome control. Another quirk is the Dano has the simple bridge, which features a flat rosewood saddle attached on a metal plate, with a couple of screws for tweaking the action. The 59-DC's 21 fret bolt on neck is inviting and features some surprisingly sharp fret-work, considering the guitar's modest price tag. The trademark coke bottle headstock provides a reasonably straight string path over the aluminum nut. Read more