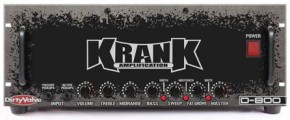 Let's face it, when you're thinkin' Krank, you're thinkin' KRANKENSTEIN! You're thinkin' "DIMEBAG"!!!!
And you'd be right. But it's time to think outside the bag. The good folks at Krank didn't want the guitar slingers to have all the fun…uh, uh…no way. They've taken all of that high gain expertise of theirs and created a powerful, multi-faceted bass amp (Bassenstein, maybe?). This latest addition to the Krank line of products is called The Dirty Valve D-800. Read more
1990s era Ampeg bass amp–Featuring a tilt-back design, the B3-28 delivers big sound (150-watts) in a small package. A two-input plate on the back lets you choose between employing the amp's two eight-inch speakers alone or in conjunction with the piezo tweeter. Other features include inout gain with peak LED, -15 dB input pad, bass, treble and ultra-mid control, nine-band graphic EQ, XLR line-out, a pre/post EQ line-out switch and an effects loop.–Discontinued product. Read more

The 600w BX600 ($399) and 1200w BX1200 ($549) offer the bassist tone that extends the ability of the player. Three EQ sections extract all the tone your instrument can deliver – whether your bass is active or passive. String definition becomes so articulate that every note is distinct with defined punch and attack. Perfect pitch is now definable because the accuracy of your instrument is fully transparent thanks to the distortion free class A preamps. Read more

Ibanez Electronics has proudly extended its amplification arsenal, this time in the professional bass amp category. During winter NAMM 2009, Ibanez demonstrated their all-new Promethean Pro bass amp with the help of bassist Rufus Philpot (Planet X, Down to the Bone). Read more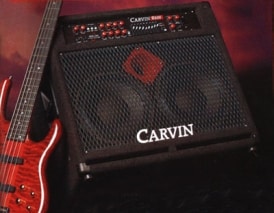 Due to popular demand and request from the GEARHEAD Gear-Vault readers, we are going to focus on bass equipment more often (cheers Marvin H.)
In 1999 Carvin made a bold follow-up and delivered the bass guitarworld the R600 bass amp series. The Carvn R600 featured a "mono bridge" output switch that delivers a thundering 600-watts from the amp's 2 x 300-watt amplifier. The hefty power comes courtesy of Carvin's HT (High-Energy Transfer) power module, which can also be split for bi-amping at any crossover frequency between 200hz and 2khz. Other refinements to the original R600 series include three levels of EQ and a blend-able tube/solid-state input for a wide range of tonal variations, as well as a foot-switchable effects loop, an XLR direct out with ground life, and three preamp outputs.
*The Carvin R600 Redline series is no longer in production.
Estimated used price for the Carvin R600 Redline Series bass amp head: $200 – $250 Gear Search
Carvin RC210
New for 1999 was the RC210 Red Eye Combo (pictured). This was a tiltback combo amp, based on the Series II Red Line amps. This 600W combo had all the features of the R600 head, in an ultra-compact package with a pair of 10″ speakers and the Red Eye horn. The RC210 sold for $749.95, and was also available as the RC210-18, which included the RL118 extension cabinet. Sold for $1049.95.
The late great Tube Works (GenzBenz) 7200 bass combo was from the 1998 / 1999 rock scene. Though the Tube Works 7200 bass combo is no longer in production, we decided to take you on a journey with us to the blast from the past.
The 7200 bass combo offered a powerful 160 watts of Mosvalve punch into 4 ohms with a 15-speaker and a bullet horn. The amp also featured a two-stage preamp (F.E.T. or tube), flexible four-band EQ and a built-in limiter, as well as jacks for speaker out, line out, two balanced outputs and an effects loop.
If you currently are the proud owner of the Tube Works 7200 Bass Combo (12-inch or 15-inch speaker selection), here is the online .PDF manual of the unit. You can buy – sell – trade used musical instruments at our exclusive GEAR-SEARCH section.
Estimated used price: $75.00 – $100.00
Advertisement————————————
[% oiopub-banner-3-left %]————————————————————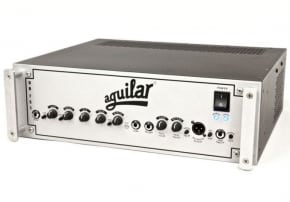 Aguilar Amplification is proud to announce the release of the DB 751 bass amplifier. Aguilar President Dave Boonshoft notes that, "This amp is a logical evolution from the DB 750. The DB 751 gives you access to a myriad of great bass tones thanks to its powerful and flexible EQ".
Features: The Aguilar DB-751 features an all-new state-of-the-art hybrid preamp system that combines the renowned tube-driven tone of the DB-750 with active boost and cut for greater EQ control / response. According to Aguilar, the DB-751 produces the perfect blend of raw power, heart-felt punch and distinctive tone. Delivering a mighty 975-Watts at 2 ohms and 750-Watts at 4 ohms, this amp has the headroom you need to perform at any size venue. Read more
NAMM 2009 – Picture this: tube amp, 37 pounds, 300-watt, extremely versatile, and what do you get? The all new Peavey VB-3 all tube bass amplifier. This incredible amp gives you total control over EQ and gain structure.
The dual-channel Peavey VB-3 bass amplifier combines three 12AX7 and two 12AT7 preamp tubes with a matched octet of EL34 powertubes that give players tons of characteristic all-tube-tone with extraordinarily tight response for an all-tube amplifier. An innovative, world-compatible switch-mode power supply and advanced design provide stadium levels of tone and power in an extremely lightweight (37 lb.) tube amplifier head.
The combination of the three 12Ax7 and two 12AT7 preamp makes up the dual channel Peavey VB-3 bass amplifier. Backing up the amplifier's natural tube tone is a three-band vintage-style active/mid-cut EQ that blend traditional low and high tone controls with a mid control that features a four-position midrange selector switch, this allows players to set the mid-frequency at 200, 450, 600 or 800Hz. Combined with the nine-band, constant-Q graphic equalizer—spaced at optimized frequencies, with each slider providing 15dB of cut and boost—the Peavey VB-3 allows for virtually any EQ curve imaginable.
In addition to the aforementioned features, the VB-3 also features an all-tube optical compressor that uses a unique "feed-forward" design, this is positioned between the two EQ sections to help control extreme settings and allows full use of the graphic EQ. The compressor is highly sensitive and activated from the first tube stage so it can produce a wide array of compression. The amp's master volume controls the overall output, while the "Clean" channel has an independent volume control and the "Overdrive" channel has a separate overdrive gain control.
Peavey's patented "Resonance" and "Presence" controls, which adjust the damping factor at the low and high ends, respectively, along with a three-way speaker impedance selector, allow players to match the VB-3 to virtually any bass speaker enclosure. "Resonance" and "Presence" are also useful in dialing in tones for particular styles, including "tight" sounds that are not generally associated with tube amplifiers.
Voiced to match the VB-3 tube bass amplifier, the new VB-810 bass enclosure features eight custom-designed 10-inch ceramic-magnet loudspeakers paired into four tone chambers, and can be operated in stereo or mono modes with 800-watts power handling.
The Peavey VB-3 will be available in Q1 2009 and the VB-810 will be available in Q2 2009 from authorized Peavey retailers.
VB-3 Tube Bass Head
300 watts RMS into 8, 4 or 2 ohms
Total weight of just 37 lbs.
Matched octet of EL34 power tubes
3 x 12AX7 and 2 x 12AT7 preamp tubes
Internal rebiasing switch for using 6L6GC tubes
Universal switching power supply allows use worldwide
Dual channel: Volume/Overdrive/Low/Mid/Shift/High/Master
LED indicators for active Volume or Overdrive control (footswitchable)
Bright and Low Cut switches
Tube compressor w/level control, defeat switch and LED (footswitchable)
Constant-Q 9-band graphic EQ w/defeat switch and LED (footswitchable)
Master volume
Master Resonance and Presence controls for frequency-selective speaker damping
Effects Loop
Neutrik Speakon Combination Jack outputs
Balanced XLR output pre/post EQ
Preamp output and power amp input
Footswitchable mute for tuning on stage
Tuner output
LED-lighted Peavey logo with dimmer control
Made in U.S.A.
MSRP $2499.99
VB-810 Bass Enclosure
800-watts RMS power handling
Eight custom-designed 10″ ceramic-magnet loudspeakers
Four individual 2×10 chambers
Switchless stereo or mono operation
Heavy-duty hardware
Durable bedliner covering and black grille cloth
Made in U.S.A.
MSRP $1049.99
For more information, please visit Peavey's official website at www.peavey.com.

The Mesa/Boogie M9 Carbine Bass amp is essentially an updated version of the M6 Carbine, a bass amplifier that bass players worldwide hold dear for its all-tube Trans-Class preamp and MOSFET power section which gives the M6 its clarity and versatility. The M9 was presented at NAMM 2009, and is already making heads turn.
The difference between the M9 and the M6 lies within the upgrades. The M9 Carbine features more power (900 watts into 4 ohms) and a full set of dynamic features, as well as a 9-band studio-class EQ. The Mesa/Boogie M9 can dish out enough volume for larger venues and still retain its detail, speed, and punch. Read more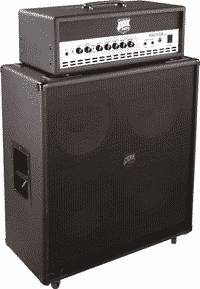 AXL Guitars, San Francisco-based company, take another leap forward in the quest to create earth-shaking tones, releases their FAULTLINE series of Bass Amplifier heads and cabinets. Read more