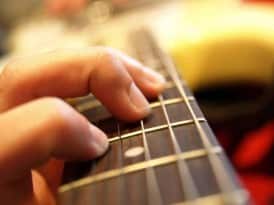 You have just started to play guitar or you are still learning it and having a hard time learning it. Don't worry even the guitar geniuses went through same phase once. You can achieve success here by choosing simple songs to practice but you will also need to have proper skills to play those guitar songs correctly. Your selection plays a deciding role in you success or failure here, so it is important to have basic knowledge of guitar when you go for more difficult techniques Read more
Carlsbro is among the most famous names in British guitar amplification and has been designing and manufacturing guitar tube amps since 1959, selling its early models to Jim Marshall's shop in Denmark Street, London's famous 'Tin Pan Alley'.
The famous 50 Top and TC series revives the Carlsbro tube heritage, with uncompromising build quality, hand selected components and authentic vintage tone throughout. The 50 Top head and 4 x 12 cab are available in classic red and black liveries, while the TC series comprises three classic combos and a 15 watt head and 1×12 stack.
The re-issued 50 Top is the classic Carlsbro tube head and cab of the 60s and 70s revamped and re-engineered to even higher build standards and sonic performance. The new twin channel amp head has switchable channels & two master volumes, which are footswitchable.
The valve complement of 4x 12AXT's and 2x EL84's give 50 watts of incredible power at 8? or 16?'s. The preamp has a host of features including Hi and Low sensitivity inputs, 3 band EQ using Silvered Mica Capacitors, and 'Sleep Mode' automatic muting with no input present. Tough ply construction, with durable covering and metal corners are essential for road use. Jack outputs are 2 @ 8? and 1 @ 16? allowing a wide choice of cabinets. Read more
The Dream Of Building Your Very Own Cigar Box Guitar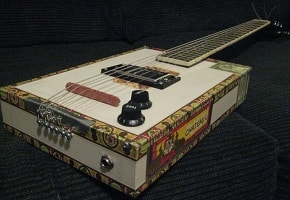 Our existence in the 21st Century has taken on a disposable quality that probably won't be much admired by future historians. Look at us. Every time Apple trots out a new iWhatever, 50 million "old" iWhatevers get tossed out the window. Our jobs, our mortgages, our marriages, NBA contracts – it all gets torn up in the end, and we begin anew. Read more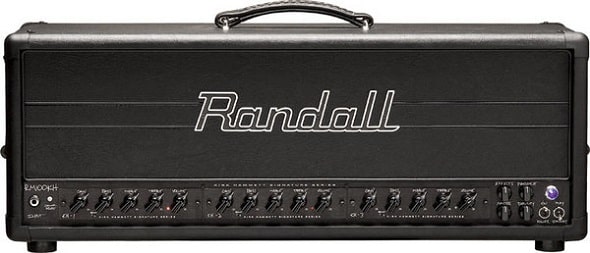 KIRK HAMMETT characteristically relies on a rock star—sized rack of amplifiers, preamps and custom-tweaked processors to generate his volcanic live sound. In the studio, this rack becomes a part of an even larger equation, where Hammett meticulously augments and shapes his iconic tones with a menagerie of specialized and vintage gear. If you haven't guessed it, Guitar World's first Hall of Fame inductee is an incurable tone hound that has lacked only one thing: an amplifier singularly capable of creating his current trademark tones and versatile enough to grow with Hammett's changing tastes and needs.
Randall Amplification teamed with Hammett to devise this metalhead's daydream amplifier after Anthrax's Scott Ian raved to Hammett about his and Dimebag Darrell's positive experiences with Randall amps. It just so happens that Randall's MTS (Modular Tube System) amplifiers are perhaps the ideal platform for Hammett's amp, because they are famous for their high-end sound quality and allow for practically limitless expansion. Amp whiz Bruce Egnater pioneered this cleverly practical system where the preamp consists of removable tube-driven modules, each designed to achieve a specific tonal goal. Kirk's Hammett's signature series Randall MTS amplifier comes loaded with the three modules that he and Randall's engineers crafted over an extensive research and development collaboration. Read more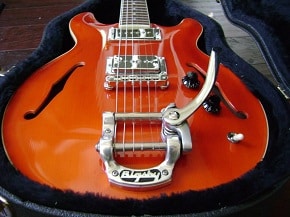 Call them the biggest of custom shops or the smallest of production plants; either way, Hamer knows how to put together some fine guitars. Even their most affordable instruments reveal an attention to detail you might expect to find only in high-priced guitars.
So it only goes to figure that a costlier instrument like Hamer's Newport Hollowbody electric guitar exhibits some truly topnotch craftsmanship. The Newport is part of Hamer's unique line of true hollowbody instruments, which also includes the Newport Pro. It features a hand-carved spruce top on a mahogany body and a mahogany set neck, all bound in ivoroid. The transparent orange finish is subtly flecked with silver sparkles, and the chromed hardware includes Grover Super Rotomatic tuners, chrome pickup surrounds, a Tune-O-Matic bridge and a Bigsby vibrato tailpiece.
The Newport sports a pair of single-coil Phat Cat pickups hand-built in Seymour Duncan's custom shop, master volume and master tone controls and a three-way toggle pickup selector. The Phat Cats are cleverly designed to humbucker dimensions, by the way, so if you must swap them, you can do so without taking a knife to the top. For those less inclined toward this model's rockabilly leanings, the Newport Pro comes with a Tune-O-Matic bridge with stop tailpiece and two Seymour Duncan Seth Lover pickups. Read more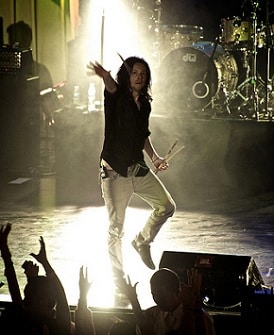 We have all seen it before; drummers whipping their drum sticks out into the crowd at the end of a bad ass concert. Generally I think that we all just assume that someone in the crowd catches the sticks and ends up with a really awesome concert souvenir. This is usually true, but what about an audience member getting lambasted upside the head by a flying drum stick? Read more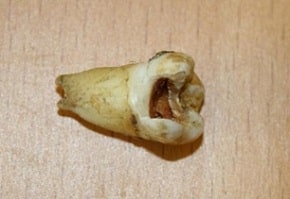 We've all seen some bizarre items owned by celebrities that have been sold at auction. Britney Spears' napkin, Justin Timberlake's breakfast scraps….the list goes on, and gets weirder.
But this one surely takes the cake for celebrity obsession (and intrusion).
A certain tooth, (that's right, a tooth) was sold at auction on Saturday, formerly belonging to none other than ex-beatle John Lennon. Read more


The Les Paul Studio Swirl is a stunning new addition to the popular Studio series, which has been bringing full-fledged Les Paul performance and tone to hard-working musicians since its introduction in 1983. These guitars include all the classic ingredients that have made the Les Paul Standard legendary since humbuckers first hit the model 1957, but add four exotic swirl finishes to the formula, while retaining the down-to-business package that is light on frills, heavy on swagger, and easy on the pocket. Not one element of construction or component quality is sacrificed to bring you this high-performance electric guitar, and the Gibson USA Les Paul Studio Swirl might just be the most head-turning Studio model ever produced.
A handful of cosmetic simplifications help to bring this Les Paul in at a truly astounding price. A minimalist finishing process results in a thin nitrocellulose finish in one of four gorgeous new "swirl" options: Black/Green Swirl, Black/Silver Swirl, Gold/Blue Swirl, and Silver/Blue Swirl. A lack of binding around the body top and fingerboard also gives a tactile, organic look and feel to the instrument as a whole. Where tone and performance are concerned, however, the Studio Swirl model stays right in the legendary Les Paul Standard's wheelhouse, with the timeless hardware that has helped to make Les Pauls total sustain monsters for more than five decades. The pickups are a pair of Gibson's most popular humbuckers, a 490R in the neck and a 498T in the bridge, both made with 42-AWG wire and genuine Alnico magnets (Alnico II and Alnico V respectively) just like the original PAF humbuckers. Wrap it all up, and it's an unparalleled package for anyone from the discerning studio musician to the hard-touring artist in search of a no-nonsense tone machine that stands out on the stage. And at this price, there's no reason not to check out the Les Paul Studio Swirl today—and make it your very own. Read more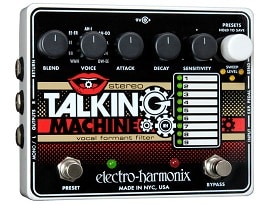 Buying a pedal that offers multiple exciting sounds and finding that you can't save any of them is frustrating. Consistently re-creating onstage all of its cool effects is virtually impossible, forcing some players to buy multiple identical units, each set for a single sound.
Fortunately, Electro-Harmonix–purveyors of some of the coolest sounds ever–introduced its first programmable pedal a few years ago. Since then, they have been churning out amazing effects, like Ring Thing and POG2, capable of a wide range of usable tones, storable as nine presets. The latest addition is the Stereo Talking Machine, a vocal formant filter that offers wah, auto-wah, envelope filter, and talk box effects. Read more

The electric guitar has surpassed the piano as the most popular instrument of budding musicians. While the reasons for this trend are numerous, it's quite obvious that most households no longer have a piano, while many a dad or mom has an old guitar tucked away in a closet for junior to explore once the music bug starts to bite.
Of course, the goal for every young player is to buy a guitar of his own, and to that end, Ibanez has been most helpful. The company's 30-year-old Artist Series has been continually updated to provide modern variations on the two-humbucker mahogany guitar theme, with prices that are commonly far below market value. New to the series is the ART300, an unusual and interesting single-cutaway that has active pickups and a raised reptilian finish. This kind of bold and inventive thinking is exactly what I love about Ibanez, the same company that cuts monkey grips into $2,500 works of six-string art. Read more