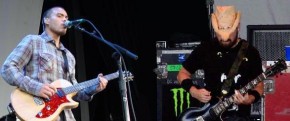 10 Years Interview–Gear-Vault exclusive – 10 Years' guitarists sits down with us for a full on interview. You can listen to the 10 Years interview live or read the transcript below. Guitarists Brian Vodinh is endorsed by Taylor Guitars and plays his Taylor Standards in stock form. While Ryan Johnson (aka Tater), on the other hand, plays Gibson Les Pauls with some interesting modifications… he pulls the neck pickup to give the guitar more sustain and crunch. His humbucker pickups are custom made and hand wound. Read more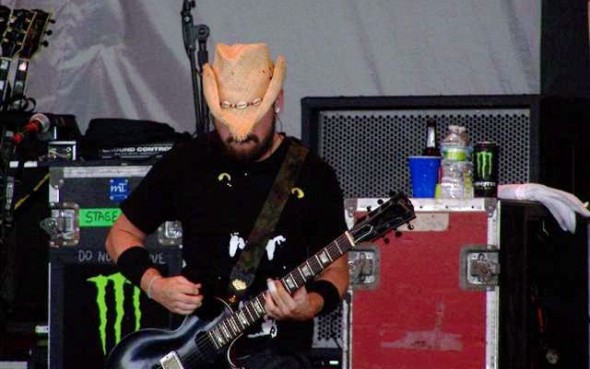 Ryan Johnson (aka Tater) is one of the founding members of the alternative metal band, 10 Years. Tater wanted to play guitar at the early age of 13 years old, but coming from strict Southern Baptist roots, his mother didn't want him to play music, especially rock 'n roll. After Tater went to his first show (Rancid and Offspring), he knew that's what he wanted to do.
Tater never took any guitar lessons, instead he would just try to surround himself with the most talented musicians he could to help him learn. Tater's guitar influences were more on the side of punk and alternative music such as Nirvana and Alice In Chains. Tater is also in another band called American Plague. See pictures of Tater's gear taken from the Carnival Of Madness Tour at the DTE Music Theatre in Clarkston Michigan.
Fun fact: Tater loves destroying shit on stage. Watch the YouTube video of Tater demolishes his guitar on stage.
Tater's Gear List
Rack:
Furman PL-Plus Series II
Rocktron HUSH
Monster Power PRO 2500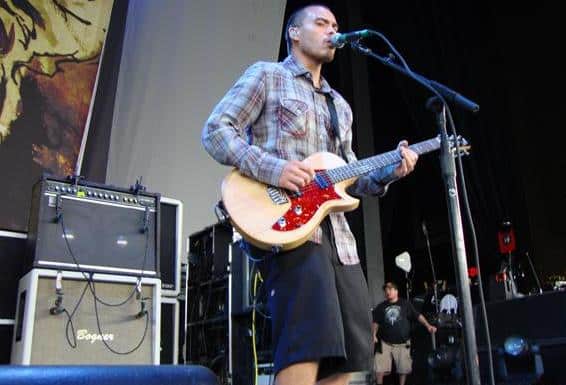 Brian Vodinh is one of the founding members of alternative metal band, 10 Years. He started off as the drummer for the band, but later switched to guitar. Some of his band members say he is a guitarist first, a drummer second.
Brian started taking guitar lessons at the age of 11 years old. He grew up around music as his father was a first-chair violinist in a symphony orchestra and his mother was a huge Elvis Presley fan. Brian says growing up with rock 'n roll meets classical helped shaped his style.
Brian's guitar influences growing up was bands like Deftones, Metallica, and Korn. Brians says you can hear a James Hetfield-style in his guitar playing, especially in his right hand attack. What helped him develop that style was his determination to learn Metallica songs, especially Master Of Puppets at the age of 13. See pictures of Brian Vodinh's gear taken from the Carnival Of Madness Tour at the DTE Music Theatre in Clarkston Michigan.
Brian Vodinh's gear list
Talor Standard Guitars (single cut)
Demeter TGA-2 guitar amplifier
Bogner Custom Shop Shiva guitar amplifier
Roland JCM120 2×12 combo
Bogner 4×12 speaker cabinets
Photos of Brian Vodinh's Gear

[nggallery id=65]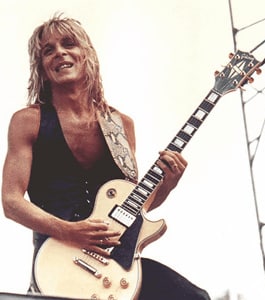 Randy Rhoads had one of the shortest but brightest runs at the top of the rock and roll game. His body of work with Ozzy Osbourne has stood the test of time and still provides inspiration for up-and-coming metal players and his legend has only gotten larger since his untimely death in a plane crash in 1982. Read more
PRS Torero Electric Guitar from Paul Reed Smith features a double-cutaway solid mahogany body and a maple top faced with a beautiful flame maple veneer. The 3-piece maple neck-through-body has a 24-fret ebony fingerboard and a comfortable wide-fat profile. You'll feel right at home with the 25 1/2-inch scale length. The PRS Torero SE guitar is loaded with an EMG-81 pickup in the bridge position and the EMG-85 in the neck position. These low-noise active humbuckers are the pickups of choice for metal guitarists due to their power and articulation. The electric guitar's Floyd Rose 1000 tremolo bridge gives you the freedom to express every nuance of your style. Buy the PRS Torero online cheap.
Paul Reed Smith SE Torero Electric Guitar Video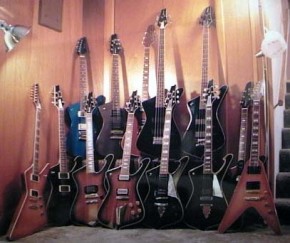 The history of Ibanez guitars is one of the most interesting ones in the guitar world. It all began in 1929 when Hoshino Gakki, a Japanese Musical Instruments company began importing and further-on, bought out the Spanish company Salvador Ibanez guitars as it was pretty much destroyed during the Spanish civil war. By 1935 Hoshino Gakki had started the production of Ibanez Salvador Spanish acoustic guitars in Nagoya, Japan. Read more
Danelectro guitars are highly sought after collectible items by discerning guitarists and are of extra-ordinary quality and style. The history of Danelectro begins in 1947 when it was founded Nathan Daniel primarily as an amplifier manufacturer. However by 1954, the company had started producing solid bodied electric guitars and finally acoustic and bass guitars. The amplifiers and guitars that Danelectro produced were sold to retailers like Montgomery Ward and Sears which sold the instruments after putting their own brand names on them. Read more
Gibson to reproduce Randy Rhoads classic Les Paul guitar – Gibson Guitars are finally doing something right since their Gibson Hendrix Strat failure. The guitar company is set off to reproduce Randy Rhoads classic Les Paul guitar. Read more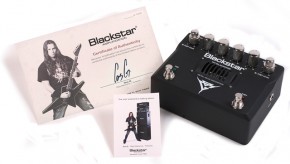 Blackstar HT-Blackfire – The HT-BLACKFIRE is the first artist signature product by Blackstar, developed with influential guitarist Gus G. (Ozzy Osbourne, Firewind). Gus's instructions to the Blackstar design engineers was to produce "the ultimate heavy metal distortion pedal". The HT-Blackfire is a two channel, valve-driven, metal distortion pedal. Read more


The history of Cort guitars bears a striking resemblance to many other Japanese and Korean manufacturers. Cort is a South Korean manufacturer of electric, bass and acoustic guitars and has been around since 1973 when it was founded by Yung H. Park along with Jack Westheimer. The company never offered any special signature guitars of its own instead choosing to offer guitars which were more or less copies in both appearance and quality to popular brands such as Fender and Gibson. Much like the Japanese brand Ibanez, this got it into plenty of lawsuits and legal issues however the company has retained its position as one of the most prominent guitar manufactures of the world. Read more