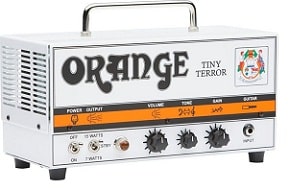 The Orange Tiny Terror is the amp we have to thank for making lunchbox-sized amplifiers a very trendy and popular part of the guitar amp market. Sure, there have always been builders out there who cooked up gourmet/boutique welterweights for the well-heeled low-volume slinger, but the Tiny Terror put this sort of thing in front of Read more

Memory Boy — The undeniable bloodline the same warm analog delay and seductive modulations of its legendary ancestors. 550 ms of superior delay coupled with a sweet chorus and vibrato maintain their organic quality on stage or in the studio. The classic EH analog delay carries on the family tradition at a musician friendly price — Check for price.
Deluxe Memory Boy — The latest in the proud heritage of EH analog delays. Tap tempo delivers a magnificent "human lock" letting you stay in sync with the groove. The effects loop provides synchronous animation that redefines pedalboard flexibility. Expression pedal input offers added control over every key performance parameter. This locked and loaded prodigy carries its lineage proudly! — Check for price.
Memory Toy — Pure and simple analog delay for musicians who covert a thick sound from a thin wallet. Offering up to 550 ms of delay time and a sweet selectable chorus, this "toy" is a powerful tool with world class tone. Inheriting all of the family jewels, the Memory Toy will soon be one of your most prized possessions. — Check for price.
Read more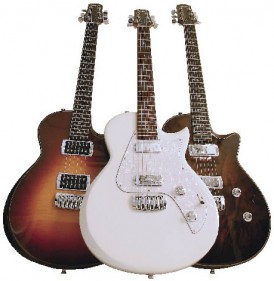 Taylor's divers line of electrics deliver a heap of fresh tones for every type of player. Breakthrough pickups, tone-shaping control and unmatched playability will redefine what an electric guitar can do in your hands.
The SolidBody Guitars were built around fresh pickup designs that blend vintage tones with amp-driving power. Choose from mini and full-sized humbuckers and noiseless single coils. A sleek, ultra adjustable bridge (with an optional tremolo) locks your intonation in place. Choose from several exotic wood top choices or tap into a rich palette of colors. All pickups are solderless and can easily be swapped out with other Taylor pickups.
The T3 soups up the semi-hollow sound and adds a touch of chrome-kissed style. The high-def humbuckers feature a coil-splitting function that uncorks killer single coil tones. A push/pull tone knob dials up even more sonic nuances, from classic rock to a warm, fat sound. Choose from a stop tailpiece or a Bigsby vibrato, each paired with a roller bridge for perfect intonation. Offered with a quilted maple top with several color and sunburst options. Read more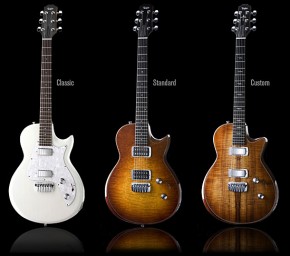 Before Taylor Guitars had their solidbody electric guitar breakthrough in 2007, the company has always been known and highly-regarded for their acoustic guitars, tone, and high quality. Read more

LTD FX-260 Explorer-style axe hands-on review — the LTD FX-260 guitar feels like a weapon caressed to your body while playing. With its woodsy look, it might even spark a flashback to the days of Thai sticks, bell-bottom flares and chicks named Ivy and Moonpuppy. The natural grain and warm brown hue of the guitar's spalted maple top and mahogany body kinda remind me of guitars produced in Canada when Elisha Cuthbert was still somewhat a virgin, but with its pointy, beveled Explorer-style body shape, black nickel hardware and EMG-ESP LH-300 pickups offer enough modern attraction to make metalheads give it the two-fingered devil-horn "I wanna rock" salute. Read more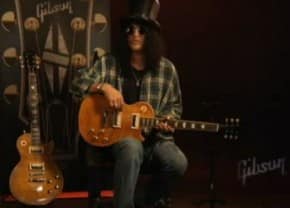 Eternally top-hatted former Guns N' Roses guitarist Slash is one of the most iconic guitarists of our time and, in some circles, is considered one of the last true guitar heroes. When he burst onto the rock scene in the 80's, Slash immediately became a poster boy for Gibson guitars and the Les Paul model, as much of the world was playing then-current super strat-type axes like Kramers, Charvels, and the like.
In honor of his ongoing Les Paul use, Gibson has made a Slash model, which seems like a very nice guitar. It has all the features and specs that LP guys like, a beautiful amber flamed top, and a cool Slash logo on the headstock. So what's the problem? Read more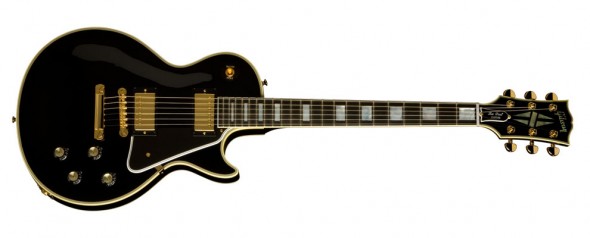 Gibson Custom Les Paul Black Beauty guitar for 50th anniversary–Gibson Custom has announced the availability of the 50th Anniversary 1960 Les Paul Custom 'Black Beauty'. Way more than just a looker, though, the 50th Anniversary 1960 Les Paul Custom is also armed to the teeth for tonal splendor.
Equipped exactly like the originals, it carries the legendary pairing of Tune-o-matic (ABR-1) bridge and stopbar tailpiece developed by Ted McCarty to give added adjustability and sustain to the first Black Beauty, along with the kidney button Grover Rotomatic tuners that were considered a major upgrade back in the day. Read more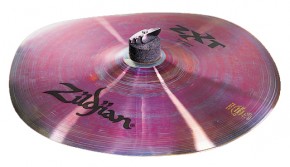 Drummers have a unique perspective when it comes to generating sound. While other instrumentalists are limited to what they can be plugged into via an effects-loop or, stomped on via a bloated pedal-board, drummers can make virtually anything percussive. Kitchen sinks, lengths of copper pipe, hubcaps and license plates have all found there way to my percussive arsenal. Found objects can really open up one's sonic creativity. Read more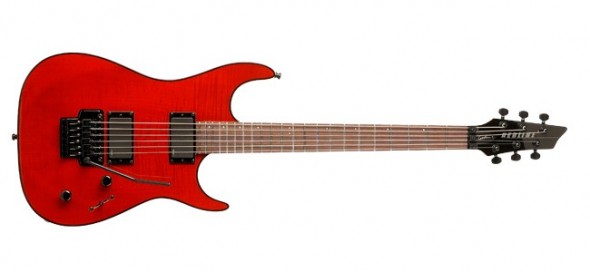 Godin Redline 3, guitars with an attitude — The Redline 3 allows aggressive players to "dive-bomb" their way through any performance with the addition of the Floyd Rose Tremolo bridge. The Redline 3 features an active EMG-81 pickup in the bridge and an active EMG-85 in the neck for scorching, high-output tones. Choose between the pickups using the 3-way switch and dial in different sounds using the tone knob. The humbuckers are housed in a sustain inducing, string through, silver leaf maple body with poplar wings. The guitars 22 fret, rock maple neck with ergocut rosewood or maple fingerboard, is extremely fast and comfortable to play. Other features include the aggressively styled Redline 3 & 3 headstock, thick black binding and the stunning high gloss flame tops on color models or a satin, semi-gloss finish on the natural flame model with maple fingerboard. Read more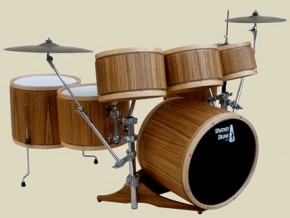 If you're of a certain age you remember a time when single headed tom-toms were in fashion and whether or not you want to admit it, you're probably guilty of stacking the smaller toms inside the bigger ones at one time or another. It's OK, we've all done it. The fact is, stacking the drums inside one another just kinda, well…made sense. They took up less space and were easier to carry too. But tastes change and thankfully for anyone with ears, double-sided toms (and bass drums for that matter) came back into style. It seemed that our nasty habit of transporting our drums inside one another and scuffing them all up had been kicked. Welcome to your new jones… Read more