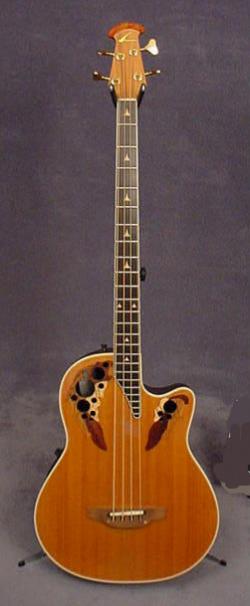 Although the Ovation B768 Elite is designed primarily as a fretted acoustic/electric bass guitars, it's a great alternative for players who something that approaches an upright bass's sound without presenting the inconveniences of a fretless neck and unwieldy size. As it sounds great unplugged as well as amplified, it's also ideal for low-volume gigs that don't require an amplification system.
Many acoustic bass guitars sound somewhat lifeless and don't put out too much volume due to their relatively small body sizes. Somehow, Ovation has overcome this problem; the Elite have a body that is only slightly larger than a standard acoustic guitar's yet it produces loud and lively, resonant sound. This may be partly attributable to the Adamas-style epaulet sound holes, which are of various sizes and spaced across the instrument's upper bouts. This design retains as much of the solid sitka spruce top's material as possible, and keeps a solid section of wood underneath the strings to ensure optimum top vibration.
But the Elite also produces outstanding acoustic-electric tones thanks to its built-in OP-X preamp system and piezo pickups mounted to individual string saddles. The preamp is fully loaded, including a gain control with bypass switch, notch control with bypass switch, and EQ cut/boost sliders (Low, 600Hz, 6kHz and High). The gain and notch knobs pop up for easy adjustment and snap down into a recessed cavity where they won't dig into your chest or get knocked around. The preamp is powered by a single 9-volt battery that is housed in an easy access battery compartment next to the preamp's controls.
The Bass's 5-piece laminated maple and mahogany neck is exceptionally stable, and features a manageable 34-inch scale, although its 24-fret neck, single cutaway and center-mounted rosewood bridge make it seem much longer. The rosewood fingerboard is so dark and tightly grained that it seems more like an expensive slap of ebony. Although the fretted neck prevents the instrument from providing true upright tones, players will appreciate the feel and intonation of the Elite's fretwork.
The End Line
The Elite is a great option for upright players who want to play bass without plugging in. It's also a great transitional instrument for bass guitarists who want to explore acoustic textures without the hassle of learning the techniques required to play an upright.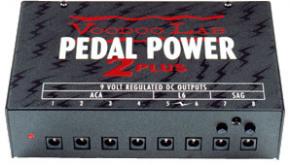 The Voodoo Lab Pedal Power 2 provides 9-volt power for up to eight guitar pedal effects. The unit's eight DC power cables are compatible with most commonly used pedals, and the Pedal Power also features an auxiliary AC outlet for convenient facilitation of AC-powered effects or MIDI foot controller. Each output is completely isolated, short circuit protected, highly filtered and regulated. Read more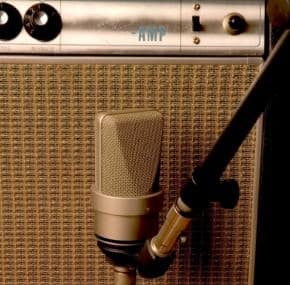 Just as tube guitar amps provide warmer sound and more natural tone than solid state amps, tube microphones accomplish the same thing fir vocals and miked instruments. Classic mics like the Neumann U67 have been a favorite of studio engineers for decades, but today there are several more affordable tube mics on the market that get the job done quite well.
We tested tube microphones made by Audio-Technica, AKG and Alesis by tracking vocals, a Martin D-1 acoustic guitar and a Les Paul through a Peavey Classic 30 combo amp to an Alesis ADAT and direct to a Panasonic 3700 DAT machine. All three microphones were quite impressive, though some seemed better-suited for certain applications than others. Read more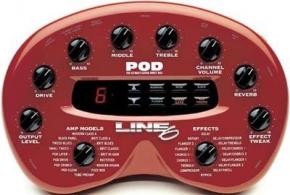 The law of the rock and roll jungle has dictated that, while electric guitarists get the glory of the girls, bassists have had the small consolation of being able to walk into a recording studio, plug into any half-decent direct box and immediately produce a useable tone. The advent of the Line 6 POD, a stellar and affordable direct-recording device for guitarists, is going to change all that. Now guitarists truly have it all.
Shaped like a space-age kidney bean, the POD uses Line 6's trademark digital TubeTone software to create "amp models" that recreate the sound and feel of a wide variety of classic amps (that, of course, includes "modern" classics). For example, the tweed '53 Fender Deluxe used for the POD's Small Tweed setting was extensively tested, so that every aspect—from the overdrive characteristics of the power stage to the interactivity of the tone controls—could be replicated. Other presets in the POD's vast sound spectrum include Tweed Blues ('59 Fender Bassman), Modern Class A (Matchless Chieftain), Brit Classic ('65 Marshall JTM45) and Fuzzbox, a satanically accurate recreation of a 1960 Dallas Arbiter Fuzz Face. On presets like Black Panel, where the amp being modeled (a '65 "blackface" Fender Deluxe) has built-in reverb, the POD's reverb control emulates a spring reverb with relative accuracy. For amps that originally came without spring reverb, the control adds a deep, large room reverb. Read more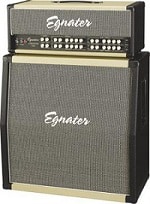 For three decades Bruce Egnater has been building and designing amplifiers which have inspired many modern amplifier builders with their balance and serious high-gain tones, and to this day remains a major point of reference for boutique amp builders looking for that killer distortion. Of Egnater's talents, his design of multi-channel amps is prominent, which is solidified with his contribution to the design of Rocktron's TOL amplifier series as well as the Modular Tube System (MTS) amps from Randall.
One of Egnater's more notable amps, the Tourmaster, is a work of art that is packed with a variety of sounds, gain levels, and features – all packed in a 75-pound monster. The Tourmaster features four preamp channels, voicing options and a contour circuit to give you a wide range of tones, suitable for just about any player. However, Egnater also includes their Power Grid control, which allows you to adjust the wattage of the amplifier, which takes versatility to a whole new level. The Tourmaster gives you the ability to switch between 10, 20, 25, 50, or 100 watts of power on any of the four channels. To top it off, the Tourmaster is a tube-driven amp, using four 5881s and a whopping eight 12AX7 tubes (all from Groove Tubes). Read more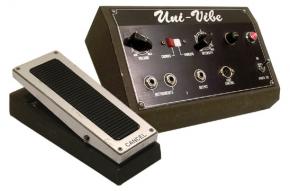 Multiple personality disorder may be a debilitating condition in humans, but it's a delightful quirk in effects pedals. With small digital multi-effects pedal so prevalent these days, it's always refreshing to check out a few analog stomp boxes that feature some pleasantly psychotic twists.
To that end, we subjected three effects pedals to analysis: three distortion related units—inspired by the venerable Uni-Vibe—Jim Dunlop's Uni-Vibe Stereo Chorus, Fulton's Deja Vibe and Roger Mayer's Voodoo Vibe. While no two pedals were exactly alike in function, each possesses a dual nature that, when fully exploited revealed unique opportunities for extreme sonic manipulation. Any guitarist bored by conventional sounds will find plenty to get excited about in these boxes. Read more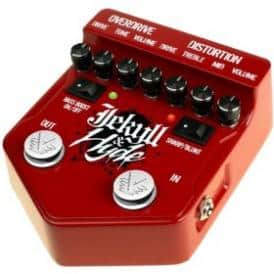 Literature's most famous split personality takes musical form in this two for one pedal. Many players use two distortion pedals—one for a mild, tube overdrive and another for a fuzzier sustain. Stomp them together and you get sonic meltdown. The trouble is the slightest tweak can result in annoying microphonic feedback or impotent mosquito buzz.
Bless the good Dr. Jekyll and his more aggressive alter ego, Mr. Hyde, for getting these two distinctive sounds to work together so well. The Jekyll & Hyde Overdrive is a maximum bang per buck bargain. Enclosed in a sheet metal casing worthy of a Sherman tank, this Siamese twin of sound boasts two selectors' switches two status lights and a row of knobs that beg you to bend over and tweak em. Read more
Distortion and compression are twin faces of the same personality. Compression can give a guitar the violin like sustain many players seeks in a good distortion pedal, while distortion can iron out transients in a way similar to a compressor. The marriage of both effects in one pedal would seem a foregone conclusion, but a noise gate would be required to eliminate the resulting noise, and the interaction of all three items adds up to a rather dysfunctional family.
You can thank Tech 21 for organizing everything into one stomp box sized pedal without sacrificing a drop of professional sound quality. The CompTortion features controls for level, tone, compression, and distortion. Each effect can be dialed up independently or mixed together in whatever ratio you need. The noise gate is hardwired into the circuit and requires no controls. As an added testament to the lack of coloration in the CompTortion's signal chain, both the compression and distortion can be dialed down, leaving a clean signal which can be boosted 12db via the level control.

Advertisement————————————
————————————————————
The pedal's compression circuit is powerful, providing a range from 1:1 to a totally squashed 15:1. Lovers of country rock and power pop will embrace the clean compression settings. If you crave the long, vocal sustain of Robert Fripp or Tom Sholz, simply back off the compression and add more overdrive. Lose the compression altogether and dial up the tortion to find out why Kurt Cobain was so fond of the Tech 21 pedals.
The End Line – For those who crave effects of a more schizoid mature, the CompTortion is the Swiss Army knife of pedals, with noise suppression circuitry and an analog signal path… Just fantastico!
Buy – Sell – Trade at USED MUSIC GEAR at GEAR-VAULT CLASSIFIEDS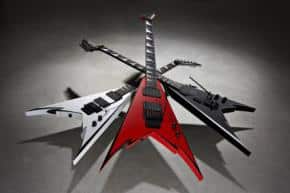 Phil Demmel of Machine Head recently teamed with Jackson Guitars and integrated an element of masochism to conceive a dangerous new breed. Demmel's legendary riffs smash us over the head like an annihilated sledgehammer, slaying our eardrums for a diabolic revelation, knocking out our teeth from an infuriated mosh pit…allowing us to stumble home with a grin plastered on our toothless bloodied face. Would it be sweet if you could abuse your audience like that? Guess what, you can.
Look at the company for bringing us all this brutal carnage; Jackson Guitars with the new Jackson Demmelition King V. There's nothing timid or reserved about the Demmelition's bombastic, bowel loosening assault, yet it's very tonally balanced instrument. Part of Demmel's sound requires a special guitar characteristic to help create his super-vintage yet modern-vintage assault.
"You don't mess around with the Demmel-ition man," retorts Jackson on the official website, which is a fair statement, with the Demmelition using dangerous-pointed metal-sadistic jagged cutouts. The standard King V shape guitar is more than an axe, it's a weapon.
The Demmelition comes from the factory loaded with massive .011 – .056 GHS Boomers drop-tuned to B. For added stability and sustain, the Demmelition is constructed with neck-through-body, the maple neck is quarter-sawn to protect against warping and twisting featuring a bound compound-radius ebony fretboard. The compound radius begins a 12-inches and flattens gradually to a hammer-friendly 16-inches above the 12th fret. The Demmelition sports 24 jumbo frets, mother-of-pearl shark fin position inlays and black-bound headstock with an inlaid mother-of-pearl Jackson logo.
A classic set of active-metal-style pickups–EMG-81 (bridge) and a EMG-60 (neck)–delivers relentless power, detuned clarity and precision punch. Although you would normally see the EMG-81 paired with an 85 in the neck position, the ceramic-based model 60 is an excellent choice if you yearn for destructive rhythm tones and wailing neck leads from the heavy gauge strings. Each pickup is hardwired directly to its own volume pot (the Demmel does not employ any tone knobs), and a three-way blade lets you select each pickups or blend the combination together. An Original Floyd Rose (OFR) double locking tremolo divulges a classic metallic resonance upon the mischievous King V.
The Jackson Demmelition King V is a wicked-winged flyer that is purposely built for high gain, intense chunky lows and greasy-thick leads. All the while, the instruments maple neck-through construction, ebony fret board and ceramic active EMGs deliver enough treble enhancement to define the Demmelition's underlining powerful detuned thick-bass tones make this guitar screaming with a vengeance high-end tones part of the axes personality.
Through a high-gain amplifier, like a Mesa Boogie Dual Recto, the Demmelition sent a holocaust of sound across the stage that enticed a Tyrannosaurus-Rex-like-roar overtones when I chugged on some power chords or drive-bombed the low B string. In addition to its behemoth tone, the Demmelition produced incredible sustain in the higher-note, allowing upper-pitch-bends to be held for well over 20 seconds! The EMGs had no issues delivering clean and warm tones that sound absolutely natural.
The End Line-
If you are a guitarists which desires an extreme machine that is capable of delivering ultimate heavy tones, then look no further, the Jackson Demmelition Phil Demmel signature guitar is your fix. The name says it all: brutal assaults, unrivaled destructive power, bone-crunching lows, relentless sustain and honorable Jackson Soloist style playability. See All Jackson Products at Musiciansfriend.com
Jackson Demmelition King V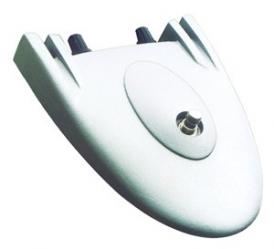 Roger Mayer is known as the guy who built pedals for Jimi Hendrix, and Octavia is the creation perhaps best associated with his name. There's a gleeful chaos to the Octavia's circuit that no well adjusted microchip can match. You can hear it prominently on Hendrix's "Purple Haze" solo—a nasal, metallic tone that adds a harmonic one octave above the note played.
The Octavia is housed in a rocket shaped pedal of heavy cast metal. There are no identifying graphics or LED status light on the top surface, but a look at the bottom plate identifies the input and output jacks and volume and drive controls. Inside, the circuit board is small, simple and structurally isolated from the foot switch, jacks, and controls. Read more