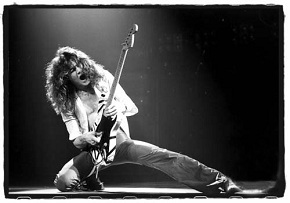 All is forgiven. The cheesy keyboards on "Jump". The parachute pants and bandanas. The entire Sammy Hagar experience. Gary Fucking Cherone.
All is forgotten. Steve Vai's heart-shaped triple-neck guitar. The porno-flick soundtrack. Valerie Bertinelli. Chickenfoot. None of it matters now.
Van Halen is back, which you've heard before. Hold on, though – they're back with singer David Lee Roth, which you've also heard before, but what you haven't heard until now is a studio album from a reunited Van Halen. With the release of the first track and accompanying video, "Tattoo", it's official, even without original bassist Michael Anthony in the lineup (replaced by Eddie's kid, Wolfgang, making Van Halen something of a family reality show). Read more
Hard rockers, retro-geeks, and shred-heads rejoice! A new super-group has formed!
I know, we all thought the days of the super-group had long since died and withered, much like the big-hair and ripped jeans that were so prevalent, as they say, back in the day.
This new musical juggernaut, is made up of some of the most formidable names ever mentioned in the hard rock circles: Sammy Hagar, Michael Anthony (both of Van Halen fame), Chad Smith (drums; Red Hot Chili Peppers), and last but certainly not least, guitar-virtuoso and legendary superhero Joe Satriani (aka Satch).
According to lead singer Sammy Hagar, "We've written eight, nine songs… When people hear the music, it's Led Zeppelin. It's as good as that. I know that's a mighty bold statement… We could rival Zep!"
Mighty bold, indeed. However with such a powerhouse lineup, anything is possible…even time travel.
Well, maybe not time travel, but rest assured this beast of a band will be marching to the sound of their own drum…and bringing a hoard of guitar-slinging shredders in tow. Keep your eyes open for Chickenfoot's debut CD in stores (hopefully) this year.
Check out Chickenfoot on myspace to hear some of their awesome teasers: www.myspace.com/thechickenfoot
Floyd Rose is the revolutionary tremolo systems off time.
In 1964 a guitarist named Floyd Rose moved from Durango, Colorado to Reno, Nevada. There he started playing in bands. Floyd had many guitar artist influences. His biggest influence was Ritchie Blackmore of Deep Purple and Jimi Hendrix from one of his Woodstock performances.
Inspired by all these amazing guitar players he started wailing and playing hard on his whammy bar on his Fender Strat. However, he noticed the problems of his Stratocaster not holding up to his aggressive style and go out of tune. That was a problem, the tremolo systems back then would make the strings go out of tune to easily.
Floyd Rose was jammin' on his Fender Strat and that's when he noticed the E string was sliding around the winding on the tuner. That's when he realized the friction around the nut was allowing the strings go out of tune. He then started thinking about some type of locking device. Read more
Tags: Floyd Rose, floyd rose history, history of floyd rose bridge, who invented the Floyd Rose Tremelo bridge,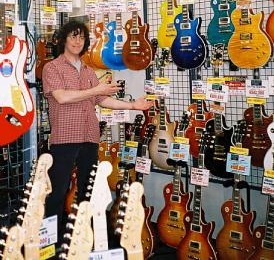 Just as every adult knows that it is inappropriate for one to clean one's ears at a fancy dinner; every self-respecting guitarist knows there are certain disgusting activities which have for many years been strictly verboten in music stores:
Don't try to play something you don't know.
Don't show the salesman how good your Pete Townshend imitation is.
Never, under any circumstances, play "Stairway to Heaven," "Smoke on the Water," "Layla" or "Eruption."
Merely strumming a few chords of those songs—and a handful of other classics from the Sixties and Seventies—will elicit the ill will and disdain of every employee and customer of your favorite guitar emporium.
But what are the "Stairways" of today? What are the more recent additions to the forbidden list, the new tunes that make salespeople cringe, floor managers retch and cashiers run amok?
We took a quick survey of stores in some of our favorite guitar cities around the country and came up with an easy consensus: Metallica's "Enter Sandman," Nirvana's "Smells Like Teen Spirit" and "Come As You Are," and Green Day's "Longview." Read more
Tags: bob turner bizzare guiter, songs not to play in guitar stores, tune to play in a guitar shop,


As Van Halen is such a mentored guitarist, it seems appropriate to review the third Edward Van Halen signature guitar (the second made by Peavey) a classic in the axe-mania public. Read more
Tags: peavey van halen guitar, peavey wolfgang special usa, peavy telecaster for in metro mania,