Fender first revealed the Road Worn Series guitars and basses at the Winter NAMM 2009 show four years ago, and seemed to have been a hit. These axes are for players who desire that banged up, beaten, used and abused vintage relic'd appearance but don't have the spare $2,000 – $3,000 for a Fender Custom Shop Time Machine relic, let alone the cash to purchase an authentic vintage Fender. Read more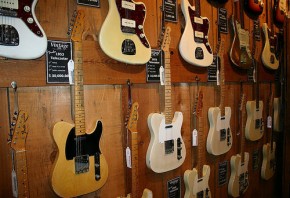 There is a lot of fuss made in the guitar community about so-called 'vintage' guitars, 'vintage' being another word for 'old'. There is a certain part of our world that longs to play a 30-, 40-, or even 50-year-old guitar or bass for a variety of reasons. To be honest, there is something to this argument when it is applied to instruments that truly are products of what many to be the 'golden era' of guitar production in the USA which, if we combine acoustic and electric guitars, would be roughly from the 1920's to about 1970.
Read more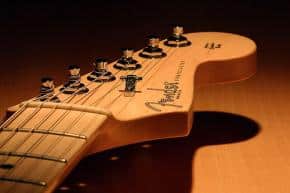 It's easy to get bamboozled if you're purchasing a vintage Fender guitar. Because these instruments are bolted together, their parts can be swapped, stripped or replaced faster than you can say "rip-off." A buddy of mine who has been in the vintage game for years recently estimated that between 15 and 20 percent of the "Sixties Strats" out on the market are bootlegged. And if that number sends a shiver down you fuzzy fretboard, the number of "all-original" Strats that feature replaced pickups, pots, bridges and other parts is even higher.
By and large, G-V has found that vintage guitar dealers who have a good reputation have earned it. Likewise, if the word on the street is that a certain seller is not on the up and up, he's probably guilty as charged. Avoid him like the plague.
In short, proceed with caution, and get educated before you reach for your wallet. Here are a few helpful tips to get you started. Read more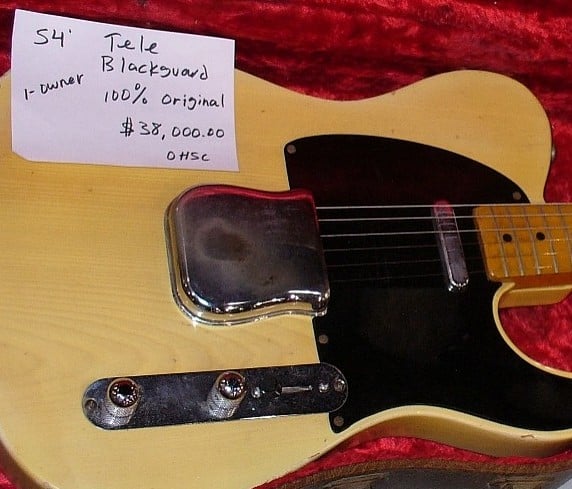 Just over a week ago I had the chance to visit the Orlando International Guitar & Music Expo 2012. That's fancy-talk for 'guitar show'.  If you're not familiar with what a guitar show is then try thinking of it this way – we all get the concept of a convention or conference for business professionals – a big room with various vendor booths showing off the latest products (expo hall) and there are usually some speakers/presenters teaching or otherwise discussing the latest industry news, etc.  Well, other than NAMM, guitar shows are the closest thing to a business convention that we players, collectors and all-around guitar lovers have for our favorite subject!
While some of the largest guitar shows may offer special 'clinics' (training sessions are often sponsored by a manufacturer hoping to show you why you need to buy their latest products) not all guitar shows will offer much in the way of training.  However, what they ALL do have in common is their version of the 'vendor expo hall' where guitar dealers bring lots of cool (and often vintage) guitars, amps, effects and more hoping to sell/trade them to/with show attendees. In other words, it's a lot like a big flea market for guitar and music gear!  And for the guitar lover it sure beats just about any other kind of shopping experience since you have so many cool old guitars under one roof.  I'll take a guitar show over going to the mall with my wife any day! Read more
It's that time of year again, when everyone is on the edge of their seat—waiting and watching, for the shiny new products to be rolled out at NAMM. Calm down – this isn't a game changing miracle device, but it's still pretty cool.
Fender has introduced the new Squier models for 2012, putting some nice touches on a guitar line that has had less than impressive results in the past. Read more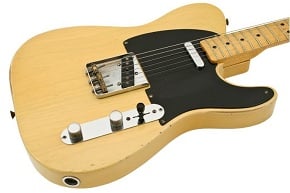 The Fender Telecaster is seen by many as the primordial electric guitar. Sure, one can argue that Paul Bigsby was also developing solid body instruments at the same time and in the same general area as Leo Fender but it is the Telecaster that is generally accepted as the first production solid guitar and the start of the modern guitar manufacturing business. Since its debut in 1952 Read more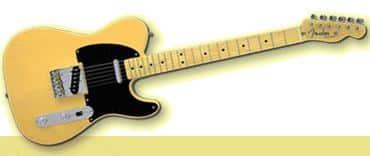 A Fender Telecaster was brought back from the grave, allegedly stolen from a casket of a 67-year-old Army veteran by a Wisconsin cemetery worker. Read more


Squier has teamed up with Joe Trohman of the Fall Out Boy and The Damned to create the Joe Trohman Telecaster, which is loosely based on the early '70s Fender Telecaster Deluxe.
The Joe Trohman Telecaster guitar, like the other artist signature series of Squier was designed to provide inspiration to guitar players by making great value guitars that have the approval of great artists, ensuring quality workmanship and superb sound. Read more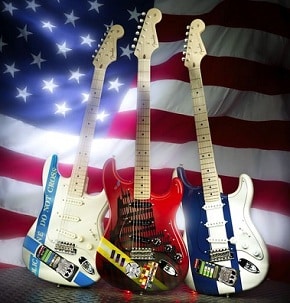 I'm a little late to the party, but thought this was something worth posting. I thought it was a classy move by both Fender and Gibson guitars. Below are the press releases and images of the 9/11 tribute guitars. Read more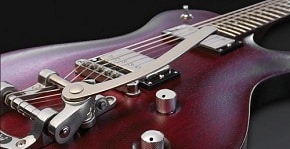 Framus guitars have come a long way since their sixties heyday. Founded in 1946, achieved great heights through the years, but failing to market their product properly to gain more customers forced the company to bankruptcy in 1975. In 1995, Framus guitars were revived by Warwick, however are much different than the originals; centering on modern designs that are perfectly made Read more