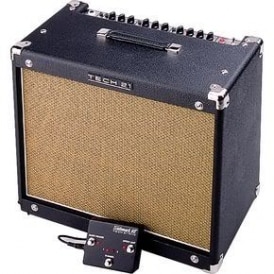 This handsome amplifier system couples two products from New York tone-meisters Tech 21: the popular Trademark 60 combo, and the Power Engine 60 extension cabinet. Both cab be used independently, with other products or, as in the case of our review, together for increased spread and power. Read more
This compact, 60-watt acoustic combo amp features a full-length three-spring reverb, an instrument channel and a mic channel with XLR input and phantom power. Both channels have leve control, gain and a separate reverb mix control to adjust the ratio of reverb between the two channels. Tech 21's specially designed 12-inch speaker and high-frequency horn are housed in a cabinet covered in brown crocodile-embossed vinyl and complimented with a custom grill and decorative piping. Other features include SansAmp circuitry that allows the amp to run direct via an XLR output or the ¼-inch headphone output, an effects loop and a courtesy power outlet for effects. Also available is a powered 1×12, 60-watt, open-back extension cabinet in matching vinyl.
Here is a great review written by Tech 21 Bronzewood 60TM ActiveMusician
Tech 21 has added a 60-watt acoustic combo amp with reverb to their amplifier line. The Bronzewood 60TM offers an instrument channel and a mic channel with XLR input and phantom power. Compact and lightweight (less than 40 lbs.), the Bronzewood 60 is loaded with exceptionally extensive features. Read more
Tech 21's Power Engine 60 and 60T 60-watt powered extension cabinets are designed to match the company's Trademark 60 combo amp and Bronze wood 60 acoustic combo, respectively. Both feature open back 1×12 cabinets (the 60T includes a specially design, high frequency horn), facilitate stereo configurations and can be endlessly daisy-chain and used with any direct recording device or acoustic pre-amp; perfect for daisy-chaining Power Engine 60s together for the really big gigs.. Other features include individual level control, three band active eq and ground independent inputs and output including ¼ inch and XLR inputs and an XLR output.
Tech 21 Power Engine 60 Features:
12″ speaker
60W of power
Open-backed cab design
Level control and three-band active tone
Use as an extension for the Trademark and Bronzewood 60s
Use as a standalone fronted by any direct-recording device or preamp
Daisy-chain multiple Power Engines together for added power
Price: $339.00
Where to buy: Musician's Friend: Tech 21

—————Gallery————————————————————————————————————-
[nggallery id=9]
Advertisement—————————————
[% oiopub-banner-3-left %]—————————————————————
————-Places to Buy—————————————————————————————————
Buy – Sell – Trade guitar music gear at GEAR SEARCH
Tech 21's popular Boost D.L.A now features Tap Tempo, Trails and Triplets. The pedal offers an abundance of  useful features with easy-to-use, intuitive controls in an incredibly rugged compact pedal chassis— battery operable as well.
There's an individual footswitch dedicated exclusively for the Tap Tempo function (this helps avoid confusion during your performance). The pedal also gives you the ability to set it, even when the unit is in bypass, which aids coordination with your drummer.
Triplets works in conjunction with the Tap Tempo. When engaged, it shifts the timing so triplets play in sync with the actual tempo. Trails works in conjunction with bypass and allows the natural decay of the delay signal rather than cutting off instantly. The Feedback control has much greater sensitivity and can be thrown into a state of self-vacillation.
Other features include Boost, for up to 9dB of additional volume when it's time for your blazing solo. 100% analog Mix, Tone, Feedback and Level controls to produce a more warm and organic sounds. Mix control ranges from 100% wet to 100% dry. A single, continuously-variable Time control provides a full sweep of delay, (up to 1,000 milliseconds). Flutter introduces modulation which adds a slight shimmering/chorus-type effect of a vintage tape echo.
User-tweakable "lo-fi"analog technology infuses degrees of warmth and life characteristic of vintage delays. This circuitry intentionally injects the inherent imperfections of vintage units, which is what makes this pedal so thoughtful yet so seductive. The Boost D.L.A.controls are designed so that you can explore and custom tailor such delay styles as digital, bucket brigade and vintage tape. For additional information, visit TECH 21's official website at www.tech21nyc.com.
Distortion and compression are twin faces of the same personality. Compression can give a guitar the violin like sustain many players seeks in a good distortion pedal, while distortion can iron out transients in a way similar to a compressor. The marriage of both effects in one pedal would seem a foregone conclusion, but a noise gate would be required to eliminate the resulting noise, and the interaction of all three items adds up to a rather dysfunctional family.
You can thank Tech 21 for organizing everything into one stomp box sized pedal without sacrificing a drop of professional sound quality. The CompTortion features controls for level, tone, compression, and distortion. Each effect can be dialed up independently or mixed together in whatever ratio you need. The noise gate is hardwired into the circuit and requires no controls. As an added testament to the lack of coloration in the CompTortion's signal chain, both the compression and distortion can be dialed down, leaving a clean signal which can be boosted 12db via the level control.

Advertisement————————————
[% oiopub-banner-3-left %]————————————————————
The pedal's compression circuit is powerful, providing a range from 1:1 to a totally squashed 15:1. Lovers of country rock and power pop will embrace the clean compression settings. If you crave the long, vocal sustain of Robert Fripp or Tom Sholz, simply back off the compression and add more overdrive. Lose the compression altogether and dial up the tortion to find out why Kurt Cobain was so fond of the Tech 21 pedals.
The End Line – For those who crave effects of a more schizoid mature, the CompTortion is the Swiss Army knife of pedals, with noise suppression circuitry and an analog signal path… Just fantastico!
Buy – Sell – Trade at USED MUSIC GEAR at GEAR-VAULT CLASSIFIEDS