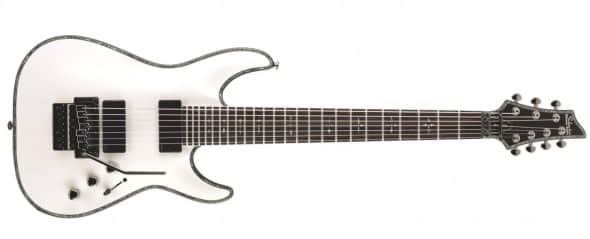 Baggy pants? Check. Pimpin' Adidas? Check. Natty dreads? Check. Turntable-thrashin' DJ? Check. Seven String? Hello? Seven String?
Even if you've got all of the other required accouterments, you'll be hard-pressed to make it big with that psychotically low, funky, hard-music grind that's all the rage these days if you're not packing a seven string. In the past, chugging on the low E string used to be enough to make you a contender. But now, with bands like Limp Bizkit mining sinister new veins of metal and settings a new standard for heaviness, you're likely to be written off as a lightweight if you can't summon up that deep, spongy rumble. Until recently Ibanez has been the only mass manufacturer of seven-string solidbodies, but the Schecter Diamond and Hellraiser Series offers a new, affordable contender for players who want to hit below the belt. Read more
Schecter Guitars has announced the release of the Gary Holt Signature V-1 at Winter NAMM.
Gary Holt is arguably one of the most influential metal guitarists and is credited as the founder of the "Bay area trash metal" sound. His band Exodus was formed in 1980 with Metallica's Kirk Hammett. Read more