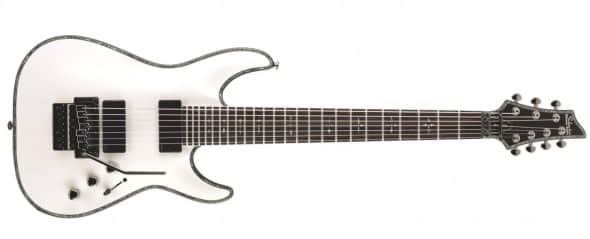 Baggy pants? Check. Pimpin' Adidas? Check. Natty dreads? Check. Turntable-thrashin' DJ? Check. Seven String? Hello? Seven String?
Even if you've got all of the other required accouterments, you'll be hard-pressed to make it big with that psychotically low, funky, hard-music grind that's all the rage these days if you're not packing a seven string. In the past, chugging on the low E string used to be enough to make you a contender. But now, with bands like Limp Bizkit mining sinister new veins of metal and settings a new standard for heaviness, you're likely to be written off as a lightweight if you can't summon up that deep, spongy rumble. Until recently Ibanez has been the only mass manufacturer of seven-string solidbodies, but the Schecter Diamond and Hellraiser Series offers a new, affordable contender for players who want to hit below the belt. Read more
Tags: yhs-elex_22find, schecter, schecter hellraiser, schecter 7 string, Diamond Series C-7, hellraiser schecter, schecter c 7 diamond series, schecter diamond series c7, schecter white,
Schecter Guitars has announced the release of the Gary Holt Signature V-1 at Winter NAMM.
Gary Holt is arguably one of the most influential metal guitarists and is credited as the founder of the "Bay area trash metal" sound. His band Exodus was formed in 1980 with Metallica's Kirk Hammett. Read more
Tags: schecter gary holt blood, gary holt gear, schecter gary holt, Schecter Gary Holt Signature V-1,


Bass players are often thought of as a different breed, and the best of them truly are. Not interested in flashy solos (for the most part), they are the backbone of any great band and the cornerstone upon which great rock is built. They do, however, want the same things as guitarists do, namely a cool axe that fits their style and image that plays great and comes in at a comfy price. If you find yourself going "Hey, he's talking about me," then hop into the old '69 Camaro and head down to your local Schecter dealer because the Hellraiser Bass is calling your name. Read more
Tags: SCHECTER HELLRAISER BASS, schecter hellraiser bass 4,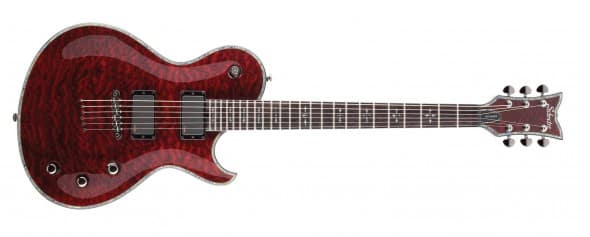 Like some people, some guitars are just born to rock. It's just part of their DNA, their reason to be on the planet. If you are reading this, you probably are that person on your circle of friends, but are you playing an instrument that is your rock and roll equal? Don't get me wrong, there is nothing wrong with a jack-of-all-trades guitar, but sometimes one just needs to call in a specialist. The Schecter Hellraiser Solo 6 just might be the thing that you need if your jones is for all things hard and heavy. Read more
Tags: schecter hellraiser solo 6 review, hellraiser solo 6, red schecter hellraiser, schecter hellraiser solo 6 vs c1, schecter solo 6 hellraiser review,


Rock guitars are usually pretty simple. Sure, there are those who insist on axes with scalloped fingerboards, seventh strings, and so forth, but, at the end of the day, a good piece of wood, a couple hot and tone-filled pickups, and a fast neck will get most rockers over the finish line. Schecter knows this and has based much of their line around this concept. One of their offerings that fits this bill is the Hellraiser Tempest. Read more
Tags: schecter hellraiser tempest, hellraiser tempest, schecter tempest hellraiser,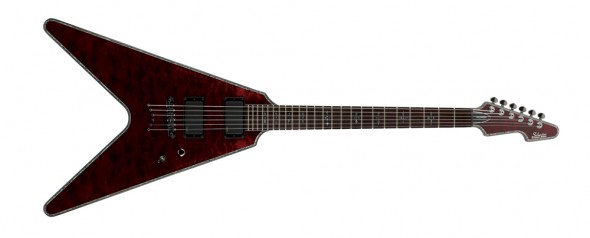 Musical styles and the guitars we use for them are kind of a funny thing. Sometimes, using the right axe for the right gig is the crucial difference between getting it right or looking completely out of place. Where would a country band be without a Telecaster or a straight-up jazz gig without a full-depth archtop? Read more
Tags: schecter guitars, Schecter Hellraiser V7, schecter flying V, schecter v-7 retail value, Schecter v1 2009,

By now, most rock and metal players are well aware of Schecter guitars and the huge bang for the buck they provide for anyone looking for a righteous rock axe at a winning price. Their entire product line seems to be based around this idea. One of the most radical rock sticks the company produces is the Hellraiser Avenger. Read more
Tags: gear schecter avenger, hellraiser avenger, Schecter guitar,


Schecter Guitars have become very well known in the world of hard rock and heavy metal for providing excellent axes at excellent prices. Their Hellraiser Deluxe model continues in that tradition and will certainly win over many fans among the hard and heavy set. It is built around a double cutaway mahogany body with a flame maple top and a three-piece mahogany neck with an ebony fingerboard and 24 jumbo frets. Read more
Tags: schecter hellraiser deluxe, Schecter Hellraiser Deluxe electric guitar, schecter hellraiser dlx review,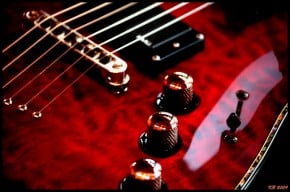 Schecter Guitars have been around for a long time, but for many years were a bit below the radar of many guitarists. One Schecter guitar that we all should be familiar with is the black T-style axe that Pete Townshend played, which he played on the Who's video for "Eminence Front" in the early 1980′s.
Read more
Tags: schecter c1 classic vault, schecter hellraiser c-1, Schecter vault, schecter guitar videos,

Legendary guitar maker, Fender Guitars, helped pave the way for electric guitars of today, but the question of today, "is Fender's body-shape generic?". Obviously TTAB (Trademark Trial and Appeal Board) believe so. Fender lost its case to make its Stratocaster, Telecaster and Precision guitar body shapes a trademark in the USA.
It was a battle
In the court case, Fender had targeted the companies of ESP Guitars, US Music Corporation, Sadowsky Guitars, Stuart Spector Designs, Michael Tobias, Schecter Guitar Research, Warmoth Guitar Products, Lakland Musical Instruments, Peavey Electronics and others as infringing Fenders' designs.
The Trademark Trial and Appeal Board (TTAB) of the United States Patent and Trademark Office (USPTO) argued:
"Fender refers to the 'iconic' status of these [instrument] outlines in American popular culture. However, we must resolve a narrow issue: Do consumers associate these two-dimensional outlines, depicted in the drawings, as indicators of source?"
Five years
After five years with the legal process, the litigation added over 20,000 pages of evidence demonstrating numerous guitar companies that manufacture and sell guitars which use the body design that Fender sought to trademark.
"The applicant has not established acquired distinctiveness such that these two-dimensional outlines of guitar bodies, standing alone, serve to indicate source," the TTAB concluded. "The evidence overwhelmingly demonstrates that these configurations are so common in the industry that they cannot identify source.
"In fact, in the case of the [Stratocaster] body outline, this configuration is so common that it is depicted as a generic electric guitar in a dictionary."
Below are two images. Pick out what guitar is a Fender Stratocaster and which is a copy of the Fender Strat.
Image 1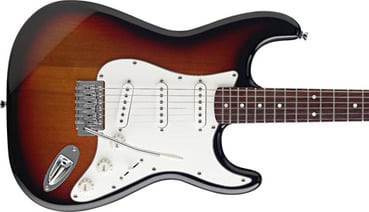 -
Image 2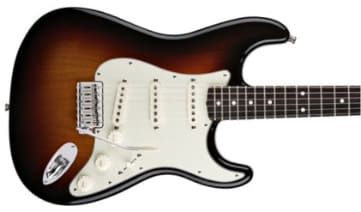 Click HERE to read the entire decision.
Tags: fender court cases,