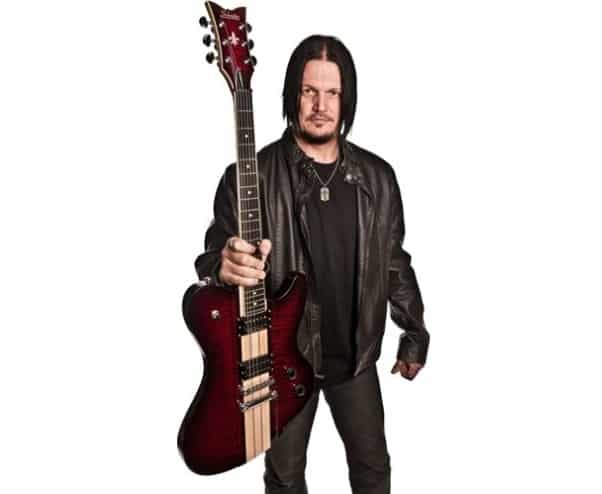 Schecter Guitar Research have officially joined forces with Disturbed guitarist, Dan Donegan. Dan first debuted his signature guitar at the 2009 winter NAMM show. While I'm not a huge fan of Schecter, I was excited to see how this ax turned out. Fast forward 4 years… Read more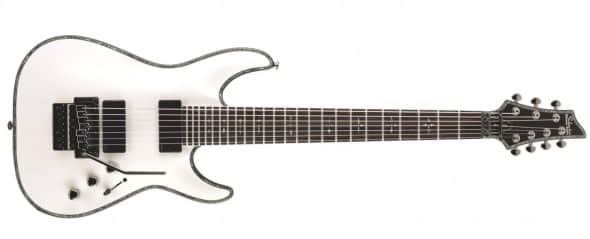 Baggy pants? Check. Pimpin' Adidas? Check. Natty dreads? Check. Turntable-thrashin' DJ? Check. Seven String? Hello? Seven String?
Even if you've got all of the other required accouterments, you'll be hard-pressed to make it big with that psychotically low, funky, hard-music grind that's all the rage these days if you're not packing a seven string. In the past, chugging on the low E string used to be enough to make you a contender. But now, with bands like Limp Bizkit mining sinister new veins of metal and settings a new standard for heaviness, you're likely to be written off as a lightweight if you can't summon up that deep, spongy rumble. Until recently Ibanez has been the only mass manufacturer of seven-string solidbodies, but the Schecter Diamond and Hellraiser Series offers a new, affordable contender for players who want to hit below the belt. Read more
Schecter Guitars has announced the release of the Gary Holt Signature V-1 at Winter NAMM.
Gary Holt is arguably one of the most influential metal guitarists and is credited as the founder of the "Bay area trash metal" sound. His band Exodus was formed in 1980 with Metallica's Kirk Hammett. Read more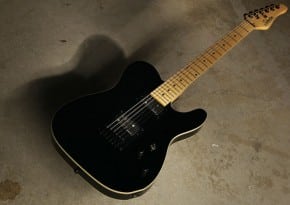 Schechter began as a mere guitar repair shop back in 1976 when it was founded. The name comes from David Schecter, one of the founders of Schecter Guitar Research. Read more

The legacy of the Super Strat lives on with the Schecter C-1 FR, a dual-humbucker-equipped ax with Floyd Rose licensed tremolo and a familiar double-cutaway shape. With its Duncan Designed HB-105 active humbuckers, 25 ½-inch scale and 24-fret fingerboard, this is a great guitar to check out first if you're looking for a high-octane shred machine.
Unlike most shred axes in this price range, the C-1 FR's body is crafted from genuine mahogany instead of some bizarre mystery wood. The bolt-on neck is maple with a rosewood fingerboard decorated with subtle dot inlays. The C-1 FR is one of only a few Super Strats with a three-on-each-side tuner configuration rather than the more common six-on-a-side arrangement–a definite plus for players weaned on Gibsons.
My review guitar came with a delicious whiter-than-white finish that made me want to join an Angel cover band, and the contrasting black binding, black chrome hardware and jet black pickup covers gave the guitar irresistible two-tone ebony-and-ivory appeal. The C-1 FR's fit and finish is so immaculate that's its difficult to believe this guitar lists for well under $1,000. Read more
Schecter Guitars adds a Single Cut to the minimalists metal machine line of Blackjack ATX series. For no-frills, reckless abandon, Schecter's Blackjack ATX Solo-6 addition rounds out an already small grouping of reclusive siblings packing serious aggression.
The heavy metal purist will find the pair of Seymour Duncan Active Blackouts as the prominent standout on this heavily subdued Mahogany body at 25.5″ scale. A 3-piece Mahogany neck is set in with Schecter's Ultra Access for nailing the 24X jumbo frets on ebony. Read more
More breaking pre-NAMM news coming from Schecter Guitar Research. Schecter Guitars is pleased to announce the Diamond P Custom Bass. Read the press release below…
Schecter Guitars is pleased to unveil the Diamond-P Custom Bass. The touring/recording professional bassist will find the classic 34° scale double-cutaway silhouette in Alder, perfect for classic tones to aggressive modern sounds.
Completely retooled, the Diamond-P Custom with Schecter's proprietary Super Rock humbucker (bridge) and Monster Tone II (neck) pickups allow for full control over tonal approaches. Tapping the Super Rock extends the range of this bass and paired with a Schecter custom Top Load/String Thru high mass bridge will allow for tensioned dropped tunings many players utilize today. Grover tuners keep it all in precise tune. Read more

Schecter Guitar Research leaked some more information about the C-1 and C-7 Standard and Custom Series guitars before NAMM show. The company extends one of its most popular guitar, the C-1 and C-7 Series. The C-1 boasts many great options from Seymour Duncan pickups, Floyd Rose floating tremolo systems or string-thru , to various choices of colors and finishes. Read Schecter Guitar's official press release…
Schecter Guitars continues the lead in high-quality affordable guitars with the C-1 collection, Schecter's most popular body style available in a 6- or 7-string.
The 24.75″ scale C-1 features a double-cut Mahogany body with flame Maple top, 3-piece Ultra Access set neck, rosewood 24x medium fretboard, and is available with an optional Floyd Rose tremolo or a string-thru body bridge by TonePros. Read more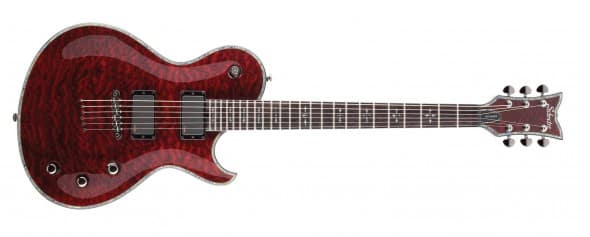 Schecter Hellraiser Solo 6
Like some people, some guitars are just born to rock. It's just part of their DNA, their reason to be on the planet. If you are reading this, you probably are that person on your circle of friends, but are you playing an instrument that is your rock and roll equal? Don't get me wrong, there is nothing wrong with a jack-of-all-trades guitar, but sometimes one just needs to call in a specialist. The Schecter Hellraiser Solo 6 just might be the thing that you need if your jones is for all things hard and heavy.
One quick spin around the test track will prove that this is a guitar that is made for getting loud and cranking some metal. It is built around a mahogany body, which is the perfect wood to produce dark and ominous tones, and the neck is made of mahogany, as well. This insures that the 6 will always be warm, punchy, and in your face. Speaking of the neck, it features 24 extra jumbo frets and gothic cross inlays and connects to the body with Schecter's Ultra Access neck joint, which gives easy reach to the highest notes for all the soloists out there. Read more


Most guitarist have G.A.S (Gear – Acquisition – Syndrome) and love buying new musical gear for their gigs and rock 'n roll addictions. But when it comes to purchasing the right guitar for your taste, it might become a bit overwhelming; there are just so many varieties of instruments to choose from. To make things easier for you, Gear Vault is here to help!
Have you been looking around for a well-toned, well-styled and well-priced electric guitar? Let me introduce you to one of the sexiest axes I've had the honor to play this week, the Schecter Tempest in Vintage White. The body of this guitar is made out of mahogany with a maple top for a more resonant and richer tone, though a bit on the bright side, which will helps it cut through the mix really well. Read more