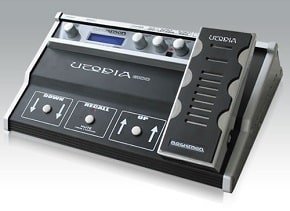 Floor-mounted guitar multiteffect units are unrivaled when it comes to stow-and-go convenience, but too often that convenience comes at a price. Most pro-quality units with rugged construction and versatile performance capabilities can cost as much as a good amp, while many affordably priced units have severely limited parameters and tones that aren't quite good enough for stage use. For many guitarists, dreams of a compact, rugged multieffect unit with an affordable price tag and a reasonable selection of professional-quality "meat-and-potatoes" tones seemed as unattainable as a perfect society.
With the Utopia G100 Professional Guitar System, Rocktron hopes to prove that dreams can become reality. This compact multieffect floor unit is built like a tank, packed with an impressive selection of versatile effects and priced less than what you'd pay for a boutique stomp box. Unlike many other low-priced multieffect units, which seem to suffer from a "jack of all trades, master of none" design, the Utopia G100 is designed to deliver the tones, effects and features that matter most to guitarists and operate in a streamlined and straightforward fashion. Read more
Nothing sounds quite like an Octaver, and Rocktron makes that point with the introduction of the Black Rose!
Part of the Rocktron Boutique Series of stomp boxes, the Black Rose comes in a rugged metal chassis with retro-custom designed, laser-etched artwork. The Black Rose Octaver is a true bypass pedal: when turned of it is out of the signal path.
Controls for the Black Rose Octaver include: Thorns, Merge, and Fragrance. Thorns determines the intensity and tracking (-12 steps) of the Octave below Effect. Merge controls the Mix between the original input and the Octave effect. Fragrance controls the overall tonal color of the effect.
A special switch called Roots allows you to go from Thick (heavy crunch) to Thin (smoother). Read more
Here is a video demonstration of the Rocktron Third Angel Guitar Pedal. It sounds quite rock 'n roll with a heavy metal edge. The pedal has great bass reflex and mids that cut through the mix really well. read the presser and watch the video below. Read more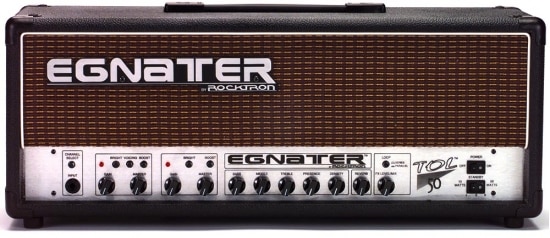 The Egnater TOL 50 is a two-channel, all tube 50-watt amplifier head powered with EL34 power tubes. Each channel is equipped with master and gain controls and switches for bright and boost. Channel 1 features a voicing switch for cleans and dirty rhythm tones. EQ controls include bass, mid, treble density and presence. The TOL 50 also features a power selector switch which runs the TOL 50 at either 50 or 100 watts. The TOL 50 was also available as a 1×12 and 2×12 combo amp.
Egnater TOL50 tube amp. 10 or 50 watts. (TOL100 10 or 100 watts.)
Rocktron/Egnater TOL 50 $1295. 10-watt or 50-watt. 1×12 combo version $1395, 2×12 $1495.
Has 10-watt setting. Beside the main power switch is a standby switch with a special feature: you can select 50 or 10 Watt for output power. Has fx level/mix control, the latter being of dual duty also. Can switch between series and parallel effect modes. In the series position, the control functions as a master volume; in parallel it controls the effect volume. Send and return jacks. Slave Out jack. Recording Out jack; the direct signal from the output stage can be routed from here to mixer, separate effects units, or additional amps systems. A push-pull pot sets the signal level, between 0 and -15 dB. Has an internal and an external speaker jack with impedance selector. TOL = Tone Of Life.
Rocktron – Egnater TOL 100 $1795. 10- or 100-watt tube 4-ch head MIDI. reverb. Ser/paraFX loop w/ level mixing. 10-watt power sw. 2×12 combo version $1995.
Top-mounted controls (on 1×12 and 2×12 combos) for convenient easy-to-use tone adjustments, reverse Oxblood grill cloth for an attractive look and black kayhide covering for the ultimate protection and road worthiness. Controls for Bass, Mid, Treble, Presence, Density and Reverb. The effect loop section features effect mix control for effect volume and a selector button for choosing either series or parallel effect loop option. Each of the two channels feature controls for GAIN and MASTER. Channel one features switches for Voicing, Bright and Boost for added tone manipulation. Channel two features controls for Bright and Boost. Footswitch controls for channel selection and gain boost (Egnater EG2 Footswitch included). 50-watt power amp section utilizing the time-tested Class A/B design, EL34 output tubes and the option to run at either 50 or 10 watts via the output selector switch. The preamp section features 4 specially selected 12AX7 tubes. Slave out with high/low level selector (for driving external effects and/or power amp.) Three-spring vintage reverb tank. Custom-designed 12″ Egnater Pro Speakers. (Celestion speakers optional on 2×12 combo) – Source: Amptone.com
Approximate Used Price: $900 – $1000 Buy – Sell – Trade used music gear at Gear Search
Egnater TOL 100
*note: the Rocktron Egnater TOL 50 tube amplifier is no longer in production.
Select either 50 or 10 watts into 4, 8, or 16 ohms
Two channels each with selectable gain/voicing and bright switches – Channel one for clean to crunch. Channel two for clean to Megadrive
Master Presence and Density controls
Series/Parallel effects loop with return level control
Slave out with level control for driving external effects/power amp
Rich, 3-spring vintage reverb
EL34 power tubes
Top mounted controls (on combos)
Combos come with heavy-duty removable casters
The Tone Of Life
Dimensions: 1 x 12 – 23.5″w x 20.5″h x 10.5″d. 2 X 12 – 27″w x 20.5″h x 10.5″d. Head – 23.5″w x 9″h x 9.5″d
Output Power: 50 watts into 4, 8, or 16 ohms
Input Impedance: 1meg Ohm
Density: +8dB at 100Hz
Presence: +8dB at 5kHz