People in the 1950s thought that we'd all be wearing jetpacks and driving flying cars about now. But did they bother to predict what kind of guitars we'd be shredding on? No, they didn't. Probably because they couldn't imagine just how hard these eleven axes would rock. From robot-tuning to synth access, these guitars will have you dreaming of the possibilities.
First up is the Gibson HD.6X Pro Digital Guitar, an instrument that's capable of making each string sound completely different than every other. Using fancy tech and hexaphonic pickups, the signal from each string is pushed through and Ethernet port to a computer, where you can tailor the sound, EQ and wave-shape. And did I mention that you can put a different effects signature and amplification on each string? Even though this guitar came out in 2007, it's still pushing the envelope even now. Read more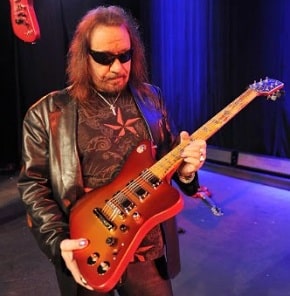 According to the experts at Gibson, the new limited-edition Firebird X is the first guitar that allows players to access the fourth dimension. So what is the fourth dimension, exactly? Well, in order to understand that, we must understand the first three. Dimension 1 equals the basic guitar body. Dimension 2 came along in the 1920s and 30s when electromagnetic pickups were pioneered. Dimension 3 appeared when Les Paul tweaked the first guitar effects in the late 1940s. Apparently, Dimension 4 is the internalization of the signal chain within the instrument. And that's just what the Firebird X is Read more
Yesterday morning in New York City, Gibson Chairman and CEO Henry Juszkiewicz made an announcement that staggered the music world. Juszkiewicz unveiled Gibson's latest guitar, Firebird X.
But press, fans and celebrities in attendance quickly learned that Firebird X was much, much more than any guitar ever conceived. Speaking to an audience that included such guitar luminaries as Ace Frehley, The Roots' Kirk Douglas, Eddie Ojeda and Jay Jay French from Twisted Sister, Lou Pallo, Russ Paul and others, Juszkiewicz described an instrument light years ahead of anything ever built.
"This is new. This is different. This is revolution," he declared before unveiling the axe. "Nobody looks and spends the time to reinvent the guitar. This is a new guitar." Read more
Dusk Tiger namechecked. Gibson Guitar say that they continue to revolutionize the Industry
Gibson Guitar has revolutionized the face of the music industry, whose quality, prestige and innovation have earned the loyalty and admiration of musicians the world over. Through extraordinary innovative efforts in recent years, Gibson introduced groundbreaking technology with its premier of the Gibson HD.6X-PRO Digital Guitar, the Gibson Robot Guitar, and the Gibson Dark Fire, creating some of the biggest advances in electric guitar technology and design in over 70 years. Read more