First up in this tube guitar amplifier shootout is the Peavey 6505+ (aka Peavey 5150) – Peavey 6505+ 120W Guitar Amp Head is great for hardcore or metal players. SIX – 12AX7s in the preamp add up to even more terrifying punch and mind-rattling gain. Read more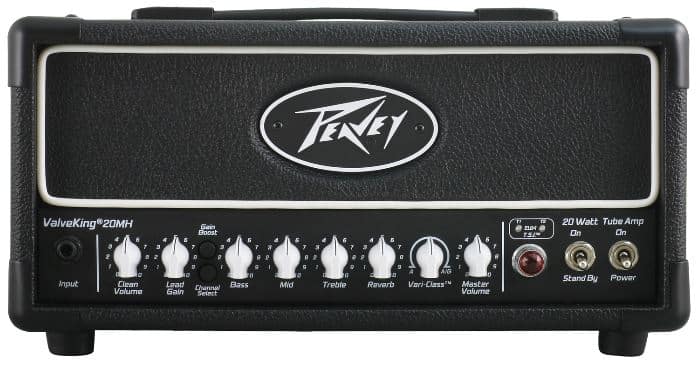 When it comes to rocking it out on stage or in the studio, you need a reliable amplifier that can provide that big tube tone. In this regard, Peavey's ValveKing II Micro-head seems to be on everyone's lips.
Boasting top-of-the-line features such: as a switchable 20W/5W/1W power output, three 12AX7 tubes, pair of EL84 power tubes, and a USB recording output. The Peavey Valve King II micro may be what you've been looking for.
In this Peavey ValveKing II review, we examine whether this unit is worth your money. Read more
The new Peavey AmpKit LiNK HD pocket-size iOS guitar interface features twice the fidelity and convenience of the original AmpKit LiNK. Based on USB digital audio technology, AmpKit LiNK HD eliminates crosstalk and feedback for pristine high fidelity, even with authentic high-gain amp models in AmpKit, the companion amp app from Agile Partners. Read more
NAMM 2011 — Peavey Electronics proudly announces the Xport, a high fidelity, ultra-portable 1/4″ jack-to-USB audio interface for electric guitar and bass. Xport uses a standard USB cable to connect your guitar to a personal computer or laptop.
The Xport's high-quality ASIO and Core Audio drivers offer rock-solid performance for both Windows and Mac OS X. Powered by the USB bus and featuring both Headphone and Line outputs, the Xport provides musicians with a simple, hassle-free digital recording solution.
[% oiopub-banner-3-right %]
Included with Xport is Peavey ReValver amp modeling software, the only virtual amplifier that captures the true tone characteristics of vacuum tubes. This state-of-the-art software can be used as a stand-alone virtual amplifier or with your favorite recording software. Read more
NAMM 2011 — Peavey proudly debuts the Composite Acoustics line of premium carbon fibre acoustic guitars. Composite Acoustics carbon fibre guitars represent Peavey's commitment to designing and building the most innovative acoustic instruments on the market. Read more

The Peavey IPR 1600 stereo power amp features 830 watts per channel at 2 ohms and weighs in at 7 pounds! The IPR1600 also has 2 channel independent fourth order Linkwitz-Riley crossovers, a variable-speed fan housed in a lightweight aluminum chassis, patented DDT speaker protection, and the revolutionary new IPR class D topology. Read more
NAMM–Peavey proudly introduces the PXD Series, a new breed of extreme electric guitars that captures the aggression and attitude of modern metal guitar players. Read more
Peavey proudly introduces the new HP Single Cut Series, a trio of finely crafted single-cut guitars that combine classic tones and style with modern Peavey playability. Read more
Peavey proudly announces the new Butcher guitar amplifier, a 100-watt, all-tube head that specializes in innovative versatility and timeless, brutal British tone. Read more
NAMM 2010–Peavey proudly introduces the new TriFlex II, a three-way, two-channel portable sound system that provides 1,200 watts of power for live sound reinforcement, DJ gigs and music playback applications. Read more