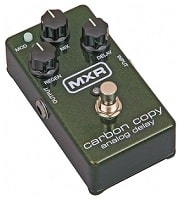 The innovation of the bucket brigade delay circuit in 1969 made compact, stageworthy analog delay pedals a reality and allowed guitarists to retire their bulky and unreliable magnetic tape echo units. Although bucket brigades were eventually replaced by digital signal processors, suffice to say that–like skinny ties and Donnie and Marie Osmond–the analog delay has made a comeback. Nearly every music manufacturer is currently releasing its own take on the analog delay, and for good reason: most guitar players cherish the soft, lo-fi sound quality produced from these units.
Fortunately, MXR, who have been making some of the most popular and innovative stompboxes, has jumped on the bandwagon. The company's Carbon Copy Analog Delay pedal is the brainchild of MXR senior engineer Bob Cedro, and its design is noteworthy for the company: it's MXR's first delay pedal in nearly 20 years. What's more, it offers 600ms of analog delay time in a compact unit the size of MXR's Phase 90 pedal. Read more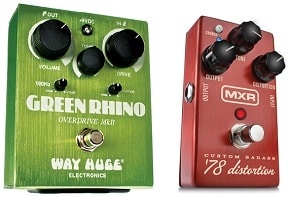 Guitar players love distortion. No big secret, really. From the time we start playing we are pretty much issued a distortion pedal of some kind right out of the gate and we proceed from there. By the time I was 13, I had my brown Ross distortion plugged into my solid state Gretsch amp and pretty much blistered my Mom's paint for a few hours every day. These days, distortion and overdrive pedals have become much more of Read more

Give away is over. You are still welcome to leave your comments and sign up to our news feed if you like. Winners will be selected and announced soon. Stay tuned!
September 29th, 2009–Gear-Vault's 2nd Birthday is today! To make it fun, we are giving away some really cool prizes–including T-shirts, Guitar Strings, pair of Dot On Shaft Humbucker Guitar Pickups, Distortion and Fuzz pedals… and a Dean Vendetta Electric Guitar!
How do I win?
Simple! All you have to do to is be 1 of the 10 lucky winners to receive one of these cool prizes–simply leave a comment below stating what your favorite guitar riff (or song) is–and why.
To be eligible, you must subscribe to the feedburner email feed – this is how you will be selected and notified of your winnings. We are using Feedburner with Random.org to select the 10 winners, so you MUST active the Feedburner to win. Subscribe now:
What do I win?
1st prize: Dean Vendatta Guitar!
2nd prize: Set of DOS Carparelli Humbucker Pickups
3rd Prize: MXR M-115 Distortion III Pedal
4th prize: EHX Little Big Muff Fuzz Pedal
5th prize: Fender T-shirt + 3 sets of DosWyres
6th prize: Dot on Shaft T-shirt + 3 sets of DosWyres
7th prize: Three sets of Electric Guitar Strings
8th prize: Two Sets of Electric Guitar Strings
9th prize: Set of Electric Guitar Strings
10th prize: Set of Electric Guitar Strings
When does the Giveaway end?
We're going to run the giveaway for 60-days. We want to give everyone a chance to participate and win some of this really cool stuff. End date is November 30th 2009.
If you are a retailer and would like to advertise with us, please get in contact–we have the perfect advertising campaign for your company. You can sponsor this giveaway with a small donation and we are accepting gear donations for future giveaways.