In 1984 there were drummers who were purists and would only be seen behind an acoustic set of drums. The mere thought of playing plugged-in to anything even close to a drum machine or sampler was not only foreign, but frightening. Read more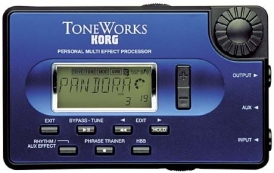 Ten years ago you could have filled a closet with all the gear required to do what Korg's palm size Pandora PX3 Personal Multi Effect Processor does. Part effects unit, part beat box, part personal guitar trainer, the PX3 puts so much in so little space, and you'll wonder how they found room for the four AAA batteries that power it. Read more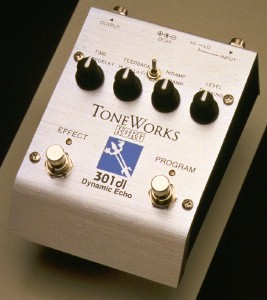 Whether it's Eddie Cochran's rockabilly slapback or the Edge's autonomous counter-rhythms, listeners have always marveled at the shimmering textures and depth produced by delay units. And, just as guitarists have found new uses for delay effects over the years, manufacturers have improved on the quality and versatility of these boxes. We checked out units by Korg, DOD, and Boss to see what's cool in the world of delay.
DOD FX 96 Echo FX Analog Delay
Featuring analog circuitry, the FX 96 is intended to reproduce the gloopy tones of early tape-echo machines and the bubbling repeats of pre-digital pedals. The pedal features the standard controls one would expect to find on an analog delay: Mix, Delay and Regen / Repeat. Also included is a Tape Quality control, an ingenious addition that lets you grunge up the sound quality of the virtual "tape" to heighten the sonic illusion.
DOD have really nailed those old tones, warts and all, with this pedal. Although Echoplex connoisseurs may not be totally convinced, the FX 96 does as mean a take as many expensive rack units dedicated to the same task. There is definitely a bit of Gilmour, Page and Brian May to be found amongst the DOD's tumbling layers of repeats, warm slapbacks and psychedelic stoner mayhem.
Boss DD-5 Digital Delay
Using the DSP chip, Boss managed to cram a ridiculous amount of effects into the DD-5. Of the 11 available modes, 1 through 4 offer a range of clean, studio-quality delays from 1 ms to 2000 ms. Using the Panning Out socket, these silky delays can be delivered in stereo with the repeats arriving at their destination in alternating sequence.
Mode 5 is the Hold function, which is basically a mini-sampler allowing you to record up to two seconds of playing then use it as a backing. Gizz Butt of Prodigy uses this to lay down a bed of techno-babble to riff over in live performances. More digital trickery is afoot with Mode 6, which offers Hendrix-like backward swells. Although not a true reverse-taped effect, there are still some groovy suck-sounds in this mode. Finally, Mode 8 through 11 allows you to tap in a delay tempo via a footswitch.
Korg ToneWorks 301dl Dynamic Echo
This roadworthy device allows you to store two different sounds and has an extra footswitch to toggle between them. Each of the four controls on the 301dl has been assigned two functions, selected by a small toggle switch. In addition to setting the level, feedback and delay time, you can also manipulate the pre-delay, harmonic structure and relative aggression of the repeats. The unit even offers Ducking, which allows the effect to respond to the dynamics of your playing, lifting phrases out of the potential muddle of repeats.
Once you've invested some time in finding a sound, it can be easily stored in the Red or Green patch, ready for action. The flexibility of the 301 means you are a toe-tap away from chewing analog slap or glistening digital soundscapes. Add a Y-connector and you're driving in stereo.

Advertisement————————————
[% oiopub-banner-3-left %]————————————————————
The End Line
These three pedals are all very different but equally inspiring to use. The DOD delivers delay like they used to make it, without the bulk or hassle. Boss layers pro-quality sound in a simple format with funky features for good, clean fun. The Korg gives you precise control of its effects—and programmability to boot. In a world of missed schedules, these are some delays we can all enjoy.
Korg finally confirmed that the MicroKORG XL will be set to launch, but didn't reveal everything just yet. Korg only released spec details of this new mini mighty synth.
First and foremost, we should inform you that this isn't Korg's replacement of the standard MicroKORG – this unit will sit alongside the original MicroKORG in their product line known as its 'big brother'. However, despite boasting all the enhanced features, it actually has fewer controls and is shamelessly retro in appearance.
In addition to its new look, the XL also delivers a different feel, and thanks to its inclusion of a newly developed and enhanced 'natural touch' cascade mini keyboard. This promises to enrich perfect playability and benefit from the superior proportioned black and white keys. Read more
As bedroom woodshedders know, too much solo practice can make Johnny a pretty dull guitarist, while there are any number of muli-effects modules that can spice up your tone, Korg's AX1G can actually improve your sound as well as inspire your chops and tighten your timing. That may sound like a pretty hefty promise, but by combining a budget floor-effects unit with sample and looping features, Korg have a well-built virtual jamming budding that also offers exciting applications for studio and live performance.
The basis of the AX1G is a compact floor unit containing 69 effects organized into three banks of 30 editable patches. Two footswitches let you scroll up and down through the patches, and a backlit LCD screen provides information on patches and edit parameters. Most notably, the AX1G has a large expression pedal—an impressive feature on a budget unit—that allows various parameters to be controlled in real time.
The AX1G serves up all the essential effects (including a number of great patches from other Korg products, including the Pandora processor) as well as several sounds not commonly found in other budget floor units, like ring modulation and a cabinet resonator for direct recording. Alongside Korg's powerful distortions are some dynamic clean tones and surprisingly organic, gloopy-analog effects, like tremolo and chorusing. The factory patches use as many as seven effects at one time, and many of them make good use of the rocker pedal for controlling effect depth, pitch/volume changes and wah sounds. What's more, all the patches can easily be edited via bank of convenient buttons. You can also create new patches from scratch and give them your own idiosyncratic names.
[% oiopub-banner-3-right %]
All this is well and good, but the AX1G's main attraction is its sample-and-loop feature, which offers a range of powerful functions. The unit provides 0.9 seconds of "hi-fi" sampling and, for a cut in sound quality, 1.8 seconds of "lo-fi" sampling. Using the rocker pedal, you can sample a phrase or riff and control its playback in various ways. In "sample" mode, the pedal can trigger samples to play back normally or in reverse. "Scratch" mode allows you to control the sample in real time by using the pedal to stutter and fragment the phrase, just like a deejay uses his hand to scratch or a record. "Loop" mode lets you record a riff passage, then use the pedal to either to adjust the playback volume or control the length of the loop. With each of these functions you can play over your own sample backing to compose second guitar parts or add new dimension to your live performance.
The AX1G's compact body makes it easy to tote around to gigs, and its construction is sturdy enough that you won't have to worry for its safety. The unit runs for 14 hours on four AA alkaline batteries and can be operated with an AC adaptor. In addition to these features, Korg has equipped the AX1G with a tuner and metronome, making it the perfect pedal companion for practice, recording and gigging.
The End Line
This compact device really does offer more than meets the eye. It features 30 quality, programmable sounds with the added dynamic control of an expression pedal. For practice, the controllable loop functions allow you to groove in time to your own backing track, while the cabinet resonator makes the AX1G a handy accessory for budget home studios. Plus, for live work, the sample features excels at tossing out some phat freakiness. Korg's AX1G (harmonycentral.com hands-on reviews) is an ingenious budget multi-effects unit all packaged up in one box that can be had for around $15-$20 bucks used.
The fun started with the Korg D8, which is by far the smallest of the three recorders I sampled for this series of reviews. In fact, if you weren't looking at it too closely, you might mistake it for a drum machine rather than a portable eight-track studio. Its appearance, however, is deceptive, for inside the D8 is a 1.4 GB hard drive, which allows a maximum of 34 minutes of eight-track recording.
All of these units record on internal hard drive, which aren't designed to be removed and replaced like tape formats. Instead, when the disk is full or you're switching projects, you transfer the data to another source. A SCSI port for connecting external disk drives, an S/P DIF digital interface for a DAT or MD recorder, and standard RCA analog outs are all provided for this purpose.
The D8 features a built-in 12-channel, four-bus mixer, which has two ¼-inch TRS balanced analog inputs, with a high/low impedance switch that works for both, as well as MIDI In and Out. While the recorder boasts eight tracks, a glance at the board will reveal only seven separate track faders; the seventh is labeled 7/8 and is designed to be used in stereo, which is helpful if you want to send both inputs to one track or bounce a bunch of tracks while keeping all their pre-fixed pan positions. Read more