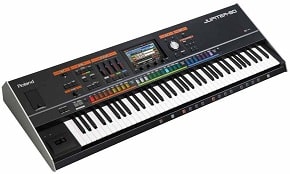 One of the hottest and most talked about products on the market today is the Roland Jupiter-80. This is not a re-creation of the '80s Jupiter-o, although it does pay homage to its predecessor with road-proven hardware and massive sound. This is a modern synth that features Roland's SuperNATURAL synthesis engine. The SuperNATURAL engine is designed to re-create legendary vintage synth sounds and amazingly realistic organic acoustic sounds.
The Roland Jupiter-80 is an envelope-pushing synth with three separately programmable sound chains. Each sound chain has a filter, an oscillator, an LFO, and an amp, and you can combine up to nine sound chains for an amazing 27 oscillators – at once! Each oscillator can utilize one of seven vintage waveforms or one of over 350 PCM waveforms for unlimited tone-shaping combinations. The Jupiter-80 supports up to 256 polyphonic voices depending on the sound load. Also featured is an extremely powerful arpeggiator with 128 factory presets and another 128 presets that are user definable. And musicians will love that this board includes Roland's famous SuperNATURAL pianos, brass, strings, and more.
The Jupiter-80 was designed and laid out for live performance. A large LCD screen makes navigating the functions of the Jupiter-80 a breeze. After you have designed your own patches, you can save them as "Live Sets." A Live Set can stack up to four sounds, each with its own DSP, effects group, and level control!
There are a number of assignable knobs and buttons on the Jupiter-80, so you can create a custom layout. Roland's D Beam controller can be assigned to control parameters for a more dynamic performance. Control volume, Leslie speed, modulation depth, and more, all with your hand. Read more

Ex- Guns N Roses and current Velvet Revolver guitarist, Slash, plays an eerie cover from the 1972 Italian-American mob flick, The Godfather. You'll notice Slash's tempo on guitar is a bit faster than the original "Waltz" version. Another part of the guitarist's style that really stands out is his aggressive and sustained bends–which brings the song to an entirely new level. Slash brought piano, bass and drums into the mix for an even more dramatic feel to the song. Watch both versions below and tell us what you think. Read more
Korg finally confirmed that the MicroKORG XL will be set to launch, but didn't reveal everything just yet. Korg only released spec details of this new mini mighty synth.
First and foremost, we should inform you that this isn't Korg's replacement of the standard MicroKORG – this unit will sit alongside the original MicroKORG in their product line known as its 'big brother'. However, despite boasting all the enhanced features, it actually has fewer controls and is shamelessly retro in appearance.
In addition to its new look, the XL also delivers a different feel, and thanks to its inclusion of a newly developed and enhanced 'natural touch' cascade mini keyboard. This promises to enrich perfect playability and benefit from the superior proportioned black and white keys. Read more