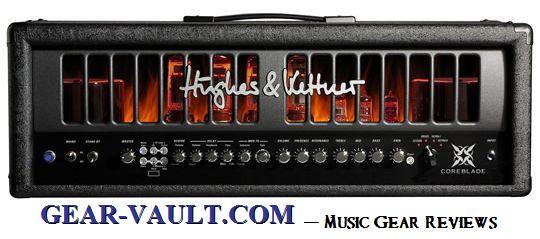 COREBLADE by Hughes & Kettner — Okay metalheads, lets take a look at the COREBLADE all-tube guitar amplifier. COREBLADE is the flagship of Hughes & Kettner's line of high-end tube amps. Packing a whopping 100 watts, the head delivers tough tone, devastating dynamics, and an explosive punch. We have posted soundclips by Jan Laacks at the end of this review… so be sure to check that out.
We're clearly stoked about this four-channel amp's advantages, here's what metal meister Jeff Waters has to say:
"This amp has everything a metal guitarist needs. And I had always loved the idea of the programming aspect being introduced into real tube guitar amps. But no one had ever perfected it. Until now!"
Four independent channels, three parallel FX modules, an intelligent noise gate, automatic power tube management, and analog programming technology – all this adds up to an awe-inspiring arsenal of merciless sounds. And that makes COREBLADE the top-notch tube amp of choice for all metal axe-slingers. Grind your axe, indeed! Read more

Hughes & Kettner is happy to introduce the all-new – Coreblade, the next evolutionary stage of programmable all-tube guitar amplifier–is "specially designed to meet the demands of modern metal guitarists".
The head delivers earth-shattering 100-watts of tube power that combines brutal tone, untamed dynamics and explosive punch with amazing flexibility unequaled by any other tube amp so far. Read more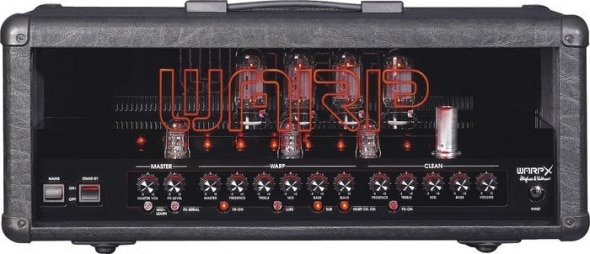 Hughes and Kettner – With its depraved infernal glow of eight blazing red-hot tubes says it all; Hughes and Kettner Warp X is amongst the undisputed heavyweight champions of the Nu Metal arena. Look no further for brutal riffing power. The amp boasts a Clean channel with bold, big and crisp tones and a brilliant "Warp" channel to put a smirk on the face of any metal riff-monster.
Warp X's distinctive name accurately describes the amplifiers' massive tone and thick sound forced pumped from it's powerful 120-watt, 6L6 tube-driven-power amp. The Warp X was clearly designed to produce pure dark energy.
In addition to the aforementioned wealth of features, the Warp X employs a top-notch Clean channel tweaked specifically for thick tones and a Warp channel that brings new meaning to the term "warped," Warp X offers a ferocious wide-range of features that you won't find on any other amp. Check out the Lube button, a sonic lubricant for fluid leads and riffs. Press it to alter the dynamics of the amp's distortion.
Wait!, There's more: Warp X sports Effects Loop Assign, a remarkable FX management tool for allocating external devices to one or both channels on the amp. For example, stomp on a single switch to go from the clean with chorus, delay to its illustrious Warp sounds without any effects getting in the way of your sonic assault. Adding the optional MSM-1 MIDI Module will give you even more flexibility. The MSMS-1 allows you to sync up your amp and external effect devices and switch them simultaneously via a separate MIDI pedal. Gear up for the 21st Century, rockers – Get Warped!
Hughes & Kettner Warp X


There are many amazing tube driven amplifiers on the market. There is also a dizzying array of solid-state modeling amps to choose from. Up until now, there has never been an option for players who are looking for those real tube tones AND modeling features.
(without playing around with multi-effects processors that have a nasty habit of changing up the tube sound coming from the speakers). With that in mind, Hughes & Kettner has released a new audio weapon of mass destruction on a tone hungry.
[% oiopub-banner-3-right %]
The Switchblade is the first all-tube guitar amplifier to feature built-in modeling effects, giving you a whole new world of tones to explore without the need of signal processors. The amp is powered by four EL34 and two 12AX7 tubes, and also features a footswitch, which allows you quick and easy access to the Hughes & Kettner Switchblade's 128 programmable presets (arranged in banks of 4, with controls for bank up, bank down, and tap).
You know you want it.
For those guitarists that are looking for a monster tone machine, the Switchblade will give you the power and flexibility you both want and need. And fear not! For those who may not need a head and cabinet setup, the Switchblade also comes conveniently packaged in a 50- and 100-watt combo configuration (which might be easier to hide from your spouse than a half-stack).
The 100-watt Hughes & Kettner Switchblade is a revolutionary new electric guitar amplifier with features that are every bit as dangerous as the amp's namesake. There are sound samples available on the internet which can be found with ease. After giving them a listen, the Switchblade easily found its way to the top of my wish list. Hughes & Kettner
Hughes & Kettner Switchblade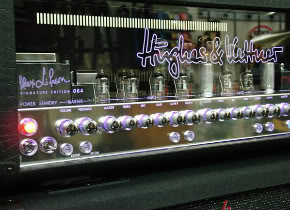 The Triamp MKII is another wonderful all tube-driven offering from the guys at Hughes & Kettner. Designed to be a versatile rock machine, this amp has been used by a couple of gents who just happen to know a thing or two about amplifiers – Tony MacAlpine, Allan Holdsworth and Alex Lifeson.
With a bit of searching I was able to find a couple of audio samples of the Triamp MKII. Giving them a quick listen, I noticed that the amp produces an excellent clean tone, and was able to morph into a more serious crunch. I have to say, this amp would be an awesome choice for fans of classic amplifier tones. Read more