This is a new song titled 'On the Backs of Angels,' will be the first track on the upcoming A Dramatic Turn Of Events album.
The song is the first time anyone has heard any new music from the group since founding member Mike Portnoy departed. On the Backs of Angels features Mike Mangini, the recently acquired drummer who replaced Portnoy after a lengthy audition process that was filmed for a documentary.
The song will be featured on 'A Dramatic Turn of Events,' Dream Theater's upcoming 11th studio album. Mixed by veteran engineer Andy Wallace, who was involved in Slayer's Reign In Blood and Nirvana's Nevermind albums. Wallace also mixed Avenged Sevenfold's Nightmare. Read more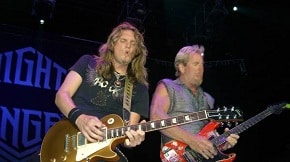 Many other guitarists have tried to emulate Angus Young's distinctive guitar tone and fail. Night Ranger's rhythm guitarist, Brad Gillis, stated in an interview conducted by Noisecreep.com if he had any reservations about taking on such a feat. Read more
Gear Vault received depressing news that Jared Southwick, guitarist of
The Dream Is Dead
and
Harakiri
, had passed away as a result of a liver and kidney condition — Southwick was hospitalized earlier this month. His condition rapidly deteriorated.
Jared Southwick passed away Thursday, June 23, 2011.
The Dream Is Dead was a politically charged hardcore punk band based in Indianapolis, Indiana. The band was formed in 2000 with the sole desire of putting friction, abrasiveness, and politics back into the watered down hardcore scene. Read more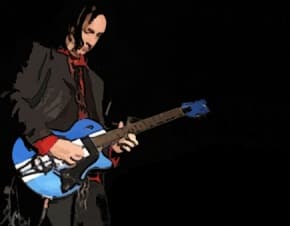 Stand on any street corner and yell "AND I'M FREEEEE!",  and you will undoubtedly get the response "FREE FALLIN!". Now walk up to one of the responders, and ask them, "Who is that?" Again, they will surely say, "Tom Petty". Which is true—to a point. Everyone knows the jaw-dropping  catchy hooks and choruses that can be found in the lining of Pettys songs, but few of them really know where the guitar credit should go. Read more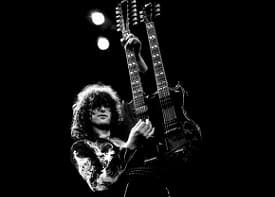 It's no secret that each major religion has a group of artifacts that its followers hold a high respect for. We guitar players have the same artifacts that we respect. The main difference is that ours can be used to raise fists and get laid. Well, Gear-Vault has put together a list of said guitars, so let's take a look at what many guitar players say are the holy of holies; the top ten most famous guitars, in no particular order. Read more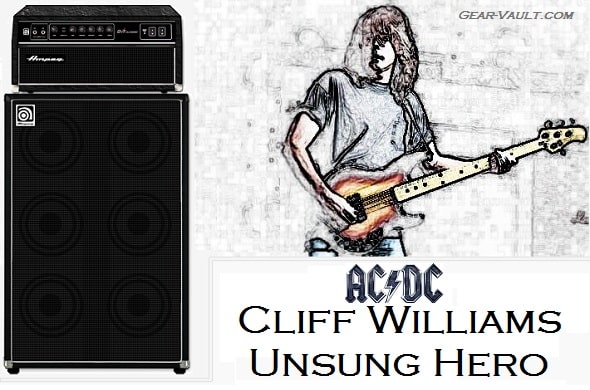 Since the beginning of time, there has always been an unspoken feud between guitar players and bass players. This feud has always been somewhat playful, somewhat serious. But in the end, we really do care for you bass players. Oh sure, we poke fun at you guys constantly, for whatever reason will get a laugh at the moment it seems like.
But when you take away the rock stars and bring out the musicians, well then it's a different story. The true musicians understand that a good bass player is an invaluable resource. Bass players that can work well in tandem with a drummer is something that gives the music exactly what it needs: Drive. Read more
NAMM 2011 — In 1995 Korg launched the Pandora line of battery-powered multi-effect processors. Since then, each generation of Pandora has added more features and a higher level of user convenience. The latest addition is the Pandora Mini, created with both guitarists and bass players in mind.
Powered by Korg's REMS (Resonant structure and Electronic circuit Modeling System), the Pandora Mini delivers 158 sophisticated effects, divided into seven categories Read more
Schecter Guitars has announced the release of the Gary Holt Signature V-1 at Winter NAMM.
Gary Holt is arguably one of the most influential metal guitarists and is credited as the founder of the "Bay area trash metal" sound. His band Exodus was formed in 1980 with Metallica's Kirk Hammett. Read more

Paul Reed Smith Guitars and Paul Jackson, Jr. have teamed up to design the PRS JA-15, Jackson's first signature model PRS guitar. Whether it's playing on American Idol, his latest gig on Jay Leno's "Tonight Show," recording with legendary musicians like Michael Jackson, Elton John, and Ella Fitzgerald, or composing and recording his own music, Jackson's multiple decades as a highly accomplished and versatile musician have factored into this model's development. Read more
PRS Guitars' are happy to announce the official launch of the SE Santana. Carlos Santana's new signature model is the very first SE offered with a 24.5" scale length and is also the first SE created using the same silhouette as Carlos's revered American-made model. Look for the model on retail shelves this fall and on tour with Carlos as he tours the US in support of his new album Guitar Heaven: The Greatest Guitar Classics of All Time. Read more